BASKIN-ROBBINS' SCOOPS WIN AT AUSTRALIAN BUSINESS AWARDS
Written by

Business Daily Media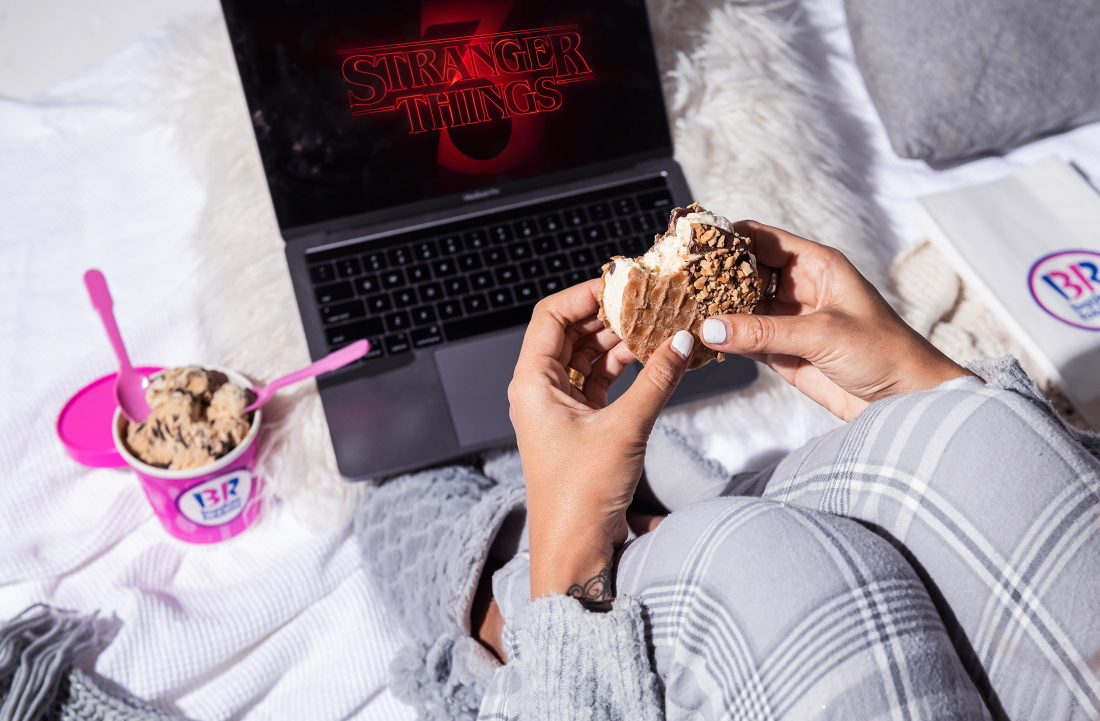 Baskin-Robbins (BR) Australia's 2019 winter campaign, "Stranger Things are happening at Baskin-Robbins" has been recognised as an ABA100 Winner for Marketing Excellence [MXA] in The Australian Business Awards 2020.
The campaign, which marked BR Australia's Master Licensee, Palm Oasis Ventures' first home-delivery focused campaign, also paved the way to ensure BR was ready to optimise deliveries when the COVID-19 pandemic began in 2020.  
The campaign involved BR Australia partnering with Netflix to launch Stranger Things' third season and working with agency partners, Type + Pixel and Foxed Glove, to turn "Sci-fi fans" into "ice cream fans" across a new millennial and Gen Z demographic. 
Products were sold instore at BR Australia locations and via a world-first 'Scoops Ahoy' virtual restaurant (a  homage to the name of the ice cream parlour in the series), with ice cream delivered by Uber Eats.  
BR Australia National Marketing Manager Julian Casa said accolades for the campaign showed the company's efforts in reinvigorating the brand in recent years. BR was also named the ABA100 Winner for Marketing Excellence [MXA] in 2019 for its Creature Creations campaign. 
"Being awarded the ABA100 Winner for Marketing Excellence [MXA] in The Australian Business Awards for two years in a row is wonderful recognition of the efforts and investment we've made to elevate the brand through product innovation and delivery," Mr Casa said. 
Along with massive engagement across BR Australia's digital platforms, the franchise's delivery channel experienced a 22.6% increase during the three-month Stranger Things campaign. 
BR Australia General Manager Ben Flintoff said maximising BR's delivery channels through the campaign paved the way for BR to continue trading during the COVID-19 pandemic. 
"The 2019 Stranger Things campaign allowed us to optimise our delivery channel which became incredibly useful this year when many guest experiences moved to home delivery," Mr Flintoff said. 
"Despite some early setbacks in April with the onset of local Queensland restrictions, we have been privileged to successfully drive positive comparable sales growth for the brand this year to date. This has been an excellent result for the brand and for our valuable and hardworking franchise partners."   
The recognition of the Stranger Things campaign continues with BR Australia's agency partner, Type + Pixel recently shortlisted for Best Digital Campaign for the B&T Awards 2020. 
For more information on the campaign, visit https://brstrangerthings.netlify.app and for more information on Baskin-Robbins visit https://baskinrobbins.com.au/
About Baskin-Robbins
Named a top snack and beverage franchise in the United States by Nation's Restaurant News in 2019, Baskin-Robbins is the world's largest chain of ice cream specialty shops. Baskin-Robbins creates and markets innovative, premium hard scoop ice cream, a full range of beverages and a delicious lineup of desserts including custom ice cream cakes, the Polar Pizza® Ice Cream Treat and take-home ice cream quarts and pints, providing quality and value to consumers at more than 8,000 retail shops in 54 countries worldwide. 
Baskin-Robbins was founded in 1945 by two ice cream enthusiasts whose passion led to the creation of more than 1,300 ice cream flavors and a wide variety of delicious treats. Headquartered in Canton, Mass., Baskin-Robbins is part of the Dunkin' Brands Group, Inc. (Nasdaq: DNKN) family of companies. For more information, visit www.BaskinRobbins.com.
For further information, visit www.baskinrobbins.com.au
About Palm Oasis Ventures:
Palm Oasis Ventures is jointly owned; with U.A.E.-based Galadari Brothers Group owning the 80 per cent stake, and US-based Dunkin' Brands Group, Inc. owning 20 per cent.  Dunkin' Brands Group, Inc. is the owner of the Baskin-Robbins brand, while Galadari Brothers Group has been the exclusive licensee of the Baskin-Robbins brand in the U.A.E. for 35 years, successfully running more than 650 parlours across the U.A.E. and the Middle East.  Palm Oasis Ventures manages the joint interests of both companies and is the Master Licensee for Baskin-Robbins in Australia.
About Galadari Brothers:
The Galadari Brothers Co. LLC is one of the prominent business groups based out of the United Arab Emirates tracing its birth back to 1961. The Group is owned by the Investment Corporation of Dubai and the Galadari family and is engaged in multiple industries such as media, automobiles, food and beverage, trucks and heavy equipment, among others. The Group's dynamism, innovation and pioneering efforts have been responsible for bringing some of the largest brands to the UAE including Mazda, Baskin-Robbins, JCB, and Khaleej Times. The Group also owns the Radisson Blu Dubai Deira Creek property and Galadari Hotel Sri Lanka. Galadari Brothers is also the Master Franchisee to Baskin-Robbins in the Middle East and Australia extending its partnership to more than three decades with over 650 stores. www.galadarigroup.com