Zeller accelerates small business cash flow with new online invoicing solution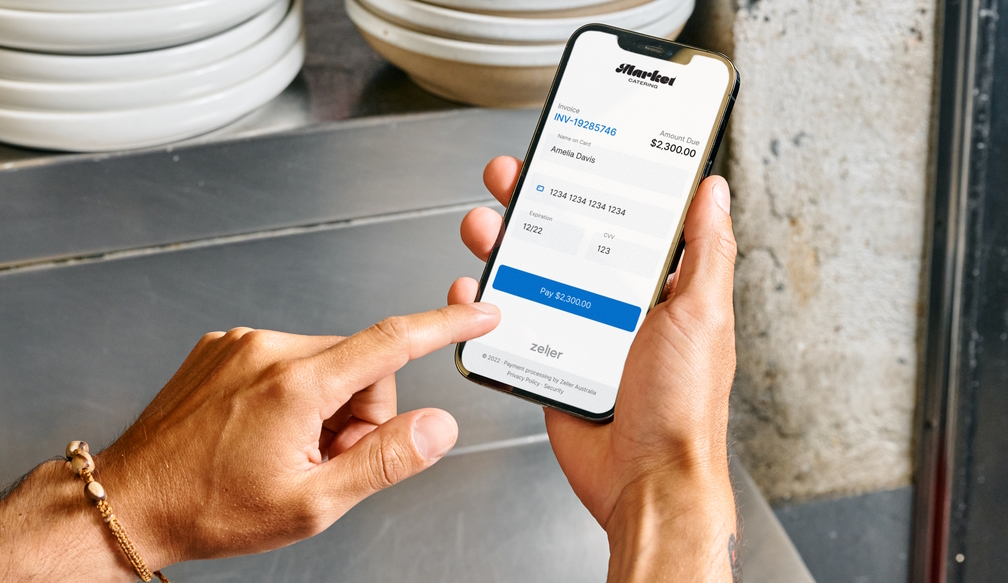 Zeller, the Australian fintech reimagining business banking, has launched a new, industry-leading online invoicing solution. Zeller Invoices is a unique addition to the growing financial product ecosystem, and was deployed to customers in early February following a month-long beta program.
Zeller has demonstrated rapid success in face-to-face EFTPOS payments, amassing a customer base of over 30,000 businesses in under two years. Recently, Zeller launched new financial services solutions, including standalone business transaction accounts and debit cards, replacing the functionality of a traditional business bank. Zeller Invoices adds to this stable of products by enabling business owners to send unlimited, free online invoices, automate reminders, attach customer profiles to invoices to track payment and history, and accept payment via Zeller's new online payment gateway. Zeller Invoices is another digitally-led solution expanding beyond the products typically offered by the big four banks.
Currently, most of Australia's incumbent banks do not provide online invoicing as part of their banking offering, requiring businesses to look for an alternative, disparate provider to send and get invoices paid. Alongside Zeller's existing EFTPOS, transaction accounts and debit card products, business owners can now see all of their cash inflows and outflows directly from their Zeller Account.
"We're excited to add Zeller Invoices to our growing product suite, which helps Australian business owners manage finances and payments more easily. This product simplifies payment processing, reduces late payments, and saves time, all without any monthly fees or lock-in contracts. With a low card processing rate, businesses can save money and get paid faster," commented Ben Pfisterer, Zeller co-founder and CEO.
A recent report from Accenture and Xero in 2022 found that 48% of invoices in Australia were paid late, with the average being paid 6.4 days late – costing Australian small businesses $1.1B per year. The Australian Treasury has committed to a review of the Federal Payment Times Reporting Scheme, as this issue continues to cause major issues for small businesses that in some cases rely solely on invoices to maintain their cash flow.
With this issue in mind, thousands of invoices have been sent using Zeller Invoices in the past seven weeks, which are being paid in an industry-leading 1.5 days – significantly shorter than the government's reported average of 33 days to pay. In addition, 89% of invoices sent through Zeller are being paid before, on, or one day after their scheduled due date.
With Zeller Invoices, businesses can:
Send unlimited, free online invoices. Business owners are only charged when a customer utilises Zeller's new online payment gateway to pay.

Get paid faster, accelerating business cash flow by enabling customers to pay quickly and securely online, and settling funds into business owners' accounts nightly, 365 days a year.

Customise invoice templates with business details, add due dates, and send automated reminders.

Connect their online invoices with the rest of their business finances, using one account to access invoicing, EFTPOS, transaction accounts and debit cards.

Grow their understanding of their customers by assigning invoices to customers and suppliers to track invoicing across their entire business database.
"As a business that takes both in-person and invoice payments, using a financial services provider that provides both tools is crucial – providing us with a comprehensive overview of our incoming funds. We chose Zeller Invoices as it is easy to utilise and follows up overdue invoices on our behalf, so we can focus on managing our business and providing exceptional care for our customers," said Sara Kourkgy, General Manager of Precision Pharmacy in Sydney, an early adopter of Zeller Invoices, who also uses Zeller EFTPOS Terminal to accept in-person payments.
Zeller is reimagining business banking for Australian businesses. Formed in 2020, Zeller enables businesses to accelerate their cash flow through integrated tools to accept payments, manage their finances, and pay recipients fast. Zeller is co-founded by Ben Pfisterer and Dominic Yap, who bring extensive financial services experience from global companies including Square, Visa, NAB, and more. The company is backed by Square Peg, Apex Capital Partners, Addition, Spark Capital, Headline, and Hostplus.