Brix, Sydney Rum Distillers, Sign Distribution Deal With SouthTrade International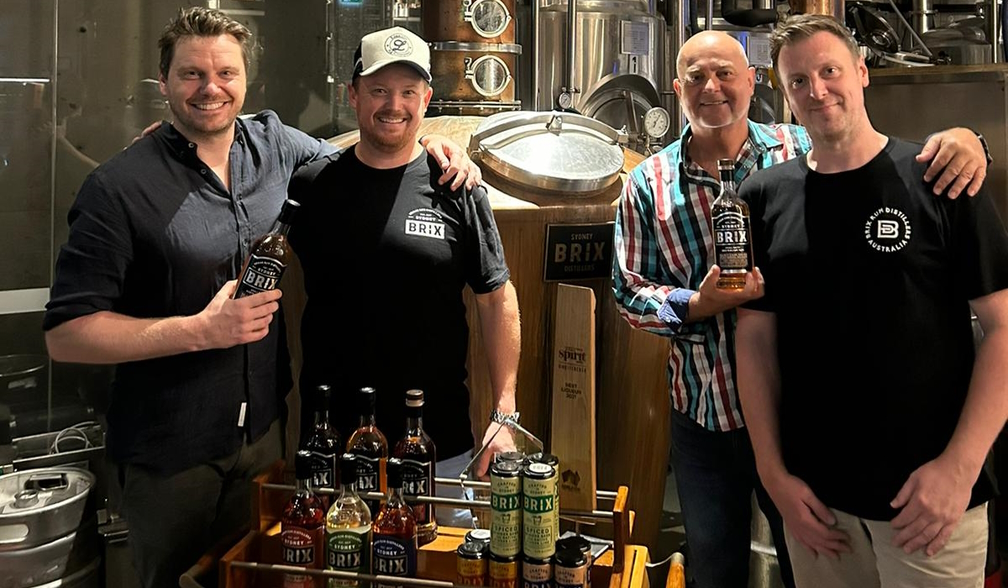 Australian Rum distillery Brix has taken the next step in achieving their vision to reinvent Australian rum by sealing a national distribution deal with SouthTrade International, Australia's leading liquor distributor.
Brix's existing national footprint is now set to expand with SouthTrade International distributing Brix's core range of 100% Australian-made premium rums and RTDs into bars, restaurants, and bottle shops across the nation.
As the first independent Australian pure-play Rum Distillery to be picked up by a major distributor, Brix will now have access to a greater domestic stage on which to showcase the versatility of Australian rum, prior to expanding into key export markets in the coming years. With plans already underway to construct a 1 million litre p/a dedicated rum distillery in Western Sydney, Brix intends to invest heavily in liquid under maturation, all aged in ex-Australian wine casks, allowing increased production efficiencies to keep their core range of Australian made products accessible for consumers. 
The distribution deal also coincides with release of a new custom designed bottle & label which further positions Brix as market leaders, helping to redefine the Australian rum category, one which is well overdue for a facelift. Hospitality veteran Andrew Walters (ex-Swillhouse & Odd Culture) will head up the Brix beverage programme and step into the Brand Ambassador role to work alongside the SouthTrade team & push the standard of education & appreciation of Aussie Rum in a positive direction.
Damien Barrow, Co-Founder at Brix Distillers says this distribution deal is an exciting opportunity to show the world what Australian rum is capable of.
"Brix is both thrilled and humbled to join SouthTrade's extensive portfolio where we will have the opportunity to co-exist amongst some of the world's most well-known liquor brands. It's an extremely exciting time to be involved in the Aussie rum category and with a number of other amazing local brands contributing to change within the category, we expect to see consumer perception continue to shift over the coming years. Brix continues to focus on transparency, education, and innovative production techniques in bringing our brand to life, all of which are qualities we feel are well aligned with SouthTrade's own operational brand pillars. 
SouthTrade have consistently proven that they are experts in their class with a track record of significantly growing a brand's market presence both domestically and internationally. Our entire team are truly excited for the next stage of the Brix journey." Damien says. 
Ray Noble at SouthTrade International says, "I am excited for Brix to be joining the Southtrade portfolio. Local craft spirits remain a key pillar of growth for us, and I can't think of a better brand to partner to lead the evolution of Craft Rum in Australia. There is a lot of untapped opportunity in the super-premium rum segment and the passion Brix bring to this category is infectious. Their new 100% Australian made Spirits range are well placed to challenge perceptions of how to enjoy rum in what is traditionally a cola led occasion. Culturally, the team at Brix are a great fit with Southtrade which is vital for a successful partnership. They Dream Big, take their craft seriously while having a lot of fun along the way".
SouthTrade International will commence distribution in April 2023.
Established in 2017, Brix Distillers' rums are crafted at their Distillery Bar and home in Surry Hills, Sydney, with this partnership enabling them to distribute their premium rums - which are crafted with local ingredients, free from artificial colours and flavours and aged in ex-Australian red wine casks - to rum lovers nationwide and globally. 
After taking home a slew of recent awards - including World's Best Unaged Rum at the World Rum Awards 2022 and Double Gold Trophy at the Australian Rum Awards 2022 - Brix is pioneering the Australian craft rum space, with ongoing NPD and super premium cask series and limited releases.
https://www.brixdistillers.com 
https://www.facebook.com/brixdistillerssydney/