OZTENT SWAG WINS GOOD DESIGN AWARD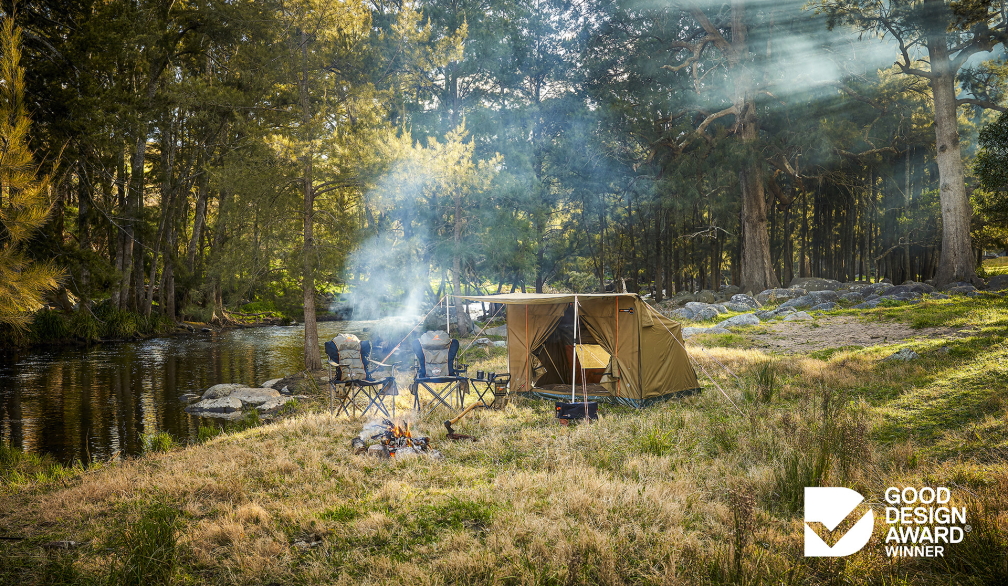 The Oztent Group has been awarded a Good Design Award for their OZTENT RS-2 Double Swag.
The OZTENT RS-2 Double Swag is a world first.   
It's the only two-person swag that can be set up in less than 30 seconds.  Its speed, durability, and comfort were carefully considered to make camping more appealing to all. 
"Customers have been asking us to create a completely new type of 2-person swag", explains Luke Eather, CEO of the Oztent Group.

"A swag that is super-fast and will appeal to the partners of campers who don't like conventional swags and prefer the comfort, coverage and ease of a tent instead."
To achieve this, the team set about creating a product that:
- Is very fast and easy to set up late at night, especially in poor conditions.
- Has headroom – missing in a traditional swag.
- Provides exceptional protection for people and gear from sun and rain.
- Delivers great airflow throughout.
- Will go the distance, enduring the toughest conditions, over and over and over again. 
The RS-2 Double Swag is the only two-person swag using Oztent's innovative 30-second frame, ensuring simple setup and pack down within 30 seconds. 
It is large enough to sit up in, and for two people to move about easily. 
Side ventilation, 65g No-See-Um mesh screens, and a large double entrance deliver exceptional airflow to reduce heat and condensation inside the swag. 
A large, attached awning provides shelter from sun and rain for campers and gear.  It is big enough to sit under and provides a clean, dry entrance to the swag in a downpour. 
Made of ModCan™ 300D ripstop polyester material, with a 350gsm heavy-duty, heat-sealed PVC tub floor, it is 100% waterproof with UV +50 protection to endure the toughest conditions.
While both its ModCan™ material and mesh screens are certified CPAI-84 fire resistant, its strong high quality aluminium frame means that not only will it be the first swag up at any site, it is certain to be the only one standing should the weather turn wild. 
Despite being so large on features, it has a small footprint (200cm x 155cm x 145cm – W x D x H), encouraging more people to get out and enjoy areas inaccessible with larger camping equipment and share their adventures with their partners and friends who prefer ease and comfort.    
The judges of the Good Design Awards were so impressed with its design and innovation that they called it... 
"A first of its kind."

"The Oztent team put considerable effort into ease and speed of setup." 

"This swag allows users to be closer to nature, connect with each other and the outdoors while minimising their impact on the environmental surrounds." 
The OZTENT RS-2 Double Swag will be available nationally from 1 November through all Anaconda stores.  For more information visit oztent.com.au.