Coviu, expands virtual care capabilities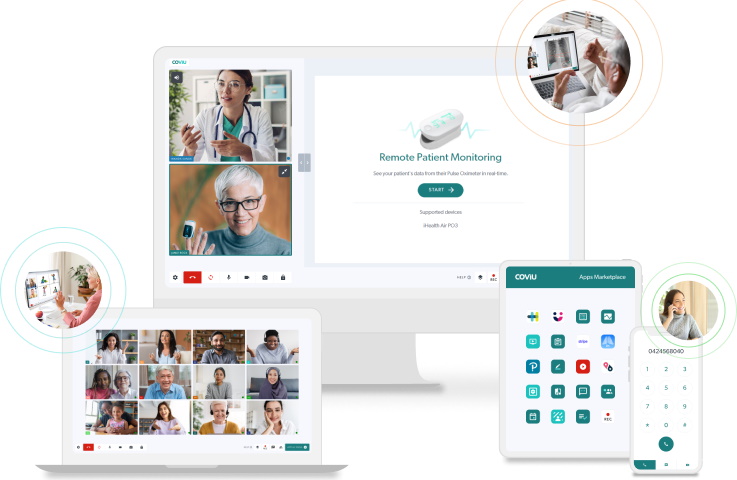 Australian startup, Coviu, is committed to making virtual care easier for the global healthcare industry, as it expands its product offering and launches in the United States following an era of significant growth. 
 
Compared to the beginning of the pandemic, Australia's healthcare system is almost unrecognisable as it has been forced to match the soaring demand for digital healthcare. Keeping pace, Coviu's team has grown fivefold in the last two years alone, growing to 50 people globally, and seen platform usage growth increase by 6,250%.
 
In Australia between March 2020 and March 2022, over 100 million phone and video telehealth services were delivered to around 17 million Australians across the country. Of this, video consultations account for more than 12 million telehealth services. Validating its position in the health ecosystem, Coviu's platform is now used by over 90,000 clinicians worldwide and has delivered more than seven million consultations to date as virtual care becomes a preferred healthcare delivery option.
By providing an all-in-one virtual care platform, Coviu enables healthcare providers to deliver a superior, frictionless virtual care experience to improve clinical outcomes, capacity and workflow efficiencies. With simple and secure video conferencing, an extensive apps marketplace, remote patient monitoring and new unified video and phone helpline software and group therapy consultations, Coviu's solution is becoming the foundation of healthcare providers' digital infrastructure, providing holistic support with one click.
 
Enhancing connected virtual care
The pandemic served as a catalyst for the adoption of telehealth  as healthcare practices around the world adjusted to lockdowns and social distancing measures. But even as the world adjusts to post-pandemic normal, virtual care looks set to stay, with the telehealth market projected to grow to $14 billion by 2030.
 
"When it comes to digital healthcare, at the start of COVID-19 we experienced the type of adoption in weeks that would have taken years in normal times. We were built from the start for the medical profession and for scalability. Connected, digital care is here to stay and plays an important role in improving healthcare convenience and accessibility. The future of healthcare will be centred around patient needs with healthtech at their fingertips," explains Dr Silvia Pfeiffer, CEO and Founder of Coviu.
 
Coviu's technology delivers on a vision of connected care providing a system of action. Using the platform, providers can deliver rapid patient care impact by eliminating many of the traditional obstacles to doing so. 
 
As a built-for-purpose platform, Coviu has a number of advantages over standard business and consumer communication tools such as Zoom and Google Meet, especially when it comes to clinical workflows and use cases . Coviu enables integration of digital tools such as The Clinician's Digital Care Pathways application ZEDOC and Propell Health's mobile health devices and 2M Lingo's on-demand interpreting services, increasing the accessibility of healthcare for culturally and linguistically diverse (CALD) patients.
 
Validating its position as a champion of connected care in Australia, Coviu has partnered with the CSIRO and The University of Sydney (among others) to lead the creation of an AI-enabled digital toolkit to transform wound care. It also provided the software for a virtual training program to improve end of life conversations and help families make more informed decisions about organ and tissue donation. When paired with specialist knowledge, these tools can be conveniently utilised in a digital setting, streamlining Australia's healthcare sector. 
 
"Research shows that up to 80% of clinician visits can be provided online with comparable clinical outcomes, with digitisation creating opportunities for a greater continuity of care and higher revenues for providers. Our mission is to arm healthcare providers with an unparalleled telehealth solution to help them thrive, not just survive in these trying times," adds Dr Pfeiffer.
 
Technology to unlock new opportunities for healthcare
Now facilitating a daily average of over 14,000 telehealth consultations, Coviu plans to double its headcount in the next twelve months as it sets its sights on international growth.
As part of the company's expansion efforts, Coviu has appointed former AthenaHealth and TigerConnect executive, Kirk Paul Kirkman, as the company's Chief Commercial Officer and President of Coviu Corporation. He brings extensive experience driving sustainable growth and scaling best-in-class health systems providers that will drive Coviu forward as it continues to expand globally.
 
"Today, healthcare is replete with systems of record, important health data resident in silos waiting to be liberated. Now is the time to be investing in our global healthcare community, ensuring that healthcare practitioners around the world have the right tools in place to support an enhanced level of care by combining health data with Coviu's connected care platform, thus enabling healthcare's system of action. This is exactly why we're expanding into  the US," says Kirk Paul Kirkman. 
 
By taking a holistic approach to digital healthcare, the healthcare sector can activate timely interventions, reduce hospital admissions,  better allocate resources according to a patient's risk and improve workflows across the industry. On the other hand, leaning on integrated solutions means patients can feel an enhanced level of care from the comfort of their own home.
 
"Coviu has reached an important inflection point. Australia's healthcare sector looks entirely different to what it did three years ago. Over the course of this time, our role has evolved beyond educating the industry and policy makers of the value of telehealth, campaigning for the permanency of Medicare subsidised telehealth, to now championing the new generation of virtual healthcare," concludes Dr Pfeiffer.