Money magazine's annual Best of the Best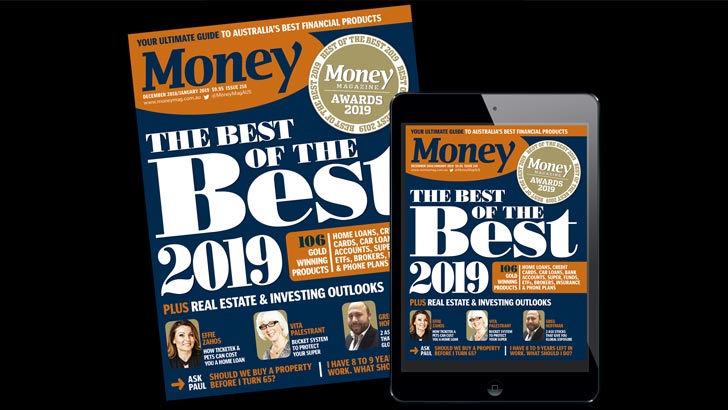 Money magazine's annual Best of the Best issue, on sale now, is the nation's leading independent guide to Australia's best financial products and services.
The December-January issue of Money reveals Australia's best financial products and services for 2019, and property and investing outlooks for the New Year.
Putting together the perfect suite of financial products takes time, says Money editor Effie Zahos. "That's where this issue comes in. Best of the Best continues to take the hard work away by awarding and shortlisting the best products available for Australians to consider."
Zahos, together with Money's chief financial commentator Paul Clitheroe, presented the Best of the Best awards at View by Sydney on November 28.
"We like to think of this event as the Logies for the finance world, where product managers, CEOs and advertising executives come toward to celebrate their awards and hear from Paul Clitheroe on the outlook for the year ahead," she says.
"With highly-coveted Money logos up for grabs, the awards are respected not only by the industry but by consumers themselves."
No fewer than seven research houses are involved in bringing this special edition to readers.
"What I like about this awards issue is the transparency," Zahos says. "The methodology is explained next to the tables, so you know exactly how we've come up with the Best of the Best. You may agree or disagree but either way the products in this issue have something that we believe sets them apart.
"How much are you paying for your mortgage? What about your credit card? You'd be mad not to at least have a sneak peek at some of the winners here to compare what you're paying or earning."
The December-January issue of Money ranks everything from credit cards and home loans, to super funds, managed funds and ETFS, plus mobile phone plans and broadband plans. It even names the best wines for under $20.
"What this edition is all about is bringing you low-cost, great-value products that can help you reach your goals," Zahos says.
"It's no wonder it's our biggest selling edition of the year."
The Best of the Best issue of Money magazine is available from newsagencies, supermarkets, and online through Magshop.
2019 will be a big year for Money, with the July issue of the magazine marking 20 years since it was launched on the back of the Money TV show.
"There is much to celebrate with next year being Money magazine's 20th anniversary," says Zahos. "To this day we remain Australia's most-read and highest-sold personal finance magazine."
The full Best of the Best list:
Cheapest Home Loan Package – Bank
•       Bank of Sydney
•       Best Everyday Account – Bank
•       ING
•       Best Rewards Credit Card – Bank
•       HSBC
•       Cheapest Home & Contents Insurance
•       Budget Direct
•       Cheapest Online Broker
•       SelfWealth
•       Best-Value NBN Broadband Plan
•       Exetel
•       Best Small Companies Fund
•       Spheria
•       Best Growth Super Fund
•       Australian Super
•       Best ETF Provider
•       iShares by BlackRock
•       Best Fund Manager
•       Russell Investments
•       Best Pension Fund Manager
•       QSuper
•       Best Super Fund Manager
•       Sunsuper
About Bauer Media:
Bauer Media is Australia's leading cross platform publisher connecting with 90% of Australian women every year. Through key lifestyle categories – Women's Entertainment & Lifestyle; Fashion, Beauty & Health; Homes; Food; Motoring & Trader – we create influential content for more than 40 brands including The Australian Women's Weekly, Woman's Day, TV WEEK, ELLE, Australian Gourmet Traveller, Australian House & Garden and Wheels.

Across magazines, digital, social media and live experiences, we attract the attention of high value audiences, pulling focus for our advertising partners. Bauer Media's digital brand networks include Now To Love, Homes To Love, The Australian Women's Weekly Food and reviews and rewards sites such as beautyheaven. Bauer Media is part of a global network with a presence in 16 countries across four continents producing more than 600 magazines, 400 digital products and 100 TV and radio stations. For more information, visit baueradvertising.com.au