Ricoh Introduces New IM 4000 A3 Monochrome Black and White Printer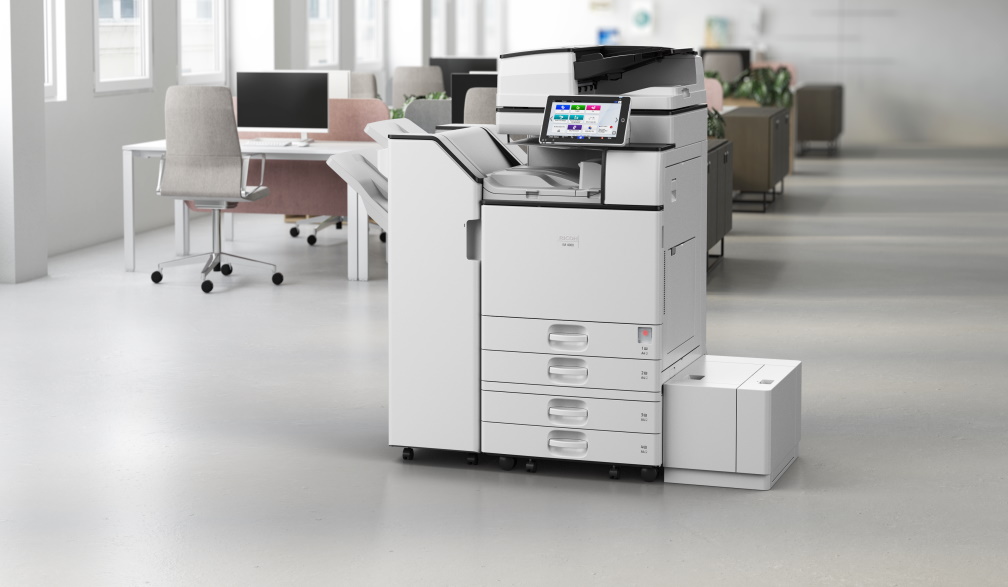 Exceptional feature improvements in speed, reliability and output quality 


RICOH, a leading provider of workplace technology, today announced the IM 4000, the latest model in its range of A3 black and white multifunction printers. 
Last year, RICOH launched the IM 3000 and IM 6000 model and now completes this family with the IM 4000, which are ideal for small to medium-sized businesses requiring the latest feature functionality for high quality and reliable copy, print, scan, and optional fax output for the new digital workplace.  
The IM 3000, IM 4000 and IM 6000 series MFPs offer SMB level performance with improvements in speed, reliability, and output quality.  The IM 3000 prints up to 30 ppm while the IM 4000 prints up to 40ppm and the IM 60000 up to 60 ppm.  
Users can simply scan documents directly to their preferred cloud storage apps or private network while access to a suite of tools give documents a professional print finish and wrap without having to outsource.
All three models feature the latest generation GWNX controller that provides several enhancements over the previous range, such as faster duplex scan speed of up to 240ipm and improved high compression PDF performance.
Business users will also benefit from the latest 10.1" Smart Operation Panel which is more intuitive and user-friendly and boasts smartphone like responsiveness to user commands.  Additional features include a range of brand new options such as a small paper tray and double-feed detection option for the SPDF.  An internal multi-folding unit takes the manual work out of folding leaflets and, with a choice of paper options and additional paper capacity, users don't need to refill the paper trays as often.
These new MFPs are also the first in RICOH's product line-up to support Transport Layer Security (TLS) 1.3, a much faster and secure protocol ensuring customer sensitive data is protected with the latest encryption algorithms. Indeed, multi-layered security features make digital document management risk proof.
In addition, the new devices support Ricoh's Dynamic Workplace Intelligence innovation platforms. RICOH Always Current Technology (v2.0) enables customers to keep their MFPs up to date with periodic feature and security updates as they become available. RICOH Intelligent Support provides increased productivity with fewer interruptions by tapping into real-time remote service giving RICOH service experts direct access to your device's Smart Operational Panel. 
Finally, RICOH Smart Integration provides customers with seamless integration to the most popular cloud services and smart workflow applications to effectively automate everyday tasks. 
These platforms maximise uptime with proactive device support and in a new subscription model enable users to add software solutions and cloud services with zero upfront costs thereby optimising their document management workflows. 
Sul Koralege, Assistant Product Manager, RICOH Australia, said, "What with work styles and technology evolving so rapidly, customers expect devices that are agile and ready to meet their ever-changing business needs. These new devices enable users to work faster with improvements in reliability and usability while at the same time, they are more efficient and align effectively to meet the workflow and security demands of the modern workplace.  We look forward to seeing the positive impact which these devices will have in Australian businesses." 
About RICOH
Ricoh is empowering digital workplaces using innovative technologies and services, thus enabling individuals to work smarter.

With cultivated knowledge and organisational capabilities nurtured over its 85-years history, Ricoh is a leading provider of document management solutions, IT services, communications services, commercial and industrial printing, digital cameras, and industrial systems.

Headquartered in Tokyo, Ricoh Group has major operations throughout the world and its products and services now reach customers in approximately 200 countries and regions. In the financial year ended March 2021, Ricoh Group had worldwide sales of 1,682 billion yen (approx. 15.1 billion USD).

For further information, please visit www.ricoh.com