Small businesses recognised in Canon's 2021 Grants
g
Canon Oceania is today announcing the winners of its 2021 Grants Program, recognising seven organisations across Australia and New Zealand that are paving the way towards a better future for their communities. As COVD-19 lockdowns continue to impact Australian businesses, Canon's Grants Program includes a small business category and increased cash donations for the second year running.
After the public cast more than 4,000 votes for this year's finalists, Canon is awarding more than $30,000 worth of grants. Australian winners will each receive $5,000 in cash and products ($2,500 in cash and $2,500 in Canon products).
Australia's winning projects will help disadvantaged communities connect with nature, support learning and communication for individuals with autism, and deliver therapy to children impacted by adversity.
"We're continuously inspired by the breadth of organisations working to make a positive contribution to society, despite the tough economic and personal circumstances that COVID-19 has created for many Australian communities and organisations," said Dave Yoshida, Managing Director, Canon Oceania.
"This is especially true for small businesses, with many significantly impacted by the current restrictions in a number of states. We're proud to support these organisations, providing them with tools that help them adjust to the 'new normal' and set themselves up for future success. We're excited to see how this year's winners use their grants to positively impact their communities and our environment."
For the past 15 years, in the spirit of Canon's Kyosei guiding philosophy – living and working together for the common good – Canon Oceania has supported more than 75 schools, not-for-profits and community groups with more than $420,000.
Previous winners have used the grant to provide assistance and therapy dogs for children with disabilities, facilitate learning for children with hearing loss, and to stop dolphin cruelty.
AUSTRALIAN WINNERS 2021: $5,000 grant ($2,500 in cash, $2,500 in Canon products)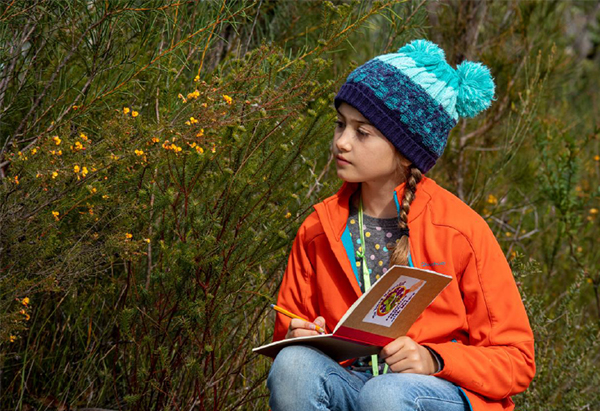 Small Business: The Young Naturalist (NSW)
The Young Naturalist is a social enterprise, especially interested in assisting women and children in disadvantaged communities throughout Australia. It provides scientific nature programs to help children understand and connect with nature.
Sharing their excitement, Dr Aniuzka Kazandjian and Dr Fiona Benyon, the co-founders of The Young Naturalist said, "Our mission is to bring Australian biodiversity to life and connect children with nature by providing experiences in microscopic investigation, citizen science participation and hands-on creation of biodiverse habitats. The 2021 Canon Oceania Grant will enable us to 'capture the moment' our Young Naturalists make their first scientific nature discoveries, creating tangible memories of their connection with nature. Thanks to Canon, our Young Naturalists will be able to share their Nature discoveries with the world, by contributing their images to iNaturalist and the Atlas of Living Australia. The high-quality images captured with Canon cameras will also contribute to the creation of our Young Naturalist series of Natural Sciences books and field guides, assisting children to identify our unique Australian biodiversity. We would like to express our sincere thanks to Canon Australia for sharing The Young Naturalist's vision to 'nurture the future custodians of our Natural World'."
Education: Giant Steps Australia (NSW and VIC)
Giant Steps Australia operates a school, as well as providing intervention and adult services for children and adults living with Autism Spectrum Disorder. Its transdisciplinary program combines occupational, speech and music therapy with special education and psychology.
"We're very grateful to Canon for choosing Giant Steps Australia as one of its grant recipients," said Andrew Frakes, Acting Principal, Giant Steps Australia. "Our work centres on facilitating learning for individuals with autism, many of whom are non-verbal and learn best with visual support. Using Canon's equipment, we'll be able to create purpose-built visuals and videos that are integral to improving communication between students and staff, carers and families. We'll also develop content to be shared through our online resource platform 'The Autism Hub', to help support individuals with autism in the wider community."
Community: KidsXpress (NSW)
KidsXpress is a children's mental health charity working to transform the lives of children impacted by adversity. It uses a trauma-informed Expressive Therapy program to promote healing in children under 12, as well as education services for those who care for them.
"When traumatised children are given the creative and emotional resources to work through problems as they arise, they're able to turn these challenges into opportunities and build resilience," said Margo Ward, CEO & Founder, KidsXpress. "Canon's Grant will not only provide much needed equipment for our phototherapy sessions, it'll enable us to invest in therapeutic resources including sensory tools and music instruments for our therapy centre and partner schools. We're looking forward to putting our grant to use and I'd like to express our gratitude to Canon for selecting us as one of its recipients."
RUNNER-UP: $1,000 grant
Saving our Koalas (NSW)
Saving our Koalas is a charity dedicated to creating more habitats for endangered koalas. It raises funds through donations to plant koala food trees to provide homes and food for koalas and other native animals.
Across the Tasman, Canon Grants are being awarded in New Zealand's education, community and environment categories.
NEW ZEALAND WINNERS: $5,000 grant each ($2,5000 worth of Canon products and $2,500 cash)
Education: Wakatipu Reforestation
Wakatipu Reforestation focuses on the protection and restoration of the native biodiversity of the Wakatipu Basin through revegetation projects, collaboration, education and advocacy. The grant will enable it to grow its Educate for Nature program.
"The Canon grant will enable us to continue to support and grow our 'Educate for Nature' program, said Jo Smith, WRT Education and Outreach Officer, Wakatipu Reforestation. "The grant will greatly assist us in the delivery of our hands-on environmental learning allowing us to connect children and community with nature. Thanks, Canon, for playing a huge part in helping us to reach our goal of ensuring that every child within the Wakatipu basin can be a part of our shared journey in restoring our local biodiversity."
Community: The Period Place
The Period Place is a period advocacy charity, with the goal of eliminating period poverty by 2030; in line with the Sustainable Development Goals. The charity will use its grant to allow them to facilitate greater learning opportunities in their education classes.
"We are so stoked to win the Canon Oceania Community Category Award," said Danika Revell, Cofounder + CEO, The Period Place. "Being a charity that focuses on supplying vulnerable communities with period products, it's hard to spend money on things we need internally for ourselves. Having a printer that is fit for purpose for our team, means we'll be able to provide better resources for our Impact Partners, and the individuals we support around Aotearoa. With a projector, we'll be able to deliver our workshops clearly, ensuring everyone can access them from The Period Place Hub properly. The Hub is the first free community space in Aotearoa focused on periods, and thanks to Canon, it's going to be able to support the needs of so many more menstruators and their whanau".
Environment: Far Out Ocean Research Collective
Far Out Ocean Research Collective's mission is to foster knowledge and conservation of oceanic environments through research and education. This grant will be used to support their research of female parāoa/sperm whales in Aotearoa NZ. 
"We're very grateful for Canon's support, especially in these difficult times," said Jochen Zaeschmar, Founder, Far Our Ocean Research Collective. "The grant will support our photo-identification work in the first dedicated surveys of female sperm whales in Aotearoa. The identification of individuals based on the unique marks on their tails is a cornerstone of our research and helps us understand population size, movements, and social structure. We are thrilled to be able to reveal some of the mysteries of these enigmatic animals and to share our findings with the wider community."

For more information about Canon Oceania's Grants Program, please visit: https://www.canon.com.au/about-canon/community/grants