WSET Honours Australian Graduates and Award Winners
Written by

Stephanie Murray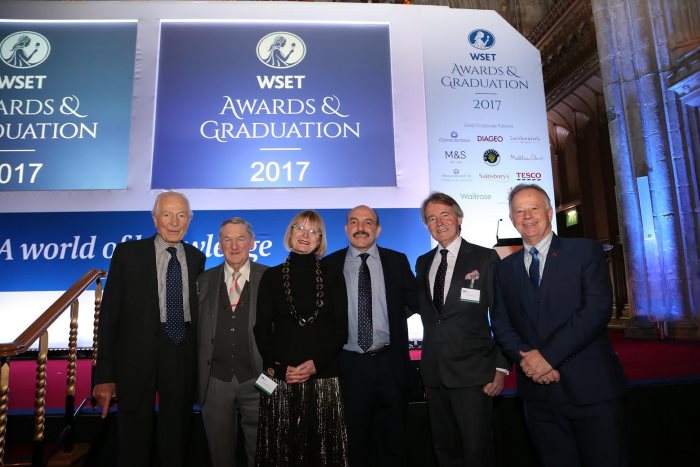 Over 500 of the most influential wine and spirits professionals in the world gathered on the evening of Monday 23 January at the historic Guildhall, City of London, to celebrate the annual Wine & Spirit Education Trust (WSET) Awards where 21 graduates from Australia were announced as achieving the coveted WSET Diploma.


Two Australian WSET candidates were also honoured with notable awards. Caitlin Parker, sommelier at Rockpool Bar and Grill in Sydney, has been awarded The Laithwaite's Scholarship, and Ed Merrison from Shoreham, Victoria, was awarded the Fine Wine Partners Scholarship.


Hosted by WSET Honorary President Gérard Basset and WSET Chief Executive Ian Harris, the leading global provider of wines and spirits qualifications presented 49 awards in recognition of the outstanding achievements of the candidates for the past academic year 2015/16. The occasion attracted attendance from industry leaders and long-standing WSET supporters including Jancis Robinson, Laura Jewell and Joe Fattorini.


Australians made up 21 of the year's 460 WSET Diploma graduates and their achievements were celebrated as some of only 9,000 people in the world to have ever held the accolade. Graduates and award winners hailed from the UK and USA to China and Japan, representing the global reach and relevance of WSET qualifications.


The event also gave a stage to announce the appointment of WSET's new Honorary President, Steven Spurrier, who will take over from Gérard Basset after three years in the role following the close of the ceremony.


Ian Harris, WSET Chief Executive, said, "The academic year 2015/16 was WSET's most successful to date, with a record 72,171 exams taken globally, an increase of 17% on the previous year, marking 14 consecutive years of growth. Australia in particular saw strong growth, with candidate numbers up 18% for the period. In the dynamic and ever changing world of wine and spirits, education is proving increasingly important, and through our qualifications and scholarships we are committed to nurturing talent to promote the future of the industry. We are so proud of all our graduates and scholarship winners and together hope to continue to inspire others towards deeper knowledge and achievement."


The WSET Level 4 Diploma is WSET's highest qualification and recognised globally as one of the most distinguished achievements in the sector. The course develops an in-depth knowledge of wines and spirits, from production, regions and styles, and the global trade in wines and spirits. The Diploma is also universally viewed as the stepping stone to the Master of Wine qualification. Upon successful completion graduates receive a WSET certificate and lapel pin, and are able to use the post-nominal DipWSET and associated WSET certified logo.
Award highlights:


Vintners' Cup and Scholarship Winner: Jason Millar, Retail Director, Theatre of Wine, UK
Awarded to the student who achieved the highest aggregate mark across all units of the WSET Level 4 Diploma in Wines and Spirits
The Riedel Trophy for the WSET Educator of the Year: 3 winners:
Dragon Phoenix, China
Hakkasan Group, UK, USA, Middle East
Napa Wine Academy, USA
Awarded to the individual or company that has made a significant contribution to WSET courses and qualifications
Notable Australian Award Winners:
Caitlin Parker, sommelier at Rockpool Bar and Grill in Sydney, has been awarded The Laithwaite's Scholarship for achieving outstanding examination marks in her WSET Level 2 Award in Wines and Spirits. Caitlin completed her qualification at Sydney Wine Academy. The award provides her with a travel grant of £700 to study a wine and/or spirit producing region. She says, "I enjoyed all parts of the WSET course, aside from looking at individual countries I really enjoyed learning more into the viticultural practices and wine making techniques, as I find it quite fascinating and a subject I had not researched too deeply prior to WSET." She is now progressing on to complete her WSET Level 3 Award in Wines and Spirits and says, "I will say that on my first day to start my WSET 3 course, I stopped along the side of the road on my walk to class and I found two four leaf clovers, which have always been a symbol of great luck!"


Ed Merrison from Shoreham, Victoria, has been awarded the Fine Wine Partners Scholarship as an outstanding graduate of the WSET Diploma in Wines and Spirits. Ed completed his Diploma at Prince Wine Store. To mark his achievement, Ed receives an AU$1,000 grant towards approved further wine studies, a AU$1,000 cellar specially selected from the FWP portfolio of fine wines and an engraved Spiegelau Decanter. Ed moved to Australia in 2002 where he became a reporter for newspapers in Melbourne. His wine epiphany was in 2004 when he pitched a travel story on cycle-touring in South Australian wine country and travelled to Coonawarra, Clare Valley, the Barossa and McLaren Vale on a cellar door crawl. He completed WSET Level 2 and 3 Awards in Wine and Spirits and in June 2014, embarked on the WSET Diploma and applied for his first full-time job in wine at CellarHand, an importer and wholesale distributor. Ed says, "When I started this WSET journey I was a broadcast journalist in London with a four-year-old, two-year-old and pregnant wife. It's been a heck of a journey to, essentially, the start. I hope it will be the beginning of more adventures teaching, learning, sharing and wholeheartedly enjoying wine." Ed intends to share his knowledge by teaching wine education classes and writing for various publications, along with his wine blog, Bonnezeaux Gonzo.
Notable Australian Graduates:


Lisa Cardelli, Melbourne


Lisa was born in Tuscany, and wine has always been an integral part of her life as her grandfather used to make wine and olive oil for the family and bring home interesting wines from his business trips. When she turned 21, she started to develop a particular curiosity for wines and in 2010, she applied for a Sommelier course, held in Lucca by AIS (Italian Sommelier Association). On completing the course, she moved to Australia to work for a fine dining restaurant in Sydney, Pilu at Freshwater. It was there, while working as Commis Sommelier, that she began her WSET qualifications. She has progressed with her career as a professional Sommelier working in fine dining restaurants, including the famous Australian 3 hats restaurant Vue de Monde. She attributes WSET to her success today, working as Head Sommelier for Neil Perry, Australia's most successful Chef and Restaurateur, while being involved in local wine shows and part of the tasting panel that selects wines for Australia's leading airline Qantas. She is now hoping to become a WSET educator to pass her passion and knowledge to other students using the WSET approach, whilst also looking to channel her emotions towards wine as a wine writer.


Geoff Cowey, Melbourne


Geoff is a fifth generation Australian. After studying Chemistry at the University of Adelaide, Geoff wanted to apply science to the real world. He entered a graduate program through Treasury Wine Estates (then Southcorp Wines) managing wine labs and conducting research trials in winery sites across Australia. He has since worked vintages in many Australian wine regions as well as in France, New Zealand and Spain. He joined the Australian Wine Research Institute (AWRI) in 2002, where he provides technical advice to Australian winemakers and translates the latest research findings into practical techniques that winemakers can use. He also sources wines from around the world for wine tasting courses such as the Advanced Wine Assessment Course, which trains new wine judges for the Australian wine show system, and judges at Australian wine shows. Having completed his WSET Diploma, Geoff hopes to help others learn about wines from around the world by teaching WSET courses.


Igor Beron, North Adelaide


Igor's passion for wine began whilst trying not to embarrass himself in front of an old girlfriend and her father, both wine enthusiasts. He started to study wine with WSET as a hobby while working in advertising for an online marketing company, and soon fell in love with it. During his WSET Level 3 Award in Wine he had an epiphany and decided wine would become the centre of his life. He started to work for a wine distributor in Brazil, which allowed him to be in contact with some of the best producers in the world. There he met a WSET Diploma graduate Guilherme Corrêa, who became his mentor and inspired him to continue his studies and do the WSET Diploma. He is now doing a master's degree in Wine Business in Adelaide, where he lives whilst working at East End Cellars, a place that values quality over quantity enabling him to experience some of the world's best producers.