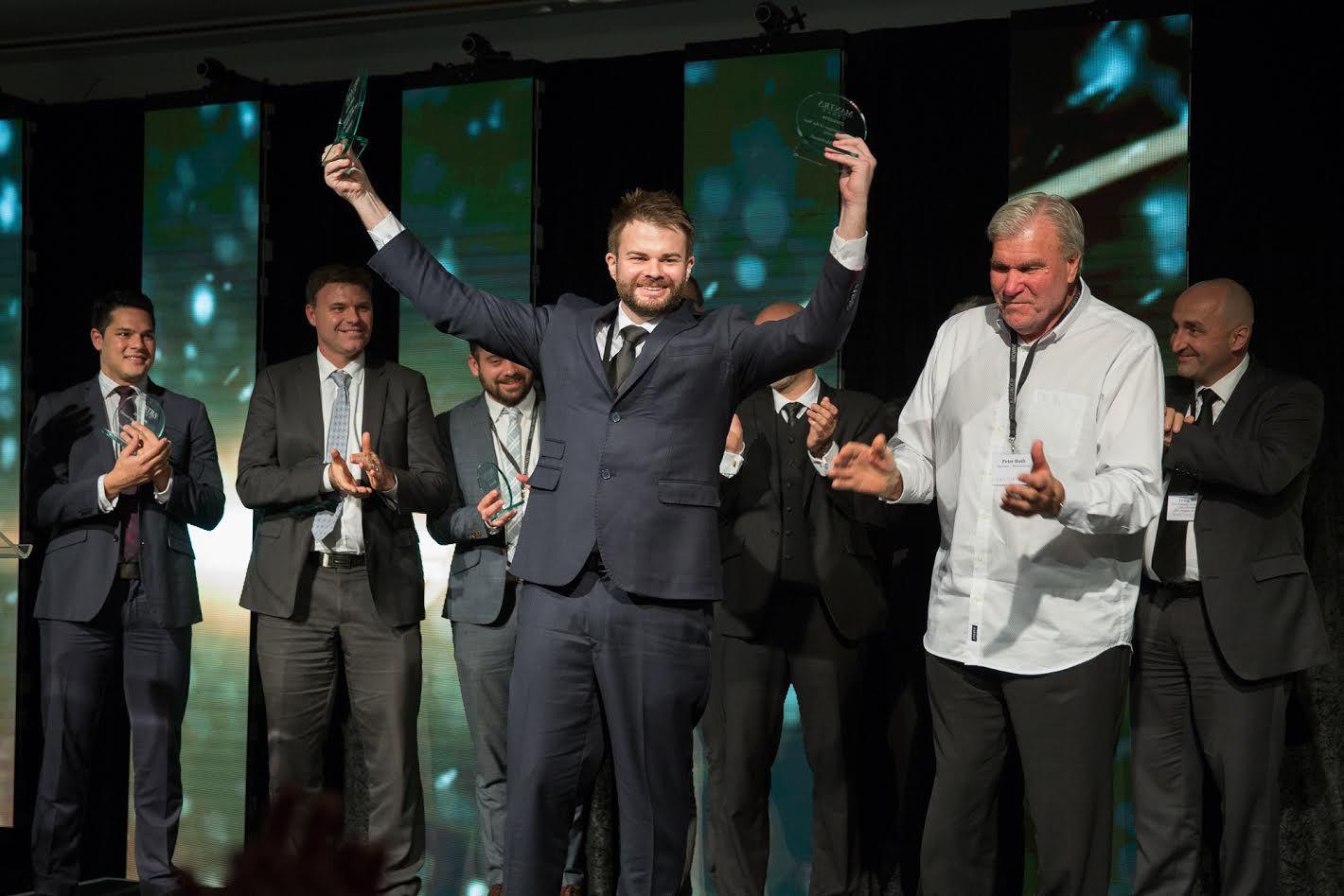 MANTRA GROUP ANNOUNCE 2016 AWARDS FOR EXCELLENCE
Leading Australian-based hotel and resort operator, Mantra Group, honoured its brightest stars and highest performers from its 127-strong network across Australia, New Zealand, Indonesia and Hawaii at its annual Mantra Group Awards for Excellence gala ceremony held at Mantra on View Hotel, Surfers Paradise on 25 August.
The top team member accolade, General Manager of the Year, was awarded to Chris McIntosh. Chris, who was recently appointed General Manager of the Group's new Peppers Kings Square Hotel in Perth (opening in October) after excelling in his Mantra on Murray General Manager position for the past 12 months, received the top gong for implementing a number of strategies to improve service levels and team engagement.
The region of North Queensland also prevailed on the night, winning the Corporate Social Responsibility award for their coordination of various Luke Batty Foundation fundraising events as well as the coveted Region/Area of the Year for their overall excellence in performance, guest sentiment, driving food and beverage initiatives, team culture and transitioning new properties.
Other major awards on the evening went to Peppers Gallery Hotel at Canberra, Mantra on Kent at Sydney and BreakFree on Cashel at Christchurch for Property of the Year for their respective brands.
Mantra Group Chief Executive Officer Bob East said the Awards for Excellence cap off a big year for Mantra Group.
"FY2016 was another landmark year in the growth and development of Mantra Group, in terms of financial results, portfolio expansion in key destinations and ongoing product improvement," Mr East said.

"The awards recognise the outstanding contribution of our team members who ensure our guests are happy and properties are looking great and performing well on a daily basis."
The full list of 2016 Mantra Group Awards for Excellence winners are as follows:
General Manager of the Year - Chris McIntosh, Mantra on Murray, Perth WA (now Peppers Kings Square Hotel, Perth WA)
Region/Area of the Year - North Queensland
Corporate Social Responsibility Region - North Queensland
Peppers Property of the Year - Peppers Gallery Hotel, Canberra ACT
Mantra Property of the Year - Mantra on Kent, Sydney NSW
BreakFree Property of the Year - BreakFree on Cashel, Christchurch NZ
Excellence in Guest Service - Peppers Parehua, Martinborough NZ
David Brill Award (in memory of late Mantra Group team member David Brill) - Chris Dickinson, General Manager, Mantra Coolangatta Beach, Coolangatta QLD (now Mantra on Murray, Perth WA)
Service Star of the Year - Vimmi Boni Bangari, Guest Relations Manager, Peppers Docklands, Melbourne VIC
Food and Beverage Outlet of the Year - Home Kitchen & Bar, Mantra on Russell, Melbourne VIC
Shared Services Department - Finance
Shared Services Team Member - Gus Chan (International Sales Manager – Eastern) and Rachel Waters (Financial Controller)
Profit Growth - Mantra City Central, Melbourne VIC
About Mantra Group
Mantra Group is the leading Australian-based hotel and resort operator.  Mantra Group's portfolio consists of 127 properties with more than 20,000 rooms in properties under management, across Australia, New Zealand, Indonesia and Hawaii. Operating three well-known and trusted brands – Peppers, Mantra and BreakFree - Mantra Group operates the second largest network of accommodation properties in Australia (by room number). The Group is positioned to offer both leisure and business style accommodation ranging from full service city hotels and self-contained apartments to luxury resorts and retreats. The Group successfully listed on the ASX in June 2014 and in its first year as a public company was elevated to the ASX 200: www.mantragroup.com.au; www.peppers.com.au; www.mantra.com.au; www.breakfree.com.au