what insolvency really means for the budget retailer and why its competitors are surviving (for now)
Written by

John Wood, Lecturer in Law, Lancaster University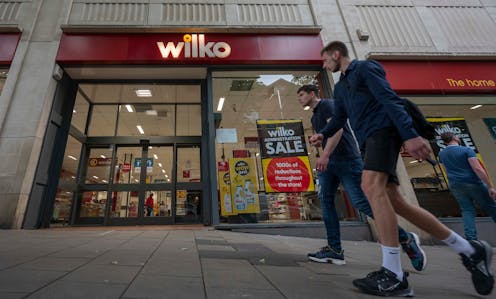 All 400 of Wilko's shops are now expected to close[1] over the next month, leaving 12,500 people without jobs across the UK. The budget retailer's administrator PwC announced the news[2] after it struggled to secure a rescue deal[3] for Wilko to continue operating.
After swooping in to rescue collapsed music chain HMV in 2019[4], Canadian businessman Doug Putman had hoped to do the same for Wilko. But his plan to rescue the company as a going concern[5] – a business that will continue to operate and meet its financial obligations – was "hampered by the costs and difficulties thrown up by the need to overhaul Wilko's supply chains", according to news reports[6].
Putman had already scaled back his rescue plan from saving around 300 shops to around 100, but he has now announced he won't be able to continue with the deal at all.
In the space of a few weeks, it may seem that Wilko's demise has been rapid, but the financial problems that lead to its insolvency and subsequent entry into administration[7] have happened over a much longer time period[8].
What we are witnessing now is the endgame and the aftermath of a company that has failed to attract an investor for its entire business.
Read more: Wilko is the latest shop to be edged out by competition but it doesn't have to mean the end for the budget retailer[9]
Wilko's difficulties securing a rescue deal happened for a number of reasons. Initially, any investor would have been expected to inject £75 million into the company[10] to clear existing debts. Now the company is in administration, this is no longer the case and interested parties can cherry-pick assets.
The company also lacks any real unique selling point that would make it attractive to other competitors. In other words it has been outplayed by the competition[11] in its own market and now finds itself in the same position as failed retailer Woolworths did back in 2008[12].
Company rescue versus business rescue
The purpose of administration can be found in a section of the Insolvency Act 1986[13]. The primary aim is to rescue a company as a going concern. In the early days of Wilko's troubles, Putman had planned to acquire more than 300 of its 400 stores[14], which would have saved around 8,000-9,000 of Wilko's total 12,500 workforce. This was later reduced to 100 stores, and now, nothing.
The most likely alternative suitors – other budget brands such as Poundland, Primark, Home Bargains and B&M – may now negotiate for smaller groups of stores. B&M has already come forward with a £13 million offer for up to 51 stores[15]. In other words, a carve up of Wilko's 400 stores is probably now the most viable option.
This is not a company rescue, but rather a business rescue that aims to achieve a better result for the company's creditors than if the company was wound up (liquidated[16]). In cases such as this, only parts of the business will be salvaged.
What could business rescue look like for Wilko?
Since a single buyer currently looks unlikely, the carve-up is likely to be extensive, with Wilko as we know it probably ceasing to exist. The impact on the high street will be significant, leaving a huge hole in British town centres[17], where Wilko currently occupies 11 million square feet of space.
Indeed, aside from B&M, the Range has expressed an interest but only in the purchase of Wilko's brand and online operations[18]. This is similar to when ASOS bought the Debenhams[19] brand and website in 2021, but not its brick and mortar stores.
The bargain retail sector is highly competitive and has a history of such carve-ups. In 2008, Woolworths failed and nearly a quarter of its 800 stores were acquired by the very names now linked to Wilko[20]: Poundland[21] and B&M. There is also a strong possibility that some of Wilko's stores may not be bought – 300 former Woolworths stores remained empty after it collapsed.
Woolworths was subject to a similar business rescue strategy as Wilko is now experiencing. Back in 2008, Poundland, the 99p Stores Chain, B&M, and Poundstretcher shared out[22] many of its shops. For the companies in this group that remain in 2023 (the 99p Stores was bought by Poundland in 2015[23]), various financial problems[24] have been a feature[25] of this highly volatile market[26].
Sue Martin/Shutterstock
[27]
Is failure inevitable?
Wilko is in administration simply because its competitors do what it does, but better. They offer out of town premises, increasing convenience to shoppers with larger warehouses for a greater range of products. They also buy in bulk, which means cheaper prices. Wilko, which has suffered from supply chain issues recently, has simply failed to keep up[28].
The process by which companies are replaced by new more efficient companies over time is called creative destruction[29]. It may upset nostalgia-lovers, but it plays an important role in ensuring financially troubled companies do not continue to operate indefinitely while their debts increase. Companies and their directors can be held accountable[30] to creditors, which can include taking action to limit financial losses. In that respect, insolvency acts as a way to prevent losses spiralling out of control.
In time, almost every company will be subject to financial distress and a large portion of those companies will inevitably fail[31]. At the moment, however, Wilko's rivals are surviving, and their survival rates will increase for the time being, as Wilko's customers shift their spending power over to these other budget brands.
Read more https://theconversation.com/wilko-what-insolvency-really-means-for-the-budget-retailer-and-why-its-competitors-are-surviving-for-now-213284