Young people are drinking less – here's an alternative to try on your next night out
Written by

Alexandra Kviat, Research fellow, University of Leicester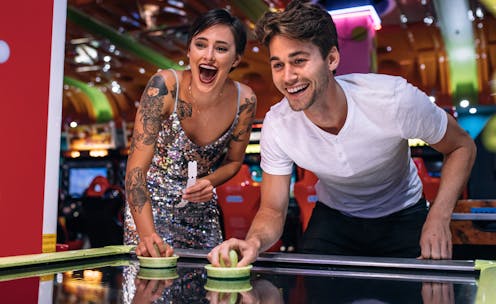 A new leisure trend is providing an alternative to pubs and bars for young people whose alcohol consumption has been declining[1] for years.
You can listen to more articles from The Conversation, narrated by Noa, here[2].
Competitive socialising takes the centuries-old idea of mixing food with games (think medieval banquets[3]) and amplifies it. Options range from reinvented versions of bowling[4], board games[5], darts[6], ping pong[7], shuffleboard[8], table football[9], mini golf[10], cricket[11], to axe-throwing[12], escape rooms[13] and virtual reality bars[14]. The common denominator is fun, immersive social experiences served with high quality food and drinks in eye-catching, Instagrammable interiors.
According to market research analysts from Mintel UK[15], a quarter of people surveyed about their leisure activities in autumn 2022 said they recently played a social entertainment game. And analysts predict that competitive socialising will remain popular despite ongoing economic uncertainty.
Millennials and Generation Z are driving the trend[16]. Not only are they drinking less, they are spending less on commodities and more on experiences[17].
Gankevych / Shutterstock
[40]
But smaller-scale, more community-oriented businesses based in less affluent areas are not as optimistic[41]. The fall in consumer confidence[42] is part of the problem. And because leisure operators use a lot of energy for lighting, cooking, heating and cooling, they are particularly exposed to uplifts in energy prices.
If you want to support your local competitive socialising venue this winter, pay them a visit or follow them on social media. But there is a cheaper way to stay on top of this trend. Perhaps throwing an axe in your backyard isn't the best idea, but you can always organise a game night at home[43].
There probably won't be any neon lights, banging beats or a selfie wall, but home parties create a sense of community and relaxation[44] like no other environment. Invite a few friends, cook together, chip in for a takeaway or do potluck[45]. Pick some titles from this list[46] or play party games that require nothing but pen and paper[47] – and have fun.
Read more https://theconversation.com/young-people-are-drinking-less-heres-an-alternative-to-try-on-your-next-night-out-197465