Jacinda Ardern resignation has people wondering when to quit – but that's the wrong way to think about burnout
Written by

Anthony Montgomery, Professor in Occupational & Organisational Psychology, Northumbria University, Newcastle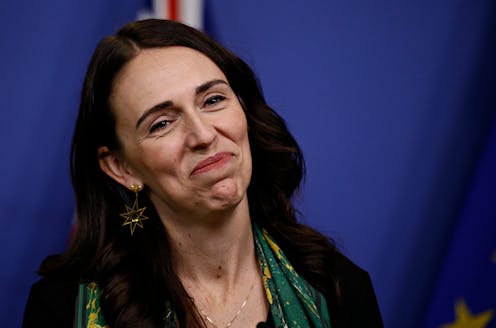 Jacinda Ardern's resignation as New Zealand prime minister has sparked discussions about burnout and when is the "right time" to leave a job. Some have written admirably[1] about Ardern's decision to leave, saying that she is being kind to herself and not overstaying her welcome – in contrast to many other world leaders.
One of the youngest holders of public office, Ardern had become an international symbol for how to integrate work and personal life. She famously held her infant daughter[2] while addressing the UN general assembly. But now this narrative is marking her departure with misogynistic headlines such as "Can women really have it all?"[3].
This attitude suggests that Ardern didn't know her limits, and maybe bit off more than she could chew. This is part of a larger misrepresentation of the phenomenon of burnout, which equates it with the need for people to take better care of themselves. Even Arden herself may have inadvertently reinforced this focus on the individual aspect of burnout with her parting words, urging people to "be strong, and be kind".
Vitalii Vodolazskyi / Shutterstock
[16]
A career is a marathon, not a sprint. You need to know about the conditions of the race, not just your personal fitness. We approach jobs wanting to know what the rewards and perks are, but we should be more interested in how employers will treat us if we break down.
Take an audit of how much your employer understands (or actually cares) about what is really driving burnout. Find out whether your organisation (or future employer) has a detailed plan on how to support your wellbeing. This should include when you are doing well, and when you are suffering due to the demands of your job.
Burnout can be related to[17] feelings of anxiety and depression – find out whether your employer offers support for these issues, or resources if you need to seek outside help.
Ultimately, the best way to know if an organisation is equipped to prevent burnout is the degree to which it acknowledges and supports you with the unavoidable demands of your job, makes you feel competent about yourself as an employee, and encourages meaningful relationships and collaborations between colleagues.
Read more https://theconversation.com/jacinda-ardern-resignation-has-people-wondering-when-to-quit-but-thats-the-wrong-way-to-think-about-burnout-198192