Australia's approach to trade rules restraining vaccine production
Written by

Deborah Gleeson, Associate professor, La Trobe University
Papua New Guinea's COVID-19 outbreak is a portent of the "catastrophic moral failure[1]" the head of the World Health Organization warned of in January due to poor countries being pushed to the back of the vaccine queue.
Australia has gifted 8,000 doses to PNG, and vowed to help the nation of almost 9 million secure 1 million more[2]. Earlier this month Australia agreed to work with the US, India and Japan to provide 1 billion vaccines[3] to poorer countries in the Asia-Pacific. It is also supporting COVAX[4], the global program aiming to buy and distribute 2 billion COVID-19 vaccine doses to developing nations by the end of 2021.
But all this could be negated through Australia's potential spoiling role (with a handful of other countries) against a proposal supported by 118 countries to ramp up vaccine production by relaxing the trade rules governing intellectual property.
Inequities in access to COVID-19 vaccines
The inequities in access to vaccines are stark. By November, wealthy nations accounting for just 14% of the global population[5] had locked in premarket agreements to buy 51% of the first 7.48 billion doses of candidate COVID-19 vaccines.
That number should be enough to vaccinate almost half the global population – 3.76 billion of 7.8 billion people. But Canada, Australia, Britain, Japan, the European Union and the US have all bought up more than their fair share. Canada has reserved about 4.5 courses per person; Australia and the UK close to 2.5.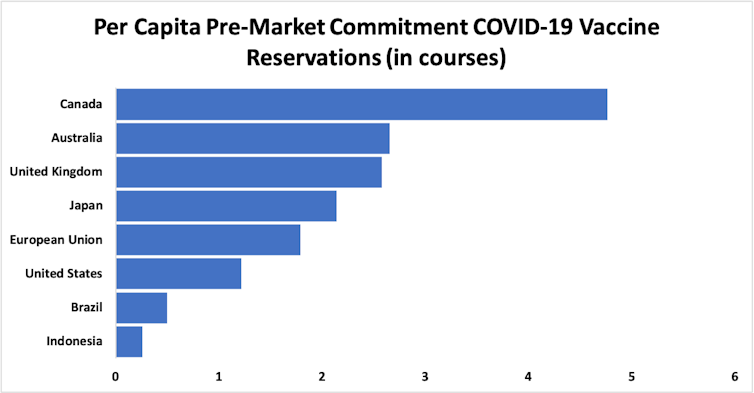 Authors: Deborah Gleeson, Associate professor, La Trobe University
Read more https://theconversation.com/more-talk-no-action-australias-approach-to-trade-rules-restraining-vaccine-production-156971