Regardless of the rules, sport is fleeing free TV for pay, and it might be an avalanche
Written by

Hunter Fujak, Lecturer in Sport Management, Deakin University
Netball Australia has signed a five-year deal it describes as "ground-breaking[1]".
Every game of every round of each year's Super Netball competition will be broadcast live and ad-free on Foxtel platforms including its sports streaming app Kayo Sports.
For viewers who don't want to part with cash, two games each week will be available live and free on Kayo Freebies[2], although viewers will have to hand over their email and other details.
That several events will be free is good for Netball Australia — it gives it potential access to the mass audience it would have had on free-to-air TV – and also good for Foxtel because it will pioneer a way of getting around the anti-siphoning[3] rules that are meant to ensure major events can be watched by everyone.
Rugby Union is doing something similar.
From tonight every match will be shown live on Stan Sport[4], part of the movie streaming platform Stan owned by Nine, under a three-year deal worth a reported A$100 million[5].
Enough matches will be shown free on the Nine network to satisfy the anti-siphoning rules.
Read more: The TV networks holding back the future[6]
The Rugby deal replaces an earlier one with Foxtel, which used the Ten network to broadcast free matches.
Cricket is now broadcast on both Foxtel[7] and the Seven Network, a deal Seven is reportedly trying to get out of[8]. It means fans must now subscribe to watch domestic men's One Day Internationals for the first time.
Anti-siphoning antiquated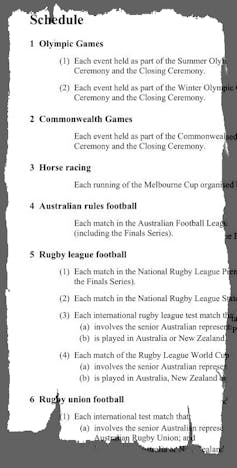 Authors: Hunter Fujak, Lecturer in Sport Management, Deakin University
Read more https://theconversation.com/regardless-of-the-rules-sport-is-fleeing-free-tv-for-pay-and-it-might-be-an-avalanche-154640