QUT Creative Enterprise Australia appoints new CEO Mark Gustowski
Written by

Nancy Mcdonald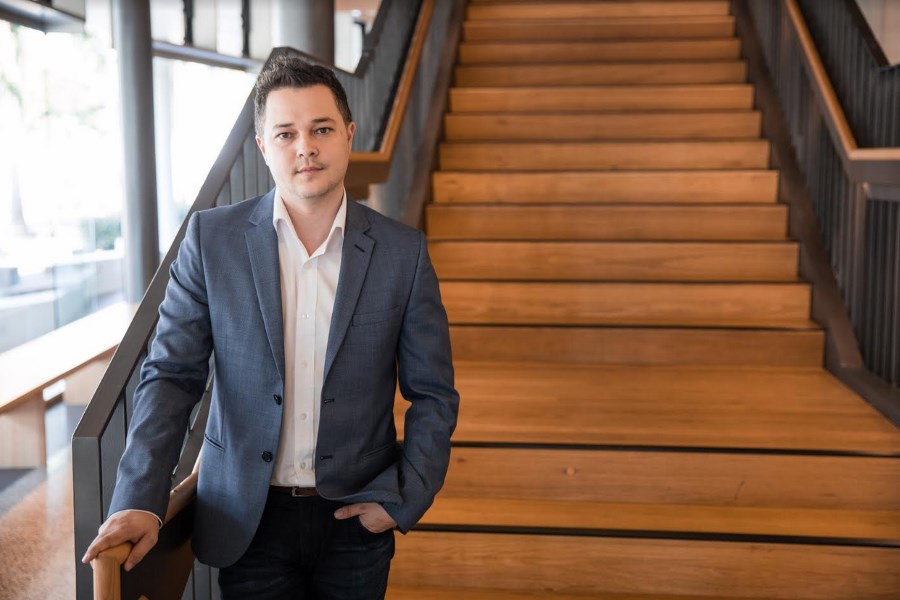 QUT Creative Enterprise Australia (CEA) is delighted to announce the appointment of its new CEO as the company prepares for a number of major strategic developments in creative tech.
Mark Gustowski has been a key member of CEA's Executive and Leadership team since January 2016 and has been acting in the role of CEO for the last 12 months while Anna Rooke was on maternity leave. Mr Gustowski now moves into the role following on from Ms Rooke who led the organisation as CEO for the last 10 years.
Announcing Mr Gustowski's appointment, CEA Chairman Mr Brett Chenoweth said, "Mark has been a fantastic leader while acting in the role, and has been instrumental in cementing key programs, relationships and refined strategic direction for the company in his time with CEA."
"Mark has led the design and delivery of Australia's first creative tech accelerator, Collider , which is now in its second year. He has helped to shape the Fashion360 accelerator, represented CEA across its investment portfolio including sitting on a number of boards for investee companies, helped drive new investment initiatives, developed key international relationships including our exclusive partnership with Virgin StartUp (VSU), and has championed entrepreneurial activities in SE Asia and Europe", said Mr Chenoweth.
Prior to joining CEA, Mr Gustowski was heavily involved in the Australian startup sector establishing himself across a number of cofounding roles and as a program delivery specialist for accelerators across VIC, QLD, SA and the ACT. He was also involved in developing a private equity firm focussed on supporting seed investments and worked across the UK and the US, and previously received a scholarship to study venture capital at the HAAS Business School at UC Berkeley in California.
Reflecting on his appointment, the incoming CEO Mr Gustowski said, "I'm really excited to lead CEA into the next phase of growth. The past 12 months have taught me a lot about the team, our unique position in the market, the opportunities that exist to grow, and how we can further support the entrepreneurial focus at Queensland University of Technology (QUT)."
"I've been privileged to build on the amazing work Anna achieved during her 10 years leading CEA. I am focussed on working closely alongside QUT to help drive internal and external entrepreneurship activities while continuing to build on our presence across Australia. Positioning CEA throughout SE Asia using our accelerator programs and relationships with key partners like VSU, is core to our growth across the next year."
"CEA is unique globally in that we act as an incubator, accelerator, coworking space and investment fund. It's a huge task to manage so many arms of business but we have an exceptional team, one of the best in the country, who work in the startup and entrepreneurship space. Every day I get to work alongside innovation practitioners, investment specialists, educators, startups, community builders and inspiring founders. It really is a blessed position that I'm incredibly grateful to be in", said Mr Gustowski.
On CEA's outgoing CEO, Mr Chenoweth said, "Anna has been instrumental in founding and establishing CEA as the market leader in creative tech acceleration. Her vision to create Australia's first dedicated company providing services spanning coworking to investment a decade ago, with QUT's unwavering support, has been major game changer on the Australian startup landscape. Her drive to launch Australia's first dedicated $1.2M creative tech fund, and to continuously engage industry nationally to put creative industries on the map, has been a monumental effort."
"The Coterie, investment and incubation initiatives provided by CEA in themselves, have enhanced the growth of hundreds of startups. Aside from this tremendous feat, her ability to create an unfolding startup narrative over the last nine years through capital raising and the Creative3 event, is an achievement only most people can dream of."
"Anna will be returning from maternity leave as Managing Director of CEA's new venture fund on a part-time basis, and to help CEA further enhance its commercial strength, we also proudly welcome her as the newest appointment as a Director to the Board of CEA. We are very grateful for her dedication over the last decade and we're pleased to be able to continue working with Anna across our fund activities and as a valued member of the CEA Board", said Mr Chenoweth.
The new investment initiative will continue CEA's work in backing Australian startups in creative tech and will be supported by key industry stakeholders and QUT who will continue to recognise the significant economic potential of this $90bn per annum industry.
About QUT Creative Enterprise Australia
QUT Creative Enterprise Australia (CEA) is the nation's only dedicated incubator, accelerator, coworking space and investment fund for early stage creative tech startups.
Known as a leading hybrid startup factory, CEA currently houses over 100 startups on site and has engaged with over 5,000 entrepreneurs.
Since its conception in 2004, CEA has supported over 550 creative industries businesses across its incubation and coworking arms and has raised over $65 million in capital.
With a focus on creativity across fashion, creative tech and innovative businesses models, CEA accelerates emerging and highly scalable startups to flourish in a global market.