That extra you're about to get in super, most of it will come from you, but don't expect the ads to tell you that
Written by

Peter Martin, Visiting Fellow, Crawford School of Public Policy, Australian National University
There's something odd about those television and internet advertisements telling us we are getting more super.
The money seems to come from nowhere.
"Pretty soon," explains the woman getting onto an escalator, "the amount of super paid on top of our wages will go up".
Fair enough, but the increases in compulsory super contributions will come out of the same bucket as wages – so-called on-costs[1] which employers use to pay wage cheques, workers compensation, payroll tax, employees pay-as-you-go tax, and employees super contributions, which is also known as the "super guarantee".
Read more: Retirement incomes review finds problems more super won't solve[2]
The ad is a bit like those promising buyers of mobile phones the "free gift" of an accessory. It has to be paid for somehow, and it's usually out of the purchase price.
Paul Keating, prime minister when compulsory super was introduced in 1992, put it this way in a reflection on the history of modern superannuation in 2007[3]
the cost of superannuation was never borne by employers. It was absorbed into the overall wage cost
Last year's retirement income review[4] examined every study that had ever been conducted on the topic and concluded that the "weight of evidence suggests the majority of increases in the super guarantee come at the expense of growth in wages".
A more informative advertisement would have referred to super "paid on top of our wages, at the expense of our wages".
The ads are funded by Industry Super, which represents the big funds that want to manage the extra super. There's no reason for them to tell the whole story[5].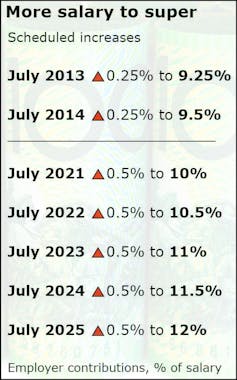 Authors: Peter Martin, Visiting Fellow, Crawford School of Public Policy, Australian National University
Read more https://theconversation.com/that-extra-youre-about-to-get-in-super-most-of-it-will-come-from-you-but-dont-expect-the-ads-to-tell-you-that-154723