Our research shows more Australians receive unemployment payments than you think
Written by

Peter Whiteford, Professor, Crawford School of Public Policy, Australian National University
Australians receiving unemployment payments are often negatively portrayed[1] as a relatively small group of people with personal or behavioural problems that stop them from getting a job.The unparalleled growth in unemployment during COVID-19 has opened up significant space to challenge long-held perceptions of "them and us" when it comes to welfare.
Read more: Who's really behaving badly? Confronting Australia's cashless welfare card[2]
Nevertheless, extra support to Australia's unemployed has already been substantially wound back[3] — with plans to do so again[4] by the end of the year.
Our new study[5], by a team at the Brotherhood of St Laurence, RMIT University and the Australian National University, highlights significant misunderstandings about the scale and scope of Australians who received Newstart — the unemployment payment replaced by JobsSeeker Payment[6] earlier this year.
Bottom line? It's much more common to get the payment than you think.
'Everyone counts': our research
This study[7] makes use of a Department of Social Services database[8] that records every interaction with Centrelink. This is the first time results from this database have been published by independent researchers.
It has given us an important opportunity to track how people have used unemployment payments — specifically Newstart Allowance — from 2001 to 2016 (the years available for study).
Read more: Forget JobSeeker. In our post-COVID economy, Australia needs a 'liveable income guarantee' instead[9]
We took a simple but new approach: to count every individual who ever received Newstart between those years.
Most statistics on the number of people receiving payments are reported as the "stock", which is the number of recipients on a specific date in that year. With these new data, we are able to measure the "flow", which is the number of people who ever received a payment during the course of each year, as well as over the whole period since 2001.
Our analysis is part of broader research that aims to gain a clearer understanding of the dimensions of "income volatility" (sudden changes in income) in Australia.
How many people receive payments?
We found receiving unemployment payments was much more common than previously thought during the study period.
For example, between 2013 and 2016, the number of people receiving Newstart at the end of the financial year ranged between 660,000 and 750,000. But over the course of each of those years, well over 1.1 million separate individuals received an unemployment payment.
This suggests approximately one in 11 people (9%) in the labour force received Newstart in any of these years.
Overall, when we look at the "flow" figures, more than 4.4 million people received Newstart between 2001 and 2016 (nearly 2.5 million men and 2 million women). This is nearly one quarter of the qualified working-age population over this period.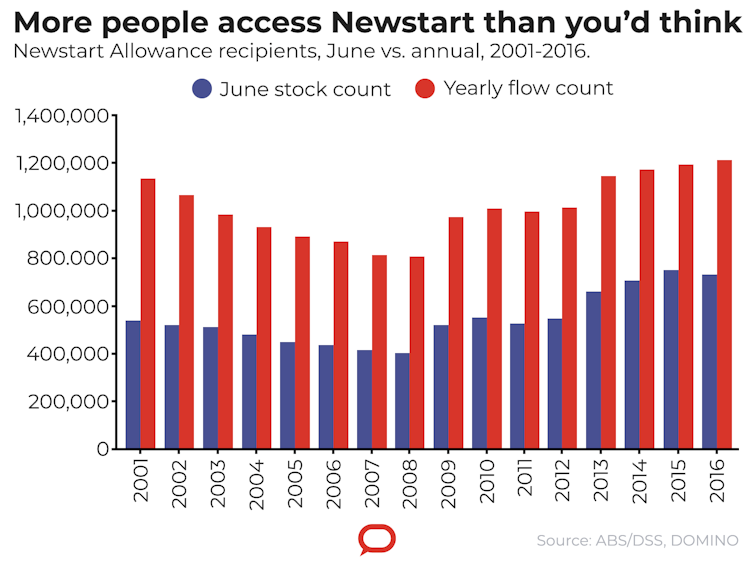 Authors: Peter Whiteford, Professor, Crawford School of Public Policy, Australian National University
Read more https://theconversation.com/our-research-shows-more-australians-receive-unemployment-payments-than-you-think-151289