When to buy Christmas gifts online to get them in time? The answer is now
Written by

Flavio Romero Macau, Senior Lecturer in Supply Chain Management and Global Logistics, Edith Cowan University
Santa Claus is the ultimate global logistics worker, magically delivering gifts all over the world in a single night.
The rest of us have to rely on more mundane delivery systems to get gifts under the Christmas tree and into stockings – and this year those systems are under huge pressure.
So if you're ordering gifts online, how late can you leave it to guarantee they arrive in time?
Our advice is to lock in your orders in the next few days. Anything ordered from late November may not arrive before 2021.
Even if you're planning on traditional bricks-and-mortar Christmas shopping, do it sooner rather than later. The supply chains that usually keep shops stocked during December could fall behind.
Leave it too late and you may find your most wanted item out of stock.
Read more: Whatever the hardships of COVID-19, let's be thankful it wasn't COVID-99[1]
Parcel pressures
Delivery services have been under strain for most of 2020 due to the dramatic increase in online shopping driven by the COVID-19 pandemic.
In the US online shopping is up more than 30%[2] year on year. The UK is similar, and set to increase[3] as the country goes into another lockdown. In Australia it's up more than 75%[4] to last year.
With online sales in September already more than 7% higher than the 2019 Christmas peak, Australia Post is projecting a huge increase in the month prior to Christmas.
Number of online purchases, Australia, 2019-2020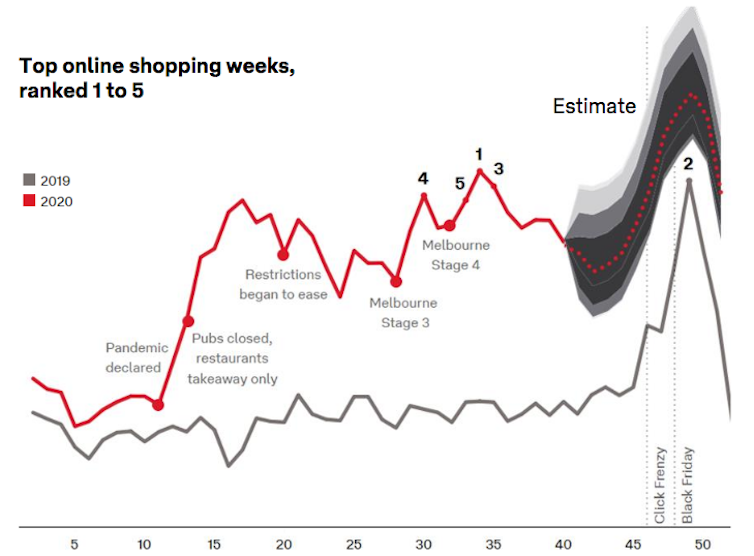 Authors: Flavio Romero Macau, Senior Lecturer in Supply Chain Management and Global Logistics, Edith Cowan University
Read more https://theconversation.com/when-to-buy-christmas-gifts-online-to-get-them-in-time-the-answer-is-now-149157