How do you fight a recession without precedent?
Written by

Richard Holden, Professor of Economics, UNSW
It became official on Wednesday. The Australian economy is in recession for the first time in nearly three decades.
And the drop in economic activity is unprecedented. GDP fell 7% in the June quarter. The previous biggest post-War fall in Australia was 2% in June 1974.
But Treasurer Josh Frydenberg noted that in March he was told the June quarter contraction might be 20%. In Britain it was.
Bookkeeping aside, the question that matters is how to fight this recession.
Answering it requires an understanding that it is a different type of recession to those we've seen before.
As I pointed out earlier this year[1] the recessions some of us grew up with in the early 1980s and 1990s were "business cycle" recessions.
They happened because the economy overtook its inbuilt speed limit and pushed up inflation. To curb it, central banks pushed up interest rates, pushed them up too far and choked off investment and spending, sending economic activity backwards.
A recession like no other
In 2020 we face a different sort of shock.
COVID-19 has hammered economic activity, even more so in countries such as the United States where it has run out of control.
Many of the opportunities we used to have to spend money (such as airlines, theatre tickets and cafe meals) simply haven't been there.
They'll come back when things return to closer to normal, perhaps though the wide deployment of a vaccine.
But we might not spend as we used to.
Read more: Six graphs that explain Australia's recession[2]
Some people, out of work or on shorter hours won't have the capacity to spend. Others will want to rebuild their savings.
And others who have been saving big might decide to keep doing it.
Household saving ratio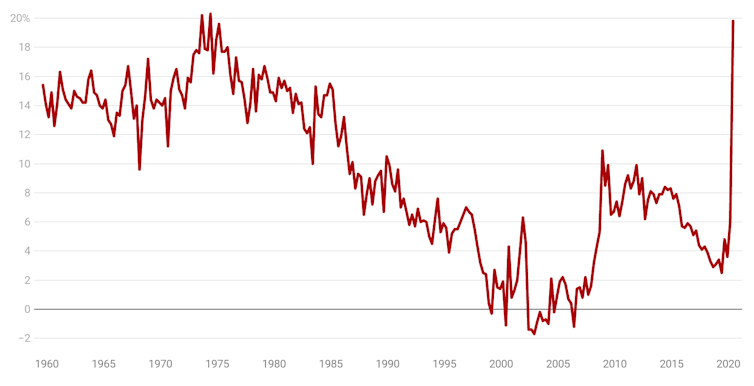 Authors: Richard Holden, Professor of Economics, UNSW
Read more https://theconversation.com/vital-signs-how-do-you-fight-a-recession-without-precedent-145484