how we lost control of Australian house prices and how to get it back
Written by

Cameron Murray, Research Fellow - Henry Halloran Trust, University of Sydney
Real home prices across Australia have climbed 150%[1] since 2000, while real wages have climbed by less than a third.
Sydney and Melbourne rank among the most expensive cities in the world. Australia-wide, home ownership levels have fallen from 70% to 65%[2] in the last 20 years and home equity levels have fallen from 80% to 75%. Younger workers have been completely priced out of the major cities.
Among those who can afford homes, the increase in household debt to income ratios is weighing on consumption and increasing financial fragility.
We are often told the problem lies in supply — we don't have enough homes in the places people want them. And while it's true a reduction in the supply of housing relative to the population will reduce housing per person and increase housing rents, what we are seeing is something different — a growing divergence between rents and the price of housing as a financial asset that's increasing much more quickly.
Australia has become something of a world leader in demand-driven home price inflation. Australians have been increasingly buying housing for the purpose of securing financial returns — both capital gains and rental income, in a process often described as the financialisation[3] of housing, but one that we think can be more accurately thought of as "rentierization[4]".
How it happened
In a working paper[5] published this morning by the University of Sydney and the University College London Institute for Innovation and Public Purpose, we argue "rentierization" best describes the increasing use of housing to extract land rents, in the form of capital gains on property and rents from tenants — a process in which Australia is well advanced.
Despite multiple major boom and bust cycles, including Victoria's 1880s land boom and the 1890s recession that followed, land values and home prices were relatively low compared to the total value of economic activity right up the 1960s.
Long-term Australian real price index for housing and construction prices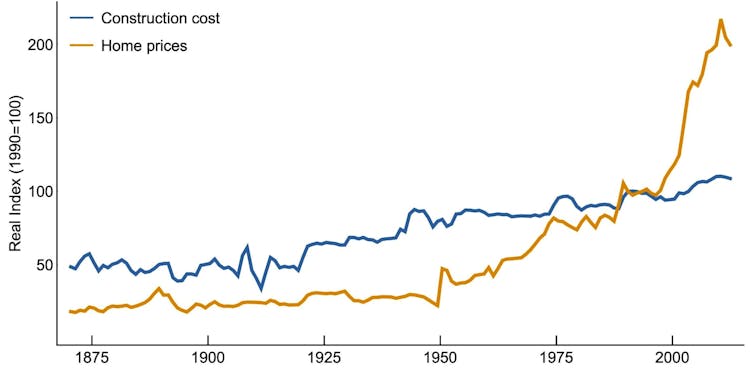 Authors: Cameron Murray, Research Fellow - Henry Halloran Trust, University of Sydney
Read more https://theconversation.com/when-houses-earn-more-than-jobs-how-we-lost-control-of-australian-house-prices-and-how-to-get-it-back-144076