What COVID-19 means for the people making your clothes
Written by

Sarah Kaine, Associate Professor UTS Centre for Business and Social Innovation, University of Technology Sydney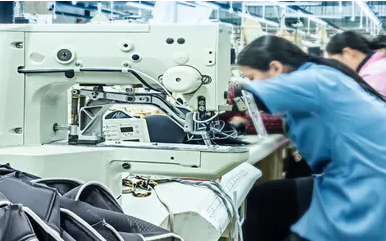 Workers everywhere are feeling the impact of COVID-19 and the restrictions necessitated by COVID-19.
In Australia, retail and hospitality[1] workers have been particularly hard hit. In other countries, it's manufacturing[2] workers, hit by disruptions to value and supply chains.
A value chain[3] is the process by which businesses start with raw materials and add value to them through manufacturing and other processes to create a finished product.
A supply chain[4] is the steps taken to get a product to a consumer.
Most of the time we don't think about them at all.

Cotton is complex
Our research project with the Cotton Research Development Corporation[5] is investigating strategies for improving labour conditions in the value chain for Australian cotton.
This is the chain in which our cotton is spun into yarn, woven or knitted into fabric, and turned into garments and other items which are sold to consumers.
When we began our project in mid-2019 the world was a very different place.
The changes brought by COVID-19 have had a significant impact on those working throughout the chain – particularly in garment production, but with flow on effects to other tiers.
Read more: The real economic victims of coronavirus are those we can't see[6]
The tiers in the diagram are numbered backwards.
The first is Tier 4, where Australian cotton is grown and harvested. The next is Tier 3 where it is turned into yarn, usually overseas.
Tier 2 is the production of fabric, Tier 1 is the production of garments and other products, and Tier 0 is retailing and selling to retailers.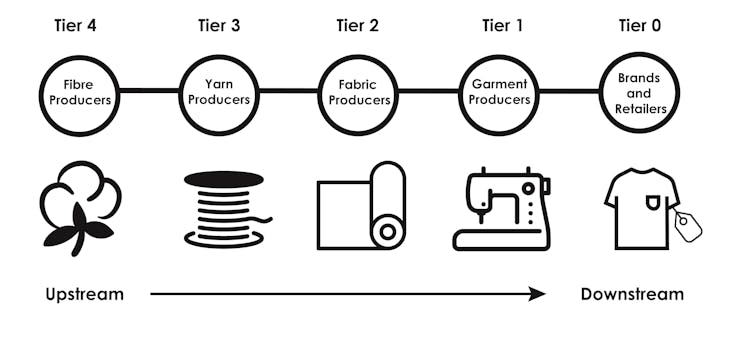 Authors: Sarah Kaine, Associate Professor UTS Centre for Business and Social Innovation, University of Technology Sydney
Read more https://theconversation.com/what-covid-19-means-for-the-people-making-your-clothes-134800