Franklin Discount Drug Stores launches to meet growing demand for healthcare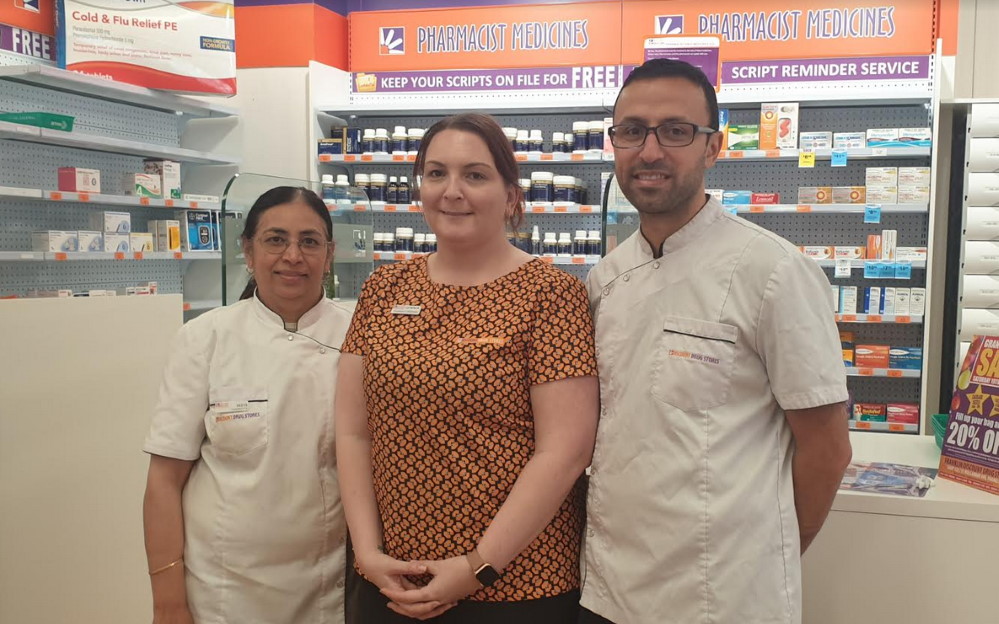 Franklin, Canberra has become home to a long-awaited full-service pharmacy, with the opening of Franklin Discount Drug Stores, which will help meet the community's growing demand for better healthcare services in the local region.
With recent focus placed solidly on the build of the Canberra Light Rail, the Franklin community has been without a sophisticated pharmacy for almost four years, however the opening of Franklin Discount Drug Store now means locals will have access to medication, healthcare products and professional pharmacist advice with ease.
With the Grand Opening on Saturday, October 19, Franklin Discount Drug Store co-owner, Nader Ibrahim, said he is thrilled to bring a much-needed service to the Franklin community and help improve the area's healthcare offering.
"Franklin Discount Drug Store was placed on the back burner for almost four years due to the Light Rail build, so it's been great to hear of the relief from the community that we have been able to cater for their healthcare needs with convenience and affordability despite only soft launching in June," said Mr Ibrahim.
"During these early stages, our main goal is to listen to our customers' requests so we can continue to make healthcare easily obtainable for the community. Franklin is a much younger suburb, with young couples and families, so it's important we provide a broad range of services and products for the younger demographic as well as the elderly."
Mr Ibrahim explained the new pharmacy is in the perfect location for customers looking for a consultation or simply stopping in for a quick script collection, as it's situated in the heart of Franklin's central shopping strip.
"Previously, many locals would have to visit Gungahlin shopping complex, which is often very busy, and parking can be a struggle. Our pharmacy is located right next to Woolworths, several cafes and a medical and dental centre along the Light Rail line, making it a convenient location for customers to do their shopping and receive their pharmacy needs in one place," continued Mr Ibrahim.
Discount Drug Stores has been at the forefront of the pharmacy industry for over 18 years and is renowned for its professional services that have helped improve the health and wellbeing of many Australians, which is why Mr Ibrahim believes the community's demand for accessible and full pharmacy services will be met.
"We have been a partner with Discount Drug Stores for some time now and the brand has enabled us to improve community health, develop our professional services program and offer a greater range of products for a lower, more competitive price. So, when the opportunity presented itself to open another pharmacy in a much-needed area, we knew the Discount Drug Stores model would help Franklin locals."
"Our pharmacy provides everything a standard pharmacy offers in terms of services and products, but as we grow, we're also looking to expand our offering through specialty services such as Sleep Apnoea and Asthma clinics."
"Moving forward, we'll continue to meet our customer's needs by listening to their wants or concerns and ensuring we're always finding new and improved ways to boost the community's overall healthcare offering." 
The official Grand Opening will feature a sausage sizzle, activities for kids, product promotions and tastings of a variety of nutritional shakes.
For more information about Discount Drug Stores, please visit www.discountdrugstores.com.au


About Discount Drug Stores
Discount Drug Stores is a leading discount pharmacy group that commenced operations in late 2001. Discount Drug Stores is an Australian owned and operated business that strives to make a positive difference to its customers' wellbeing by providing medicines and health care solutions at everyday low prices, with an uncompromising approach towards the delivery of professional health advice and exemplary customer service.  The group has now expanded to over 135 store locations Australia wide.
In 2014, Discount Drug Stores was acquired by Sigma Healthcare Pty Ltd (formerly Sigma Pharmaceuticals Ltd). The backing of Sigma provides Discount Drug Stores with access to greater capital, resources and the business intelligence that comes with being part of a large corporate entity. A national wholesaler and retailer to the pharmaceutical industry, Sigma distributes to over 4,000 pharmacies nationwide. It is also the owner of retail pharmacy brands Amcal, Amcal Max, Guardian, and Pharmacy Advance, totalling almost 600 stores. Discount Drug Stores sits within Sigma's newly formed Discount Retail Pharmacy Group alongside PharmaSave and Chemist King.