For the first time in centuries, we're setting up a generation to be worse off than the one before it
Written by

Kate Griffiths, Senior Associate, Grattan Institute
Each new generation of Australians since Federation has enjoyed a better standard of living than the one that came before it. Until now. Today's young Australians are in danger of falling behind.
A new Grattan Institute report, Generation gap: ensuring a fair go for younger Australians[1], reveals that younger generations are not making the same economic gains as their predecessors.
Economic growth has been slow for a decade, Australia's population is ageing, and climate change looms. The burden of these changes mainly falls on the young. The pressures have emerged partly because of economic and demographic changes, but also because of the policy choices we've made as a nation.
Older generations are richer than before, younger ones are not
For much of the past century, strong economic growth has produced growing wealth and incomes. Older Australians today have substantially greater wealth, income and expenditure compared with Australians of the same age decades earlier.
But, as can be seen from the yellow lines on this graph, younger Australians have not made the same progress.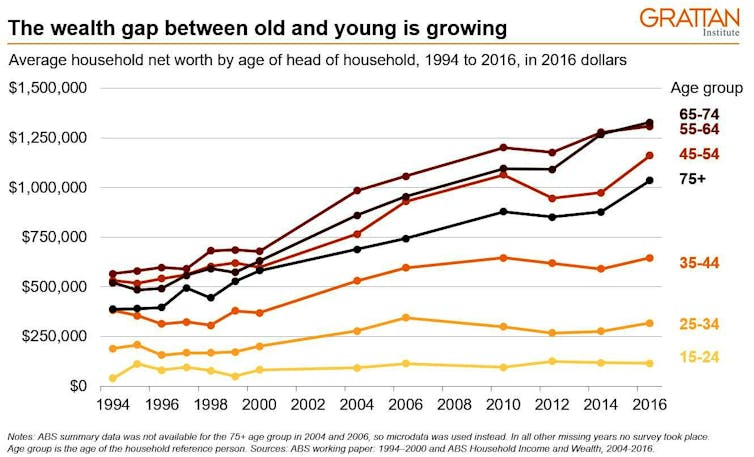 Authors: Kate Griffiths, Senior Associate, Grattan Institute
Read more http://theconversation.com/for-the-first-time-in-centuries-were-setting-up-a-generation-to-be-worse-off-than-the-one-before-it-121983