Samsung Electronics Australia Galaxy A54, A34 and A14 Enterprise Edition range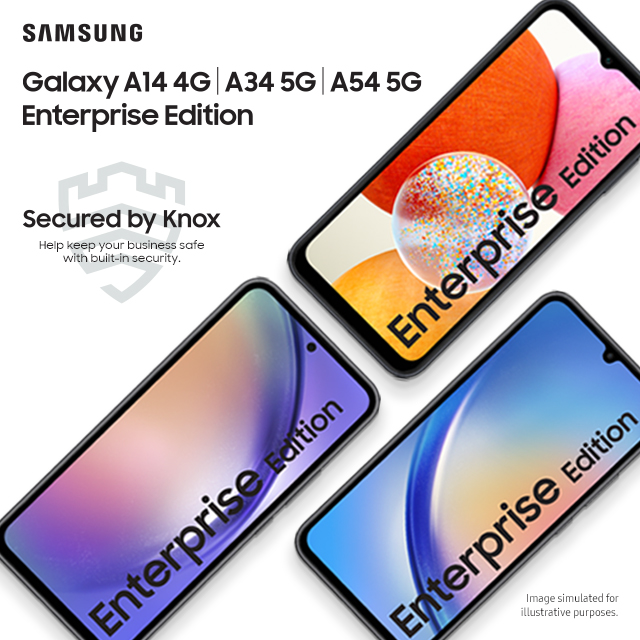 Global leader in the technology industry, Samsung Electronics, has announced the launch of its Enterprise Editions of the Galaxy A54 5G, Galaxy A34 5G and Galaxy A14 4G in Australia, offering enhanced security, tools, applications, and support needed for businesses at an affordable price range. Boasting up to two full days of battery life1, these innovative smartphones enable users to stay connected without worry.
Following the recent news that Samsung was awarded Canstar Blue's 2023 Most Satisfied Customers in the Smartphone Category, the Galaxy A series Enterprise Edition announcement speaks to the brand's delivery of the latest Galaxy advancements at a great value.
The Galaxy A54 5G, A34 5G and A14 4G offer enterprise-focused features, such as fast file sharing with enhanced security, easy management of multiple SIMs with secured authentication, and 25W fast charging (15W fast charging on the Galaxy A14 4G) which allows users to be more productive in any environment.
Featuring immersive Super AMOLED displays, the 6.4-inch2 Galaxy A54 5G and 6.6-inch3 Galaxy A34 5G were upgraded for astounding outdoor visibility, even under bright sunlight. Between the enhanced Vision Booster and a 120Hz refresh rate, the displays complement users who are working on the go as they move between different lighting conditions. The hero device of the Galaxy A Series Enterprise Edition range, the A54 5G, features a premium look and feel as well as increased camera pixel size4, allowing for easy image capture in both bright and low light conditions. With a 32MP front camera, 50MP rear camera, and video digital image stabilisation (VDIS) to combat shakiness and blur, users can connect through super-smooth video calls.
In a world of ongoing cybersecurity threats, businesses need to invest in mobile experiences with high quality security. The Galaxy A series Enterprise Edition come equipped with a one-year subscription to Samsung's Knox Suite, its built-in security platform that is designed to provide multi-layered protection against malware, hacking, and other cyber threats. Offering end-to-end mobile management tools, the latest A series iterations streamline device management for added convenience. Timely software updates and support helps users receive critical OS updates and patches for up to five years, with options for remote support. A two-year availability assurance post-launch allows businesses' IT teams to test, use and maintain consistency across teams.
"At Samsung, we understand the unique needs of different businesses, and the Enterprise Editions of the Galaxy A series range demonstrate our commitment to providing them with the tools they need to succeed," said Garry McGregor, Vice President, Mobile Experience Division, Samsung Electronics Australia.  
"These devices are designed to deliver a user-friendly experience, enabling businesses to enhance workplace productivity through powerful performance, advanced Knox security solutions, two year product life-cycle assurances, and world class system support at an accessible price point."
The Galaxy A54 5G and Galaxy A34 5G are also compatible with the Samsung Galaxy ecosystem to provide seamless connectivity between devices. Users can get 100GB of cloud storage and easily back up photos to OneDrive with a six-month trial of Microsoft 365 Basic5, accessible on the Galaxy A54 5G and Galaxy A34 5G.
The Enterprise Editions of the Galaxy A54 5G, Galaxy A34 5G and Galaxy A14 4G devices can be purchased via Telstra, Optus, and IT distributors Dicker Data, Synnex, Ingram Micro and World's Best Technology who have a network of IT Resellers which include CompNow, JB Hi Fi Commercial and RTV Computers. Varying by model, prices range from $329 - $699 RRP. For more information, click here.
 [MB1]TBC by SEAU [MB1]