More people are retiring with high mortgage debts. The implications are huge
Written by

Rachel Ong ViforJ, Professor of Economics, School of Economics, Finance and Property, Curtin University
The number of mature age Australians carrying mortgage debt into retirement is soaring.
And on average each mature age Australian with a mortgage debt owes much more relative to their income than 25 years ago.
Microdata from the Bureau of Statistics survey of income and housing[1] shows an increase in the proportion of homeowners owing money on mortgages across every home-owning age group between 1990 and 2015. The sharpest increase is among homeowners approaching retirement.
More mortgaged for longer
For home owners aged 55 to 64 years, the proportion owing money on mortgages has tripled from 14% to 47%.
Among home owners aged 45 to 54 years, it has doubled.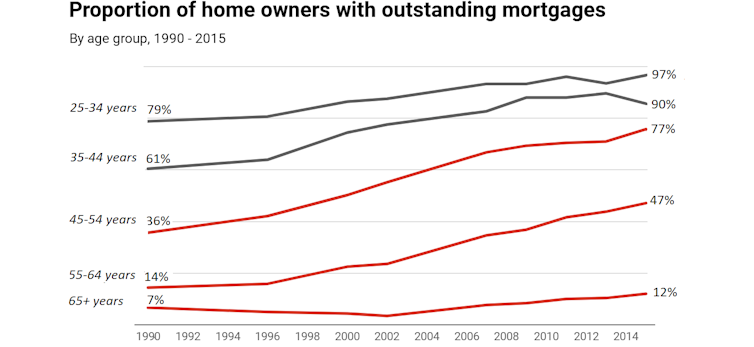 Authors: Rachel Ong ViforJ, Professor of Economics, School of Economics, Finance and Property, Curtin University
Read more http://theconversation.com/more-people-are-retiring-with-high-mortgage-debts-the-implications-are-huge-115134