The Reserve Bank will cut rates again and again, until we lift spending and push up prices
Written by

Peter Martin, Visiting Fellow, Crawford School of Public Policy, Australian National University
The Reserve Bank cut interest rates on Tuesday because we aren't spending or pushing up prices at anything like the rate it would like. And things are even worse than it might have realised.
As the board met in Martin Place in Sydney, in Canberra at 11.30 am the Bureau of Statistics released details of retail spending in April, one month beyond the March quarter figures the bank was using to make its decision.
They show the dollars spent in shops fell in April, slipping 0.1%, notwithstanding weakly growing prices and a more strongly growing population.
The March quarter figures the board was looking at were adjusted for prices. They show that the volume of goods and services bought, but not the amount paid for them, fell in seasonally adjusted terms during the March quarter.
Adjusted for population, the volume bought would have fallen further.
We'll know more on Wednesday
The Bureau of Statistics will release population-adjusted figures as part of the national accounts on Wednesday.
The figures for the September quarter show that income and spending per person barely grew. The figures for the December quarter show income and spending per person fell.
A second fall in the March quarter will mean two in a row – what some people call a per capita recession.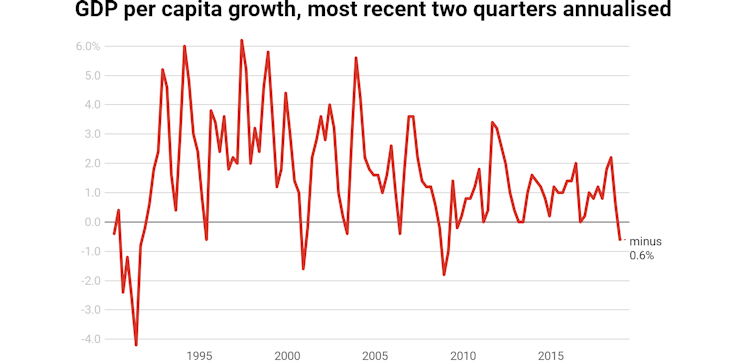 Authors: Peter Martin, Visiting Fellow, Crawford School of Public Policy, Australian National University
Read more http://theconversation.com/the-reserve-bank-will-cut-rates-again-and-again-until-we-lift-spending-and-push-up-prices-118263