Gender equity. The way things are going, we won't reach true parity until the 22nd century
Written by

Rebecca Cassells, Associate Professor, Bankwest Curtin Economics Centre, Curtin University
The good news this International Women's Day is that women are now moving through the ranks into management roles faster than men.
If things continue at this rate it will take just two more decades for women to hold the same number of full-time management positions as men.
For lower-level managers, it could happen even sooner, perhaps in just ten to eleven years.
But for the top spot of chief executive, we are unlikely to see women holding half the positions until 2100[1]. That's right: until the turn of the 22nd century, 80 years away.
Projected dates women should achieve parity with men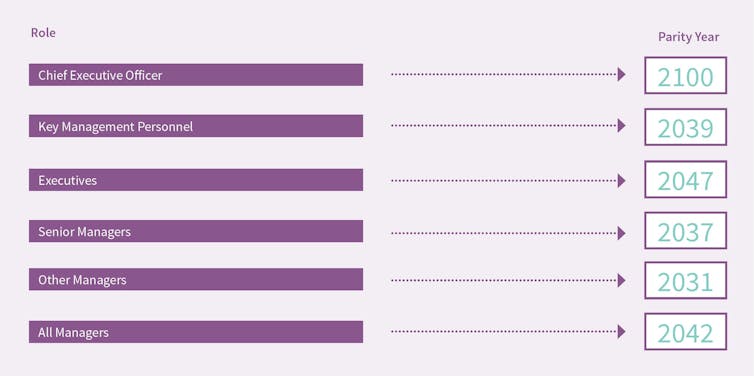 Authors: Rebecca Cassells, Associate Professor, Bankwest Curtin Economics Centre, Curtin University
Read more http://theconversation.com/gender-equity-the-way-things-are-going-we-wont-reach-true-parity-until-the-22nd-century-112685