Hot, Hot Swappable Batteries for your Electric Scooter Riding Pleasure
Written by

NewsServices.com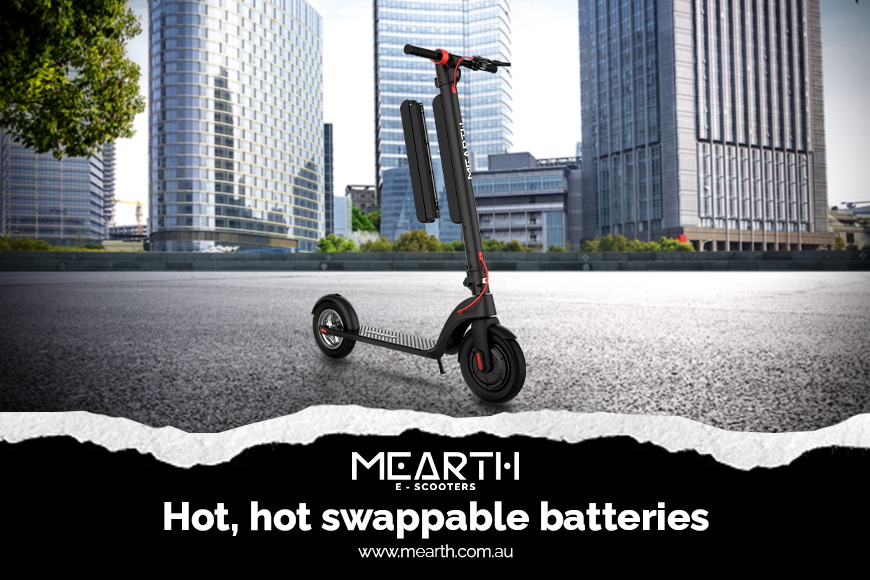 It's undeniable! electric scooters have proven their efficiency, convenience plus portability in being the better alternative mode of transportation in most jam packed cities. However, given that most electric scooters have a small battery capacity, said commuter electric scooters can only ride a maximum of 25 km in ideal conditions. For some commuters, this limitation poses a bit of a challenge, particularly for those who travel long distances. 
Although there are long-range and off-road electric scooters available in the market, those types of e-scooters are less portable, and sometimes not foldable. Sadly, they are more expensive and as such, are not suitable for daily commuters. Thankfully, MEARTH, a homegrown brand in Australia, renowned for its high-performing, top-tier electric scooters – entry level Mearth S, the long-range RS Series, and the off-road GTS Series. The customers were only too happy to learn that their ride will not be restrained because of the one solution to the problem: swappable batteries. 
If you are looking to buy an electric scooter and you want to get the most range possible, you might as well choose MEARTH, the electric scooter with swappable batteries. Exciting? But of course! 
MEARTH's electric scooters come with swappable battery features that offer unlimited benefits you can't afford to pass up! The swappable battery system allows riders to remove and replace electric scooter batteries easily, and quickly. This is a technology that you don't see often among many e-scooter models in the market. After all, popular electric scooter brands mostly use a built-in battery. While it's not a novel concept in the e-scooter industry, it was not seriously explored and rather largely ignored. So far, only the Mearth S Series took advantage of this feature.
The main benefit of riding an electric scooter with a removable battery is that you can extend your trips whenever and wherever. A case in point is that the Mearth S electric scooter that has a typical range of 15-25 km on a single charge. Because it has a swappable battery system, another 15-25 km can be added to the rider's trip, after replacing the drained battery. As a result, you, the rider, can have a total range of 30-50 km without needing to charge after the first battery drains. All you need to do is replace your battery and you're good to go!
Should the battery run out, have no fear! You will no longer have anxiety pangs that you might get stranded in he middle of nowhere, while in the middle of your trip. Just switch the drained battery with a fully charged battery and continue your ride. Since the MEARTH electric scooter batteries are also built to be small and lightweight, they are convenient to carry in your backpack. With a swappable battery system, you can ensure that you will always reach your destination, and be able to go back!
Take note that the usual time spent on charging electric scooter batteries is about 4 to 6 hours, depending on their capacity. While the battery is being charged, you'll be relieved that your MEARTH e-scooter has a swappable battery system that allows you to simply swap batteries, so you can use your e-scooter immediately for urgent or quick errands while the first battery is charging. Another good thing is that because you have multiple batteries, you can leave the drained e-scooter battery at home to fully charge while you ride, and be ready for use (just make sure someone responsible is watching over it to avoid mishaps), when you get home.
Just convenient when you need it. With a swappable battery system, you can just take out the battery and charge it. In the meantime, you can put aside in a safe corner your e-scooter.
MEARTH'S swappable battery system allows you to check and see if your e-scooter battery is still in good condition. You are able to inspect for any erosion, leak, or damage on your e-scooter battery. Seeing up close is a reminder to take extra care of your e-scooter battery since it is more susceptible to exposure to external factors than a built-in battery. 
Make sure that the multiple batteries you put in your satchel or backpack does not bring about humidity when put inside it. Take note too, that your batteries must be kept away from things that are prone to go moist with moisture or water to prevent damage.
Recycling is the 'in' thing, a visible and practical way of helping the environment. Are you aware that built-in batteries are actually more unsafe and dangerous to recycle, since it's harder to remove, and can go unnoticed by the not so conscious or inexperienced recyclers. In contrast, MEARTH's swappable e-scooter batteries are easier to remove and separate, thereby ensuring optimal or most favorable lifecycle management for the battery and your e-scooter. The swappable batteries are safe to recycle, and do not have a negative impact on the environment.
Whether it's removable or swappable, the objective is met with satisfaction, with the e-scooter owner and/or rider's pleasure and enjoyment are not restrained, delimited nor forfeited for a single moment while riding and adhering to road safety rules. That is what matters.