Why the rights to broadcast cricket could be worth $1 billion
Written by

Marc C-Scott, Lecturer in Screen Media, Victoria University
A fierce bidding war is under way for the rights to stream and broadcast cricket for the next five years. The price is expected to reach A$1 billion[1], almost double the previous deal[2]. Media companies are facing stiff competition because increasing viewer numbers are luring social media websites and other platforms into the race to host this content.
The price for rights keeps going up even though the Nine Network is losing money[3] on its cricket coverage and Seven's CEO Tim Worner has stated[4] recent price increases for sports rights "are not sustainable".
The Big Bash League, which is also broadcast internationally[5], is a huge driver behind the new rights deal. The new players interested in the streaming rights include telecommunications companies like Optus and Telstra, social media platforms (Facebook and Twitter) and Cricket Australia itself, which has its own website and app. This is on top of the traditional broadcasters like Nine and Ten.
Sport is key for broadcasters as they can attract advertisers with the promise of viewers who are watching live. Social media platforms and other websites want to lure viewers onto their platforms to discuss the games. Streaming platforms and telcos are trying to appeal to customers with access to exclusive content.
Other sporting codes have recently been through this bidding process, and the deals they have struck hint at what is to come for Cricket Australia.
The AFL media rights, which started last season and run through to 2022, were sold for A$2.5 billion[6]. This is more than double the previous A$1.2 billion agreement.
The value of the NRL broadcast rights, starting this year[7], also increased substantially from A$1 billion to A$1.8 billion.
But the AFL deal also faced a backlash from fans[8] after it restricted Telstra to streaming just a 7-inch video of live coverage – larger screens are filled with black space. This is true even for those who buy the A$89 subscription to the AFL Live app.
Fox Sports streams live full HD video as part of the deal.
One of the major drivers of the price of sports rights is the increase and uptake of streaming. Broadcasters want[9] the rights to televise and stream the games, while tech companies, telcos and others are more interested in the streaming rights.
The number of people streaming the cricket has doubled in the past year, according to one Cricket Australia executive[10], and paid subscriptions have increased by 30%.
Last year's women's Big Bash League was streamed[11] across cricket.com.au, Facebook and the Cricket Australia app, reaching 1.5 million people. This season, 47 of the matches were streamed on Mamamia[12], a lifestyle website aimed at women.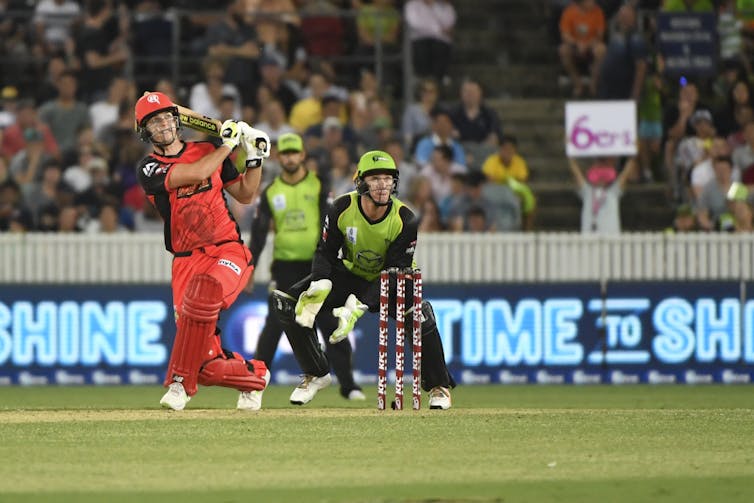 AAP
Read more: The future of sportscasting? Cricket Australia launches on Apple TV[13]
Social media platforms want live sport to attract large crowds that will then use the platform to discuss the event. Twitter has a deal[14] to stream Major League Baseball games (and formerly[15] had one with the National Football League).
Twitter has also previously streamed the Melbourne Cup[16]. Last year Facebook unsuccessfully bid US$600 million[17] for the rights to stream Indian Premier League cricket.
Facebook CEO Mark Zuckerberg has described sport[18] as "anchor content". In other words, it will encourage people to watch more video on Facebook.
In addition to social platforms, Telstra and Optus have been competing with each other by offering exclusive content. Telstra holds[19] AFL and NRL streaming rights, and also has a TV service, giving customers access to various content including sport.
Optus is an official partner[20] of Cricket Australia, allowing its customers to stream cricket without incurring data charges[21]. Optus also has exclusive broadcast rights[22] to the 2018 FIFA World Cup.
Read more: YouTube could change the way we broadcast sport in Australia[23]
And after all that, we get to the traditional broadcasters. Ten, now owned[24] by US network CBS, will be unlikely to walk away from the success it has had with the Big Bash League.
Nine's CEO, High Marks, has stated[25] that the network also needs to have streaming as part of the sports rights.
We have seen Seven recently undertake a hybrid mode with its coverage of the Olympics and Australian Open tennis. The broadcaster offers a premium paid tier[26] alongside its free streaming. This mode has created tension[27] between free-to-air broadcasters and Foxtel, with requests for the government to remove the anti-siphoning rules[28] that prevent pay TV bidding for particular sports.
Foxtel is currently not involved in broadcasting domestic cricket, but it is likely to be part of new negotiations. The government has awarded Fox Sports a A$30 million grant[29] to support the coverage of women and niche sports. If nothing else, Fox Sports could seek to pick up the rights to women's cricket, including the Big Bash League, which has had only a small percentage of games broadcast.
AAP
Read more: Chasing the audience: is it over and out for cricket on free to air TV?[30]
Cricket Australia has previously noted[31] that media rights make up as much as 80% of its income. Whatever deal is struck will have a huge impact not just for the professional players, but for the grassroots as well.
Cricket Australia will want to get the most for its rights, but needs to make sure not to impact grassroots participation and attendance. This was one of the side effects[32] in the United Kingdom when pay TV providers secured exclusive rights to broadcast the cricket.
There is a huge opportunity here for Cricket Australia to advance the way in which the game is delivered to all screens. But, as we can see, the changing media landscape means it needs to balance the needs of many stakeholders.
Authors: Marc C-Scott, Lecturer in Screen Media, Victoria University
Read more http://theconversation.com/why-the-rights-to-broadcast-cricket-could-be-worth-1-billion-90845