The environmental impact of food packaging waste
Written by

NewsServices.com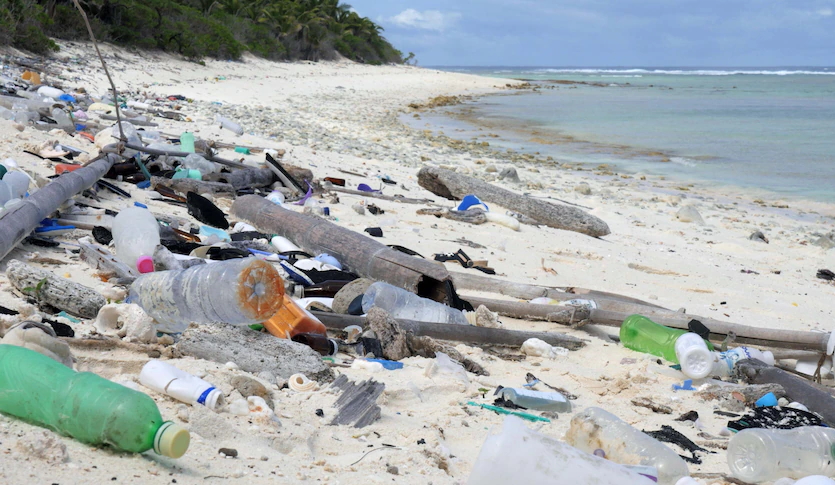 Food packaging often ends up in landfill sites or is incinerated. Landfill sites generate greenhouse gas emissions (e.g., carbon dioxide and methane) which contribute to climate change. The physical presence of landfill destroys wildlife habitats and toxins leak into the soil and water, infiltrating the food chain and human drinking water. Further habitat destruction occurs from fires that occur because of the toxic accumulation of gases. Both landfill and incineration have a harmful impact on air quality, which negatively affects local public health (higher incidence of respiratory, gastrointestinal, and nervous system disorders as well as life-threatening conditions such as cancer).
Why plastic use is widespread in food packaging
A high proportion of food packaging is made from plastic, due to its hygienic, durable, versatile, and protective nature. Examples of plastic packaging include takeaway cartons, crisp and sweet pouches, rice packets, shrinkwrap used to hold multiple products together or as a protective film around cucumbers.
The problem with plastic
Unfortunately, the majority of plastic food packaging cannot be reused or recycled, either due to its composition, or because it is contaminated by food. Furthermore, plastic shrinkwrap film that is inseparably mixed with non-plastic components such as paper or sand cannot be recycled. Plastic packaging takes hundreds of years to break down, and when it does, it breaks down into microplastics which also end up in the food chain and water supplies. Microplastics are very harmful to wildlife and humans as they disrupt reproduction, stunt growth and cause organ damage.
Even though plastic shrinkwrap has some negative attributes it can still be considered environmentally friendly in some ways, for example it has a lower carbon footprint than heavier packaging options such as metal and cardboard. Furthermore the environmental impact of the shrinkwrap packaging can be offset by the fact that shrinkwrap can extend shelf life of many food products which reduces the amount of food waste that ends up in landfill.
How has the introduction of the Plastic Packaging Tax affected food businesses?
A new Plastic Packaging Tax (PPT) came into effect in the UK on 1 April 2022 to incentivise businesses to use less plastic packaging. This tax applies to any large businesses that manufacture or import plastic packaging (excepting those that manufacture or import under 10 tonnes of packaging per year). PPT applies to all packaging containing under 30% recycled material and is levied at £200 per tonne. The introduction of this tax has resulted in more food companies choosing to rethink their food packaging materials.
Environmentally responsible food packaging
Due to increased environmental awareness by businesses and consumers, there has been a shift towards more environmentally responsible packaging options in the food industry, a conscious effort to reduce packaging waste and an enthusiasm to embrace a circular economy (create, use, reuse, recycle) rather than the historic linear model of make, use and dispose. Food manufacturers are utilising more sustainable packaging options such as loose packaging-free fruit and veg or green shrinkwrap. Food retailers are embracing refillable containers or returnable packaging and takeaways are offering monetary incentives to customers using reusable cups and moving away from single-use plastic takeaway packaging.
Consumers expect businesses to be aware of their carbon footprint and aiming to be as close to carbon-neutral as possible. Recent research highlighted that half of consumers would happily pay more for products that have environmentally friendly packaging.
The use of shrinkwrap in the food industry
Shrinkwrap revolutionised the packaging industry by providing an affordable, versatile material that could wrap and fully seal any shape or size of item. It was particularly useful in packaging multipacks of items together. Shrinkwrap is protective, tamper-proof, resistant to temperature changes, allows visibility of products and most importantly, safe for use with food, dramatically extending its shelf-life. It can also be printed on, allowing use by dates, nutritional information, and branding to be integrated into the packaging. Even though the use of shrinkwrap prevents food waste, plastic shrinkwrap waste is not good for the environment, leading manufacturers to develop greener shrinkwrap options made from ethically sourced plant-based materials such as corn starch or sugarcane.
What is sugarcane polyolefin
An exciting development in the shrinkwrap industry is the introduction of sugarcane polyolefin, a thermoplastic derived from renewable sugarcane. It has an LDPE rating of 4 so can safely be used for packaging food.
Benefits of using sugarcane polyolefin in food packaging
This 'green polyethylene' emits 75% less greenhouse gases during its lifespan compared with conventional plastic polyethylene as well as reducing plastic waste. Of course, use of resource such as this must be managed carefully to ensure it does not contribute to deforestation. As well as being sustainable, sugarcane polyolefin is ultra-thin, durable, transparent and can be used with existing shrinkwrap machinery. As more food companies look to improve their carbon footprint it is likely more will adopt greener shrinkwrap options such as this.