Matthew Miller, Bodice and Dyne win the 2017/18 International Woolmark Prize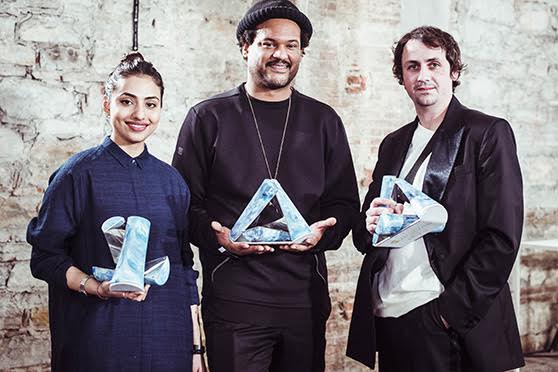 Matthew Miller and Bodice - from the British Isles and India - were today announced the winners of the menswear and womenswear 2017/2018 International Woolmark Prize, presented at a special event during Pitti Uomo at Stazione Leopolda in Florence. In addition, the USA's DYNE was announced the winner of the inaugural Innovation Award.
The award was judged by a highly esteemed panel, including Amber Valletta, Elizabeth Von Guttman, Emanuele Farneti, Julie Davies, Livia Firth, Liya Kebede, Miroslava Duma, Nonita Kalra, Phillip Lim, Riccardo Vannetti, Sarah Mower and Stuart McCullough along with representatives from the International Woolmark Prize retail partner network.
For Vogue Italia Editor-in-Chief Emanuele Farneti, Matthew Miller presented a well-balanced collection with attractive price points. "He showed a good combination between innovation, commercial viability and pieces which will be worn by men on the street."
Inspired by designer and philosopher Dieter Rams, British designer Matthew Miller took the idea 'form follows function' to add multifunctional elements for different environments, such as the addition of the garment belt system which acts as a way to turn the garment into an accessory in warmer climates. Miller treated wool in a variety of ways, including innovative treatments to create water resistant fabrics and has erased the need for plastic fastenings by using recycled material, such as waste marble. Using Australian Merino wool ranging from 17.5 to 20.5 microns, the Matthew Miller multi-layered collection reflects the label's design philosophy, developing the inherent character of each piece.
"Winning this award is amazing, it's a dream come true," said Matthew Miller of his win. "To be listed alongside the previous winners of this prize is next level."
Bodice was selected as the womenswear winner, praised for technique and manufacturing process. Inspired by her grandmother who used to upcycle saris into quilts, Bodice addressed the issue of consumer waste in fashion with traditional techniques of recycling and cultural beliefs in the spiritual power of cloth to affect our wellbeing. Collaborating with hand weavers and encouraging them to take an unorthodox approach to traditional techniques, Ruchika Sachdeva produced an elegant collection honouring Australian Merino wool and the artisans of her country. Bodice also worked with Bio-Dye in Sawantwadi, central India, which makes all colours from natural sources. The colour palette of navy and forest green mixed with pink and green pastels contains natural dyes and are safe for the skin - a nod to the ancient practices of Ayurveda. Completing the label's holistic approach, Bodice sourced buttons from renewable sources of coconut shell, seashell and wood.
Womenswear designer Phillip Lim thought Bodice's collection was "completely thoughtful". "From the ingredients and dyes used all the way to the application and everything in between, her collection really represents a modern woman."
For Bodice, the win means everything. "This is a huge opportunity to expand on what I do and keep doing it," said Bodice designer Ruchika Sachdeva. "To get the chance to work with these retailers is incredible."
Celebrating innovation in design, Miroslava Duma presented the inaugural Innovation Award - powered by Future Tech Lab - to DYNE.
"For me he was definitely the leader in innovation," said Miroslava Duma. "The NFC chips he embedded in his collection, and the fabrication of the snowboard gear, really stood out. He really thinks about technology every step of the way."
Inspired by learning to snowboard in the 1980s - in a wool bomber jacket - the collection of DYNE's Christopher Bevans comprised a technical snowboarding wardrobe, complete with an NFC chip in the water-resistant wool jacket to track users in avalanches and ultimately bridge the gap between the brand and the consumer.
"It's an honour," said DYNE designer Christopher Bevans. "We pushed so hard and to be recognised for this is incredible. It doesn't get more special."
"Today we saw the world's best emerging designers present a true celebration of fashion design and innovation, as they shone the spotlight on Australian Merino wool," said The Woolmark Company Managing Director Stuart McCullough. "Each year, the competition has been fierce and this year was no different. I would also like to commend the mills and spinners who supplied the labels with luxury fabrics and yarns and assisted in the development of innovative fabrications."
More than 65 designers from more than 60 countries were nominated for this year's award, with finalists representing six different regions around the world. The global finalists were SixLee and KYE (Asia), Blair Archibald and Harman Grubiša (Australia & New Zealand), Matthew Miller and Le Kilt (British Isles), L'Homme Rouge and David Laport (Europe), Antar-Agni and Bodice (Indian Subcontinent and Middle East) and DYNE and Zaid Affas (USA).
Both Matthew Miller and Bodice will each receive AU$200,000 to help support the development of their business. They will also receive ongoing industry mentor support, Woolmark certification for their winning collection and the opportunity to be stocked in some of the world's most prestigious department stores and boutiques including Boutique 1, Boon The Shop, David Jones, Harvey Nichols, Hudson's Bay, Lane Crawford, LECLAIREUR, mytheresa.com, ORDRE, Parlour X, Ssense.com, Sugar and Tata CLiQ Luxury. DYNE will receive $100,000 along with commercial opportunities.
The Woolmark Company is pleased to have the support of Fondazione Pitti Discovery and Pitti Uomo, TONI&GUY, makeup by MAC and Future Tech Lab for the 2017/18 International Woolmark Prize global final. The Woolmark Company has partnered with online showroom platform ORDRE for a second year to present International Woolmark Prize winner and finalists' capsule collections, in online showrooms to an invitation-only Retail Network and will allow wholesale orders to be placed.
The collections will also be presented for the first time at the British Fashion Council's LONDON show ROOMS at TRANOÏ WEEK in Paris, January 18-23, at VNH Gallery, 108 Rue Vieille Du Temple, 75003, Paris. For appointment requests, email: Andra Maier, Andra.Maier@wool.com.
Please find imagery of the winners here, for additional requests please contact kate@nacmedia-group.com
About The Woolmark Company:
The Woolmark Company is the global authority on wool. Through our extensive network of relationships spanning the international textile and fashion industries, we highlight Australian wool's position as the ultimate natural fibre and premier ingredient in luxury apparel.
The Woolmark logo is one of the world's most recognised and respected brands, providing assurance of the highest quality, and representing pioneering excellence and innovation from farm through to finished product.
The Woolmark Company is a subsidiary of Australian Wool Innovation, a not-for-profit enterprise that conducts research, development and marketing along the worldwide supply chain for Australian wool on behalf of about 60,000 woolgrowers that help fund the company.