Low-code, no-code: Creating new business opportunities
Written by

Vijay Sundaram, Chief Strategy Officer at Zoho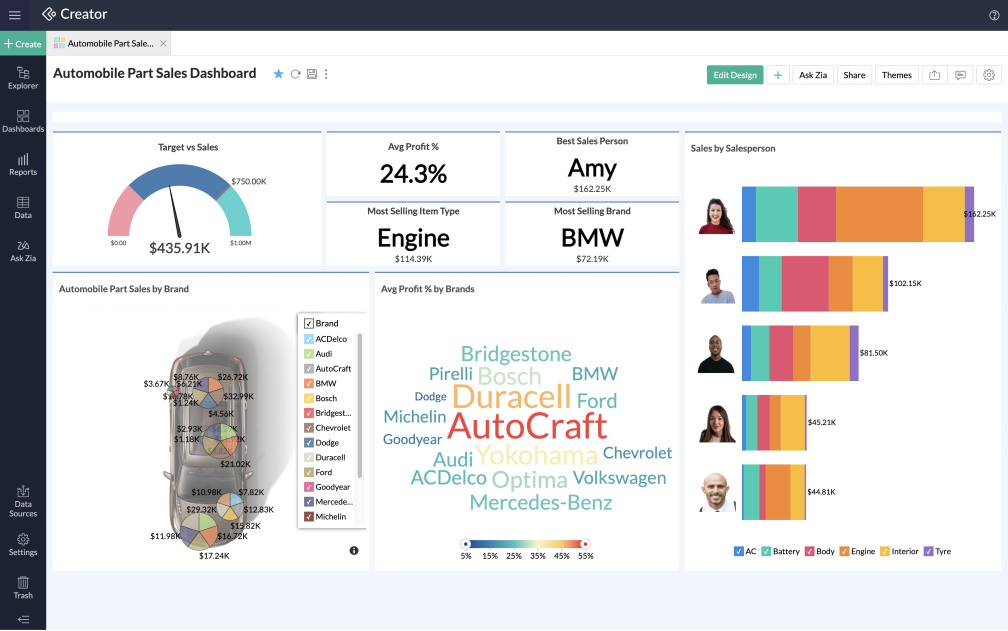 Over the last two years, thousands of Australian businesses - big and small, in every industry - have enhanced their technology to overcome short-term challenges and pursue medium- and long-term growth. When it comes to the affordability, accessibility and intuitiveness of technology, there's never been a better time to be a business owner.
However, despite that, there are still occasions when a business owner or decision maker catches themself thinking: 'If only there was a tool or app for that'. Until recently, only large businesses with money, resources and tech expertise could custom-build and deploy an application or solution to meet their unique needs. Today, however, there is a low-code, no-code revolution, which provides businesses - irrespective of their tech expertise - with the potential to build, manage, integrate, and analyse custom, scalable apps and tools.
But what is low-code, no-code? What are its benefits? And how are local Australian businesses already using it to drive growth?
What is low-code, no-code?
Low-code, no-code platforms - like the new Zoho Creator - allow users with little-to-no coding experience to rapidly build custom apps with minimal coding. Through it, businesses aren't reliant on costly coders and web developers and can instead automate, manage and customise applications or solutions through a process as simple as drag-and-drop. According to Gartner forecasts, by 2024 80% of products and services will be built by those without a tech background through platforms such as low-code, no-code.
By using low-code software, businesses can design, build and implement powerful applications that boost their ability to innovate and adapt – crucial attributes that will better equip them for whatever the future holds. Business owners currently face soaring demand for new business software, and Zoho Creator possesses the sophistication required to develop scalable, enterprise-ready end-to-end tools. Rather than a business paying a premium, making do with a rigid off-the-shelf solution or, worse still, going without technology entirely, businesses can build tailor-made solutions themselves.
Building agility and future-proofing
The best low-code, no-code platforms integrate digital data and processes to facilitate the creation of truly agile solutions for business users and IT teams alike. Business developers can now easily build scalable low-code solutions which include apps, integrations, analytics, and process automation without heavy dependency on IT teams or time-consuming training.
For IT stakeholders, low-code platforms provide deeper controls around governance and management, without compromising automation, data-driven insights, customisation, and the ability to affect revenue and growth. Together, business users and IT can quickly deploy secure, dynamic solutions built to auto-scale, so that organisations can focus on solving business problems and pursue new opportunities.
The benefit transcends the specific app or solution itself; it provides businesses with some of the most important traits, like agility and personalisation. Businesses succeed and future-proof themselves by tailoring their approach consciously and strategically, and being adaptable. Adaptable to industry-specific changes, adaptable to macro global trends and adaptable to the always-evolving needs of their customer. Low-code software provides this in abundance, allowing businesses to build processes that can overcome challenges, seize opportunities and meet and exceed the needs of their customers.
Take Shine Auto Parts WA in Perth, for example. According to Senior ICT Project Manager, Muhammad Majid, Zoho Creator covers the entire flow of their business, from customer relationship management and supplier management to all their internal process. Through Creator, they've seen a 40% increase in productivity and additional revenue of AUD$1M. More than numbers though, it's providing them agility and the ability to innovate.
For any business looking to not only embrace digital transformation but optimise, personalise and enhance their approach, low-code platforms are at the forefront of app development technologies. The future of work is digital, and businesses and consumers are transforming fast. Through low-code, no-code technology, businesses can make agility, productivity and scalability key advantages.