Australian journalism needs more than better protection, it needs better standards
Written by

Andrew Podger, Honorary Professor of Public Policy, Australian National University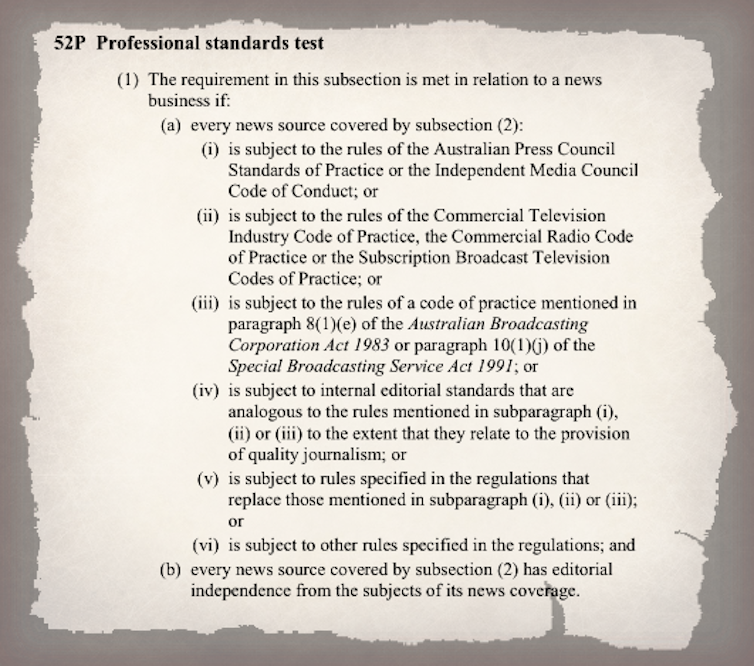 Australia may be leading the world[1] in measures to protect public interest journalism from the threats arising from media restructuring and news aggregators such as Google and Facebook, but it has yet to properly address the related need for firm professional standards.
At the moment the Australian Press Council[2] deals with complaints about the print and online content of the newspapers, magazines and journals that fund it.
Among those publishers are the two biggest: Nine and News Corp[3].
Other big publishers[4] are not or cannot be members, among them Guardian Australia, The Conversation and the ABC.
A separate Independent Media Council[5] deals with complaints against newspapers operated by Seven-West media, which funds it. The Independent Council handles about 30 complaints a year, whereas the Press Council handles more than 1,000.
Complaints against the news content of licensed radio and television stations are handled by the government's Australian Communications and Media Authority[6].
There have been attempts to lift standards
It is nearly a decade since
the government's Finkelstein Review recommended a government-funded statutory body[7] take over the role and functions of the Australian Press Council and the news-related functions of the Communications and Media Authority

the government's subsequent Convergence Review recommended an industry-led body with some government funding to oversee journalistic standards for news and comment regardless of the platform[8] on which it is posted
Neither recommendation was implemented, though the threat of government regulation did lead to significant reforms[9] to the Press Council on which I served between 2012 and 2021.
The reforms the Council Chair Julian Disney drove strengthened its independence from the organisations that funded it, and its ability to not only to consider complaints but also to review its general principles, develop new standards and guidelines and to establish education and promotion activities.
Read more: 10 years after Finkelstein, media accountability has gone backwards[10]
Publisher members agreed to double their fees and to enter into contracts requiring them to give four years' notice should they leave. A more rigorous approach was introduced for handling complaints with adjudications being made by panels of members representing the pubic and journalists only.
The government is inching towards more
The government has raised the possibility of trying again, its green paper[11] last year on broadcasting promising to "implement a staged program of reform towards 'platform neutral' media regulation".
The legislation that set up this year's mandatory bargaining code[12] with platforms including Facebook edged down this path by requiring news organisations that wanted to use the code to pass a "professional standards test[13]".
But the test required little more than that they be subject to one of the existing bodies or have internal standards.
Read more https://theconversation.com/australian-journalism-needs-more-than-better-protection-it-needs-better-standards-171117