From October, it will be all but impossible for most Australians to vape — largely because of Canberra's little-known 'homework police'
Written by

Peter Martin, Visiting Fellow, Crawford School of Public Policy, Australian National University
After a misstep, it's about to become illegal to import e-cigarettes without a prescription, which means that, for most Australians, it'll become all but impossible to vape from October 1.
The misstep tells us a lot about how the Australian government works behind the scenes — most of it good.
Mid last year, Health Minister Greg Hunt announced plans to ban[1] the import of nicotine-containing e-cigarettes and refills without a doctor's prescription. Border force would be checking parcels.
To Hunt, the decision made sense. It was already illegal to buy and sell such products without a prescription in every Australian state and territory, and it was illegal to possess them without a prescription in every state but South Australia.
All Hunt was doing was closing a (very wide) loophole.
Government backbenchers revolted[2], Hunt pointed to a doubling of nicotine poisonings over the past year and the death of a toddler, the prime minister offered less than complete support, saying he was keeping an "open mind", and Hunt put the idea on the backburner[3].
That's the way it played out in public.
But beneath the surface, something impressive was swinging into gear. It's called the Office of Best Practice Regulation, OBPR[4], an apolitical body nestled within the prime minister's department.
Canberra's 'homework police'
So what did this little-known part of the government do that will effectively stamp out vaping from next month? Its executive director, Jason Lange, revealed the back story at an Economic Society of Australia meeting in Canberra earlier this year[5].
Set up during the 1980s to ensure government decisions didn't needlessly tie up business in red tape, the office gradually was given other things to consider, including the effect of government decisions on citizens, on the environment, and on the distribution of burdens throughout society.
Read more: Vaping is glamourised on social media, putting youth in harm's way[6]
Then in 2013 Prime Minister Tony Abbott moved it out of the Department of Finance into his own department: Prime Minister and Cabinet.
Prime Minister and Cabinet is the traffic cop: it decides what gets put forward for cabinet to decide, and when. So suddenly the office was working at the centre of government decisions, getting to view every one of the 1,800 or so things put to senior ministers to decide each year.
Seven questions shaping new decisions
For the few hundred proposals it thinks might have significant unintended impacts, the office demands an impact statement[7].
It doesn't tell the department or authority putting forward the idea what to put in the statement. But as Lange explained, it "marks the homework". The proposals behind any statements that aren't good enough are harder to bring to cabinet.
Hunt's decision on e-cigarettes wasn't accompanied by an impact statement the first time around. Lange's office made sure it was on the second.
Each OBPR analysis has to address seven questions.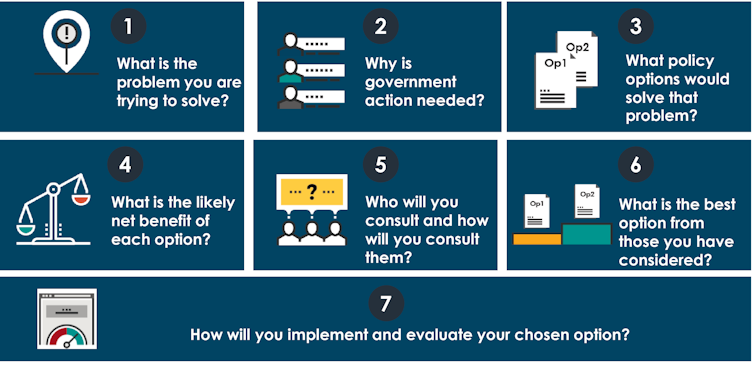 Authors: Peter Martin, Visiting Fellow, Crawford School of Public Policy, Australian National University
Read more https://theconversation.com/from-october-it-will-be-all-but-impossible-for-most-australians-to-vape-largely-because-of-canberras-little-known-homework-police-167376