Don't believe what they say about inequality. Some of us are worse off
Written by

Peter Whiteford, Professor, Crawford School of Public Policy, Australian National University
If you were going to reduce a 150-page Productivity Commission[1] examination of trends in Australian inequality to a few words, it would be nice if they weren't "ALP inequality claims sunk[2]", or "Progressive article of faith blown up[3]" or "Labor inequality myths busted by commission[4]".
The editorial in the Australian Financial Review[5] of August 30 says questions about whether inequality is increasing are "abstract", taught in universities as "an article of faith", and a "political truncheon".
Here I should disclose that I teach courses[6] covering inequality as well as undertaking research on the topic. Also, I was one of the external referees for this week's Productivity Commission report.
It adds to a growing pile of high quality research on trends in income distribution in Australia, including a recent Australian Council of Social Service (ACOSS) and University of New South Wales study[7] using data from the Australian Bureau of Statistics (ABS)[8] that provides an in-depth analysis of income and wealth inequality in 2015-16 and an analysis of trends since 2000.
Also released at the end of July was the latest HILDA Statistical Report[9] that analyses how things have changed over time for individuals between 2001 and 2016.
The Productivity Commission survey takes the deliberately ambitious approach of assessing a wider range of outcomes than income, including indicators of household consumption and wealth, their components, and changes over time and in response to events such as transitions to work, divorce and retirement.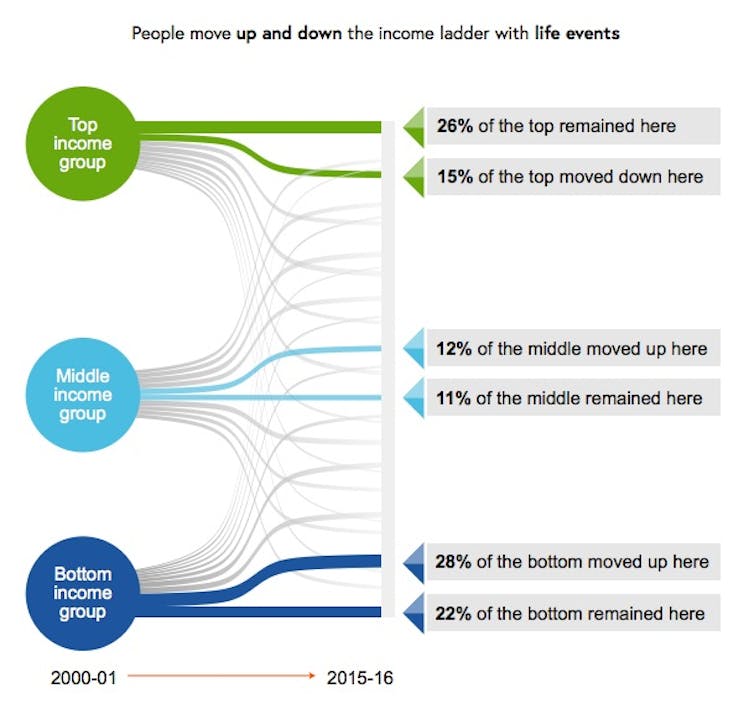 Authors: Peter Whiteford, Professor, Crawford School of Public Policy, Australian National University
Read more http://theconversation.com/dont-believe-what-they-say-about-inequality-some-of-us-are-worse-off-102332