10 Team Building Management Tips For Managers At Any Level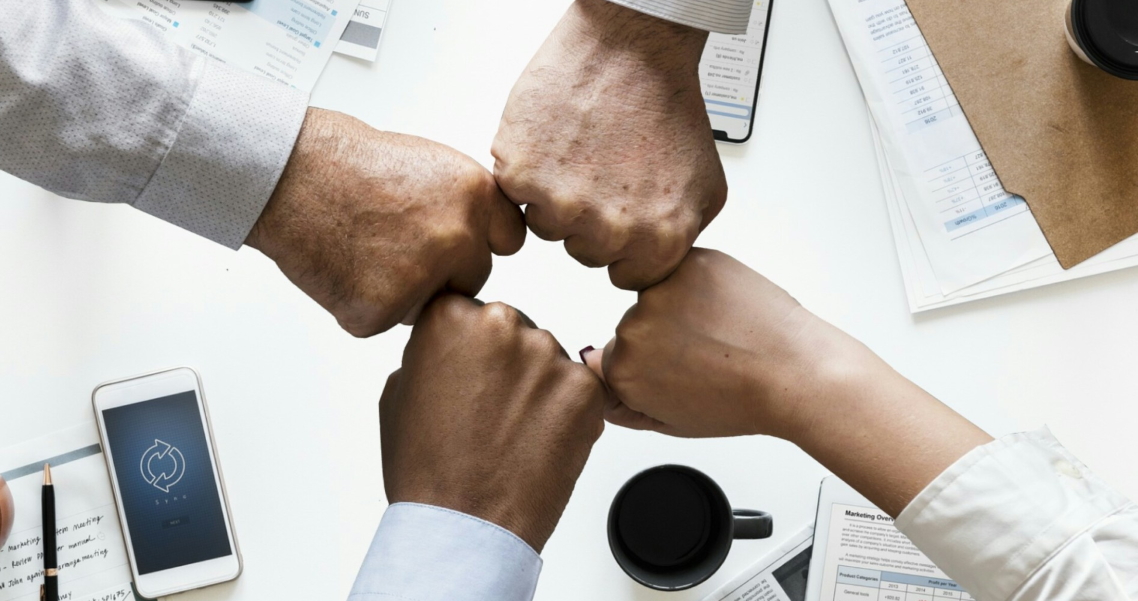 Team building management is the process of organizing employees to work together to achieve common goals and objectives. Effective teams are a competitive advantage because they can deliver results faster and cheaper than your competition. This is why managers that can create effective teams are in high demand. 
Successful team management does require people skills and emotional intelligence. But there are some quick and easy tips that effective managers use to build effective teams. Keep reading for 10 awesome team building management tips for all levels of management. 
1. Set a Vision and Objectives for Your Team
Effective teams always have clear visions and aims. So coming up with a team vision is your first step in effective team building. Knowing your team's purpose will direct other key decisions.
These factors include what kind of people to hire and how to divide resources. Without a common goal, your employees will lack focus and engagement.
2. Recruit the Right Team Members
Hiring the right people for your team makes it easier for you to build an effective and efficient team. From your team vision and objectives, you should be able to identify the personality and skill profile of the people you need to hire.
Always include a team member in interviews. They will help you determine the suitability of candidates applying for vacancies in your team.
3. Delegate Tasks Fairly and Effectively
To get the most out of your team you need to ensure that everyone has tasks and responsibilities according to their abilities. When a group of people is working together, it is easy for some to do most of the work while others do nothing. This may demotivate your hard workers.
Use team management apps to get visibility on each person's workload. The right apps can also help you to delegate tasks as it will be clear who handles each task. 
4. Effective Communication
The most important team-building management tip is to establish effective communication lines within your team. Make it safe for all members to voice their opinions, ideas, and feelings. It should also be easy for team members to communicate with each other and with you.
Modern tools such as email, group chat applications, and document collaboration can enhance communication. These tools are especially important when managing remote teams. 
Proper listening is also an invaluable tool for effective communication. It includes being attentive to the person speaking, maintaining eye contact, and not interrupting them as they speak.
Remember not to jump to conclusions about what an employee tells you. Instead, keep an open mind and allow the employee to speak without judging them. 
Most of the solutions to the challenges your team faces are within the minds of your staff. Listening to your employees will encourage them to share their ideas with you and some of these will be innovative enough to crush your departmental goals.
5. Efficient Time Management
Another effective tip for team management is to manage your team's time. Team members may end up feeling stressed and overworked if they don't know how to prioritize their work and budget their time.
A lot of teams waste time through excessive meetings, social media use, phone calls, and other distractions. Identifying how your team members use their time and training them on effective time management can improve your team's effectiveness. 
6. Value Teamwork
To encourage teamwork, you must make it clear that it is one of your team values. Include it as one of the parameters of your performance reviews.
Have clear examples of what teamwork means and how employees should behave. Celebrate employees that contribute to the team while counseling those with room for improvement.
7. Give Honest Feedback
Your team members want to know if they are meeting performance expectations. Make it a habit to observe and comment on each team member's performance. Don't make the mistake of waiting for annual performance reviews to let an employee know of any performance shortfalls or successes.
Rather, give your feedback immediately if someone does something wrong or right. This will motivate your employees and help them perform better at work. 
8. Resolve Conflict Quickly
Unresolved conflict is one of the main reasons for ineffective teams. When a group of people works together it is normal if disagreements occur between members. As a team leader, it is your responsibility to resolve conflicts as soon as possible.
You can act as the mediator between the two sides and help them reach a compromise for the good of the team. If the conflict festers for a long time, your team may disintegrate into warring factions that may be impossible to reconcile. 
9. Hold Regular Team Building Events
Team building events are a valuable tool for maintaining team morale and cohesiveness. Having fun events outside work helps your team to learn about each other's personalities and how to communicate and work with each other. Fun events also give your team a mental break from work and can be a reward for achieved goals. 
10. Maintain a Positive Environment
Another tip for effective team building management is to maintain a positive team environment. Be enthusiastic about team assignments and projects especially when the work gets hard or stressful.
If you are positive and cheerful your team will pick this energy. But if you are a negative leader that is always complaining you will create a negative work environment. Your team will be stressed and unmotivated. 
A successful ORM can maintain a positive environment if used to cheer high performing employees on your social media pages. You can also highlight the work your team does on your social media so that they can feel affirmed. 
Successful Team Building Management
One of the most important roles of a manager is building an effective team. This involves everything from recruiting the right people, designing innovative human resources management systems, and mediating conflict within the team.
Our 9 tips are great for team building management. Use them and other leadership topics we discuss even when you are managing a remote team. For more business tips, read the rest of our blog.