5 Reasons Why You Shouldn't Miss out On Visiting Australia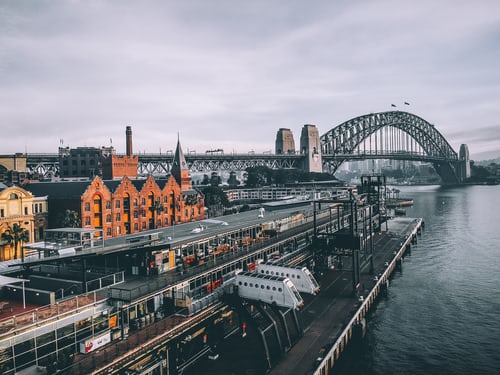 Famous for its fascinating landscapes, breathtaking shores and mesmerizing viewpoints, Australia has easily become one of the top travel destinations in the world. If you're eager to go to your next adventure and you need to plan for yet another fabulous trip, we strongly recommend the Land Down Under. Not only is it Australia home to beautiful sceneries and incredible flora and fauna, but also a wonderful destination for newlyweds and everyone who'd like to visit a new country at their own pace. Therefore, before you pack your bags, check out why you absolutely must put Australia on top of your travelling list.
Drive down the Great Ocean Road
If you're an avid driver, you'll definitely want to take a car out for a spin down one of Australia's most famous highways. As you enjoy the wind in your hair while you explore the Great Ocean Road, you'll also have the chance to see world-class surf at Bells Beach. You have the option to take a guided tour and see the main attractions quickly in a day trip, or you can explore at your own pace and see all the wonders of this magnificent country. You can spot koala colonies and tour artsy coastal towns on your way to experiencing fine dining on an organic farm. With an array of breathtaking attractions, you'll be more than willing to extend your trip. And make the most of the Great Ocean Road experience.
Enjoy all of its islands
Lying in the heart of the blue waters, Australia can proudly introduce you to a vast number of fabulous islands. Would you maybe like to walk through the world's largest sand island? If so, a two- or three-day-long tour across Fraser Island will be a real treat for you. Bring your swimming gear and enjoy a myriad of swimming activities. The tropical islands of Whitsundays are the best choice for everyone who wants to make their vacation a bit more exotic. Airlie Beach is the closet mainland town, and you'll find the Whitsundays are easily accessible through a variety of Airlie Beach boat tours. This is the best destination for cruising, visiting Whitehaven Beach, and snorkelling in the reef. Sunbathe at the beaches and soak up the sun in the Land Down Under, to make the most of your trip.
Have a honeymoon to remember
Australia is also one of the most popular honeymoon destinations, and if you'd like to send your days getting to know the metropolises, we suggest you visit Sydney first. With all the romantic locations and lovely sceneries, you'll have a honeymoon to remember. A candlelight dinner with the view of the Opera House or just having a relaxing evening at your newlywed's suite can make your honeymoon more than worthwhile. Melbourne is another Australian metropolis worthy of your nuptial journey. Brimming with romantic getaways, Melbourne offers truly stunning honeymoon activities that will most likely inspire you to come back for your anniversaries. To make the honeymoon in Australia even more memorable, you can also look for an online adult shop and spice things up in the bedroom from the very beginning. Furthermore, consider taking a romantic balloon ride over the city or maybe go wine tasting along the Yarra River.
The magnificent Daintree Rainforest
For everyone eager to see the highlights of Australia, Daintree Rainforest is another gem that Australians proudly keep. Daintree rainforest is the oldest tropical rainforest in the world and one of Australia's most valued natural treasures. Only a 2.5-hours-long drive will separate you from Cairns and this world beauty. You can learn about ancient traditions from an Aboriginal guide and even spot saltwater crocodiles if you decide to go on a river cruise. With the crystal-clear waters cascading over granite boulders in the Mossman River, the glorious Mossman Gorge will leave you in awe.
Experience the call of the jungle
To witness some of the most mesmerizing flora and fauna in the world, you'll need to go deep down in the jungle of Queensland. Aside from that specific jungle where you can take a dip in some of the most beautiful swimming holes in the continent, wildlife is also very spread out Australia wide. From koalas to wallabies, kangaroos, crocodiles, wombats, sharks, emus, and an array of other fascinating animals, every nature lover will find the Land Down Under the best destination for exploring.
From romantic getaways to exploratory paths and wildlife-rich jungles, Australia is the land of various possibilities and a perfect holiday destination for everyone. Whether you're a newlywed, or you want to take on another exploratory adventure, Australia will welcome you unlike any other country n the world.