Fast Announces A$30 Million in Series A Funding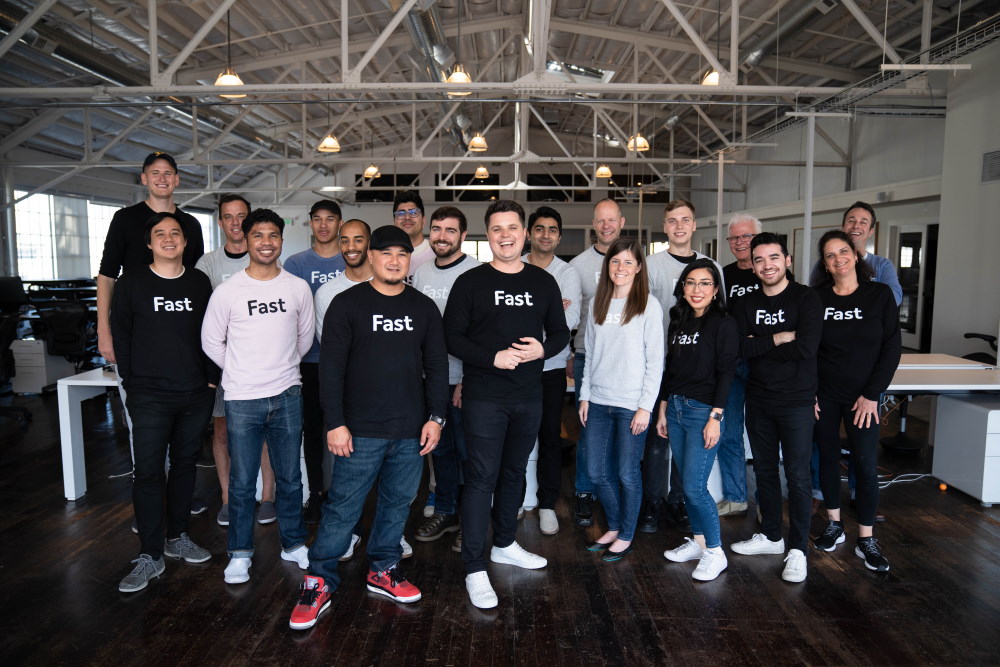 Fast Announces A$30 Million in Series A Funding Led by Stripe to Launch Universal One-Click Checkout
Australian entrepreneur and CEO Domm Holland secures one of the large Series A funding to bring one-click Checkout product for every device, platform and browser
March 31, 2020 — Fast, the world's fastest online login and checkout experience, today announced it has raised A$30 million series A funding round led by Stripe, with additional participation from Index Ventures and Susa Ventures. The funding represents one of the largest series A funding rounds secured by an Australian technology entrepreneur. Fast will use the investment to accelerate the global rollout of Fast Checkout, its universal one-click purchase product for e-commerce and to further grow its product and engineering teams.
"We're proud of our Australian roots here at Fast. The funding we're announcing today is a vote of confidence in the Australian startup ecosystem and the resourceful entrepreneurs that are being created in our region. Aussie entrepreneurs are building some great, innovative companies and I think we will be seeing a lot more of their products over here in Silicon Valley in the future," said Fast CEO and Co-Founder Domm Holland.
Fast Checkout will launch in the coming weeks and complement Fast Login, Fast's free-to-use one-click login tool. With Fast Checkout, consumers are able to complete purchases with a single click on any browser, platform or device. In 2019, the USD$3.5 trillion global e-commerce market struggled with shopping cart abandonment for up to 80 percent of potential purchases, largely due to friction during checkout. At the same time, consumers are forced to fill out an average of 23 fields just to make a single online purchase. Fast eliminates the frustration of remembering passwords and inputting payment information. Purchasing once with Fast Checkout enables secure, one-click transactions on all Fast-enabled sites.
"Fast is taking a novel approach to improving the login and checkout process for online businesses," said Jordan Angelos, head of corporate development at Stripe. "We support their vision to remove friction from internet commerce wherever possible."
Fast was co-founded by Holland and COO Allison Barr Allen. Holland is a repeat entrepreneur who has founded and led multiple companies in Australia. Allen previously led global product operations for Uber's Money Team and is an active angel investor.
Holland was driven to create Fast when his son was briefly hospitalised and his wife's grandmother was helping the family by purchasing groceries online. What was meant to be a quick transaction turned into a vexing, time-consuming struggle when Holland's grandmother-in-law couldn't remember her password or reset it. Fast provides the solution for people who are constantly dissatisfied by passwords and poor online shopping experiences.
For more details on Fast, please visit fast.co. 


Domm Holland is the co-founder and CEO of Fast, the world's fastest online login and checkout platform. An entrepreneur and self-taught engineer, Domm has founded and scaled companies in the logistics, transportation and technology sectors. 
He previously founded and served as CEO of Tow, an on-demand vehicle towing platform in Australia that processed more than $50M in transactions. During his tenure there, Domm was awarded the top spot on the Deloitte Tech Fast 50 and recognised as the Brisbane Young Entrepreneur of the Year.
Domm has worked across Australia and the U.S., working in national and multinational telecommunications and technology companies, including Dell, with deep cross-function experience. Domm's background provides him with a unique perspective that spans R&D, sales and operations, all of which have contributed to his vision for Fast. 
About Fast
Fast's mission is to simplify and speed up life's tasks. Its Fast Login and Fast Checkout products enable a one-click sign-in and purchasing experience that makes it easier for people to buy and merchants to sell. The company's products work on any browser, device or platform to deliver a consistent, stress-free purchasing experience. Fast is entirely consumer-focused and invests heavily in its users' privacy and data security. Headquartered in San Francisco, Fast is a privately held company funded by Stripe, Index Ventures, Susa Ventures, Kleiner Perkins, Global Founders Capital and Brian Sugar – who also serves on the board. To learn more, visit fast.co.