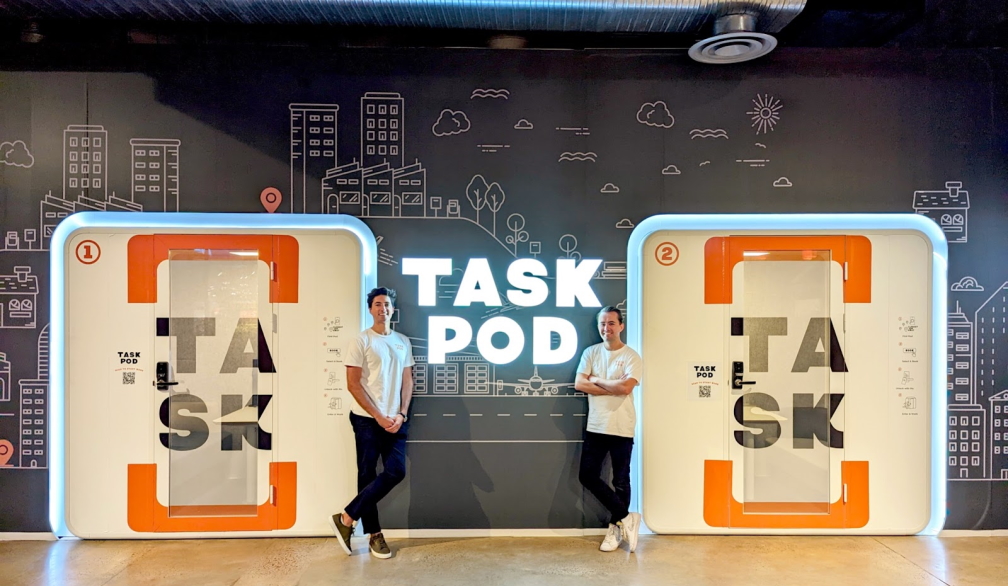 The New On-The-Go Workplaces of the Future 
Australians now have access to on-the-go offices with the first of their kind 'TaskPods' being rolled out at busy shopping centres, airports and transport hubs across the country. 
"Up until now flexible working has involved having meetings and video calls hunched over café tables or even from your car. We want to make it better for people to manage working from anywhere," says TaskPod co-founder Adam Morgan. 
Ten TaskPods have already been installed across the country including at Adelaide Airport, Perth Airport and at Sydney's World Square and Pitt Street Mall with another 25 to be rolled out in the next 4 months, including at Westfield shopping centres and at train stations. 
The modular orange and white office pods are soundproof and contain a desk and chair, access to secure WiFi, USB charging port and power points. Some have AV screens and the larger models contain a table and seating for up to 4 people. 
"We've designed TaskPods to be like stepping stones for hybrid workers so they can jump in and out of work wherever they may be," says Mr Morgan. 
"We're rolling them out at shopping centres and major transport hubs including airports and train stations. Anywhere where people might be passing through and urgently need to take a call or jump onto a meeting."  
"Our next rollout phase will include hospitals, corporate foyers and other public spaces," he adds. 
The last Census survey showed more than 2.5 million Australians were working from home and even post-pandemic that trend is continuing with many choosing to continue their hybrid working and market leaders such as Google, Atlassian and Facebook embracing a flexible work model for employees. 
The TaskPods are easily located and accessed via an app – users can book them ahead of schedule or straight away. The space costs $15 an hour and can be booked in 15 minute increments. People either pay for them individually or access their subscription through a company account. 
Companies already offering a subscription to their employees include Price Waterhouse Coopers, the Royal Automobile Association and Shiels Jewellers. 
TaskPod is the brainchild of entrepreneurs Adam Morgan and Tyson Gundersen who also founded Australian modular office solutions company Bureau Booths. 
The pair met while working at KPMG in London.  
Mr Gundersen came up with the idea for the TaskPod while running late for a meeting.  
"I was stuck in traffic one day travelling between a daycare drop off and work and was running late for a meeting and thought wouldn't it be great if I had a quiet space I could access mid-route to make my calls," says Mr Gundersen. 
"We think of it like a micro-office on the go or even a place to meet clients when you're travelling around." 
"We've even got students who log into university lectures in them and others using them as a space to meditate," he says. 
Sites where TaskPods are in the process of being installed  -
Westfield Parramatta
Westfield Pitt Street
Westfield Bondi Junction
Westfield Miranda 
Victoria
206 Bourke Street, Melbourne 
South Melbourne Central
The Glen, Glen Waverley
TaskPod is your private space on the go. Designed by architects and industrial designers, these premium soundproof modular office booths offer a unique and practical response to privacy concerns wherever there is the need for a quiet place. The booths can be installed at almost any location and can be disassembled and relocated as required. TaskPod has set a minimum requirement of 50% recyclable materials in each booth and they are on target to reach 100% by 2025.