Primewest Development launches stage 1 at Interlink Strathfield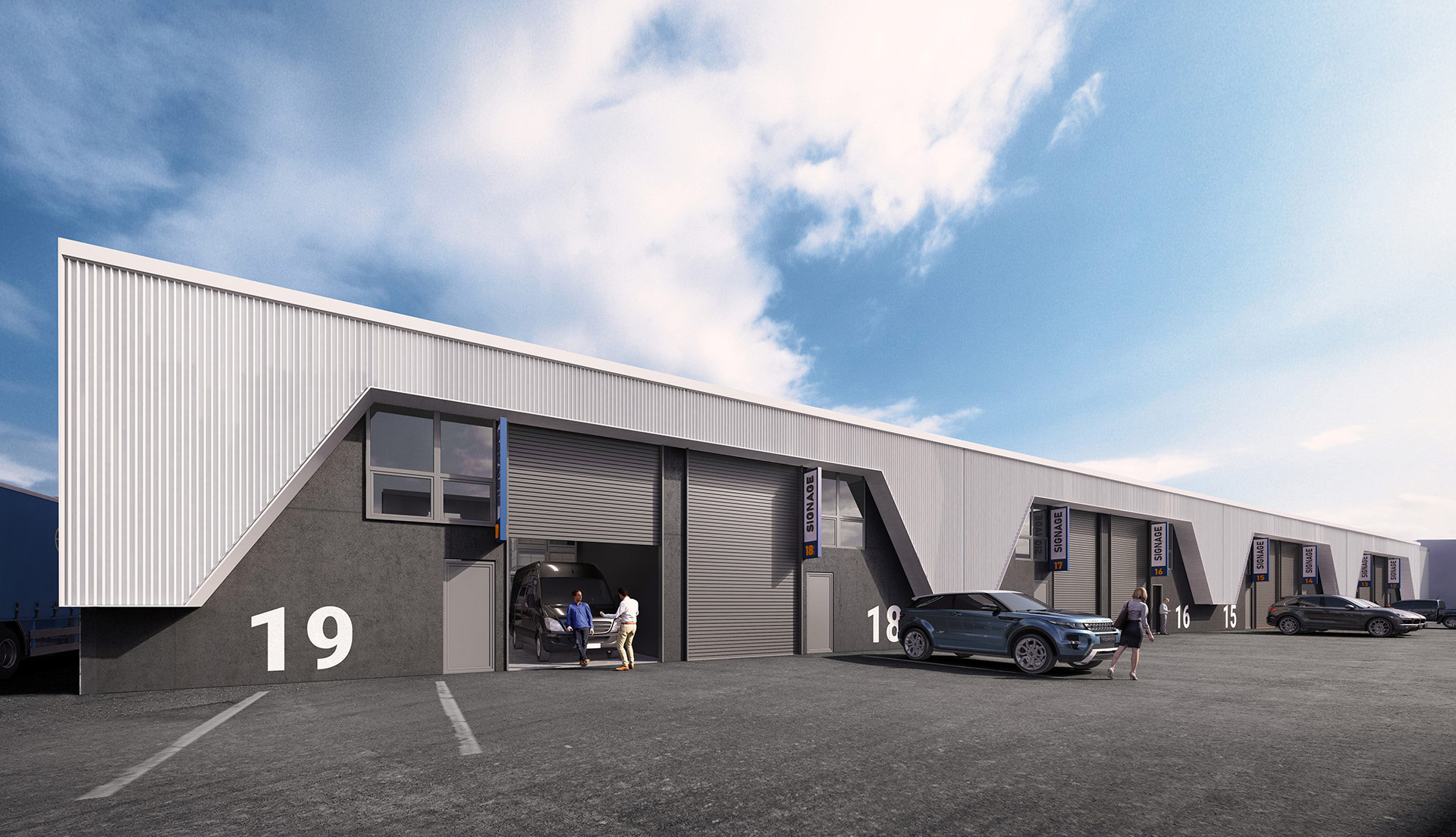 Property development group, Primewest Development – backed by Primewest's John Bond, David Schwartz and Jim Litis – has launched stage one sales of its $65 million industrial estate, 'Interlink Strathfield' located on a prime site on the corner of Cosgrove Road and Cleveland Street in Strathfield South in Sydney's inner west.
Rob Thomas and Banjo Bond established Primewest Development in 2018 with the backing of the Primewest directors. The objective of the business is to expand a development footprint in Sydney across multiple asset classes, while drawing on the three decades of development expertise held by the directors.
The state-of-the-art Interlink estate comprises 65 strata title industrial units for sale with sizes ranging from 100sqm to over 1,000sqm, and 23 strata titled storage warehouse units sized from 21sqm to 82sqm. Stage One of the development comprises 25 industrial units.
Banjo Bond, Director of Primewest Development said the key benefit for both investors and owner-occupiers alike is the scarcity of industrial land that exists in inner Sydney metro area.
"Only 11 percent of Sydney's industrial land is within 30-minutes of the CBD, so once it gets snapped up, there are very few other opportunities to acquire it, and it traditionally has a very low turnover rate".
"Because of its rarity, there is solid scope for capital growth with industrial land supply shortages continuing to be an issue. As an investment product, industrial units provide higher rental returns than residential property, returning an estimated 4.5 to 5.5 percent yields compared to only a 3 to 4 percent for a residential property".
"Now is the time to shine for industrial property in Sydney with the residential sector facing falling property prices and issues plaguing the off-the-plan market. Buyer confidence in residential is at record lows so we see this as a significant opportunity to make some headway in the industrial space to win over some of those private investors looking for a stable, no-mess, low-risk asset with good rental yields," Mr Bond said.
"There are numerous benefits to investing in industrial property over residential including yearly rent reviews, longer term tenancies, large depreciation benefits and tax benefits, and minimal ongoing maintenance expenses. Typically, all outgoings are recoverable from tenants, which is not the case with residential" he said.
Designed by leading Australian architect Rothelowman, Interlink Strathfield represents an exceptionally rare investment opportunity suited to small businesses, SMSFs, trade contractors, logistic companies and e-retailers alike.


Proximity to Enfield Intermodal a key advantage
Shaun Timbrell, Director at CBRE said initial interest has been received from local businesses attracted to the property's location in the true heart of the Sydney metropolitan region, and also the site's proximity to Enfield Intermodal Logistics Centre – which is NSW's largest intermodal with a direct train line to Port Botany.
"Interlink Strathfield is also only a few kilometres to major e-retailers and distributors including Australia Post and the Woolworths Distribution Centre who all picked this location due to its centrality to the Sydney metropolitan area, while also be only 30 minutes' drive to Sydney CBD," Mr Timbrell said.
"Interlink Strathfield offers the ultimate in flexibility with businesses able to amalgamate units to suit their specific needs."
Interlink Strathfield offers state-of-the-art industrial units with contemporary mezzanine office facilities ample parking, wide driveways and a number of dedicated 40-foot container loading zones.
Interlink offers businesses the ultimate security as well as additional benefits such as dual street access with frontage to both Cosgrove Road and Cleveland Street. A number of units have private secure yards which is a unique offering in this asset class.
Storage warehouse units are ideal for smaller business users or those needing to store a boat, vintage car, or those with more typical storage needs. They will also appeal to a keen hobbyist looking for space near home. All units have direct on-grade roller door access from within the gated grounds of the Interlink estate.
For enquiries regarding strata titled industrial units or storage warehouse units visit www.interlinkstrathfield.com.au

About Primewest Development
Primewest Development is a privately-owned property developer and fund manager operated by its directors and shareholders, which include John Bond, David Schwartz and Jim Litis - the founders of Primewest, a national property investor with a portfolio valued in excess of $3.5 billion. This portfolio spans numerous asset classes including commercial, retail and industrial property throughout Australia..
Together with Rob Thomas and Banjo Bond, the Primewest Development directors have significant development experience gained over three-decades in both Australian and international markets.
About Interlink Strathfield
Interlink Strathfield is new generation industrial estate being developed by Primewest Development
comprising industrial units and storage warehouse units, the property is located at 50-62 Cosgrove Road in Strathfield South on the corner of Cosgrove Road and Cleveland Street.
The property has an area of 26,000sqm and is being developed to include 15,000sqm of new floor space. Interlink Strathfield consists of 65 industrial units sized from 150 – 1,000+sqm and 23 mini-warehouse units sized from 21sqm to 82sqm.
Unique Selling Points of the Interlink Strathfield project include:
Located in the true heart of the Sydney metropolitan area, and only 30 minutes to the CBD

Only 11% of Sydney's industrial land is within 30-minutes of the CBD, making Interlink a rare proposition

Industrial land supply is constrained, and Australia is on the cusp of an e-commerce boom, placing further pressure on demand for warehouse space

Predicted capital growth due to lack of supply and growing demand

Predicted rental growth due to lack of supply and increasing demand

Close proximity to the WestConnex which is operational from 2019

Increased accessibility to/from Interlink

Future time saving post completion of WestConnex

Significant advantages of investing in industrial over residential including higher rental returns, all outgoings typically recoverable from the tenant and longer lease terms.

Architecturally designed by respected Australian architect Rothelowman.
For further information, please visit www.interlinkstrathfield.com.au.
About Enfield Intermodal Logistics Centre
Set over approximately 60 hectares, Enfield ILC is NSW's largest intermodal (IMT) operated by LINX and being developed by Goodman in partnership with NSW Ports. The EILC offers warehouse for lease up to 60,000sqm in area.
Centrally located 15km west of Sydney's CBD in Strathfield South, users benefit from excellent road and rail connections to all areas across Sydney and beyond.