Hireup partners with The Achieve Foundation to bring the good life to all Australians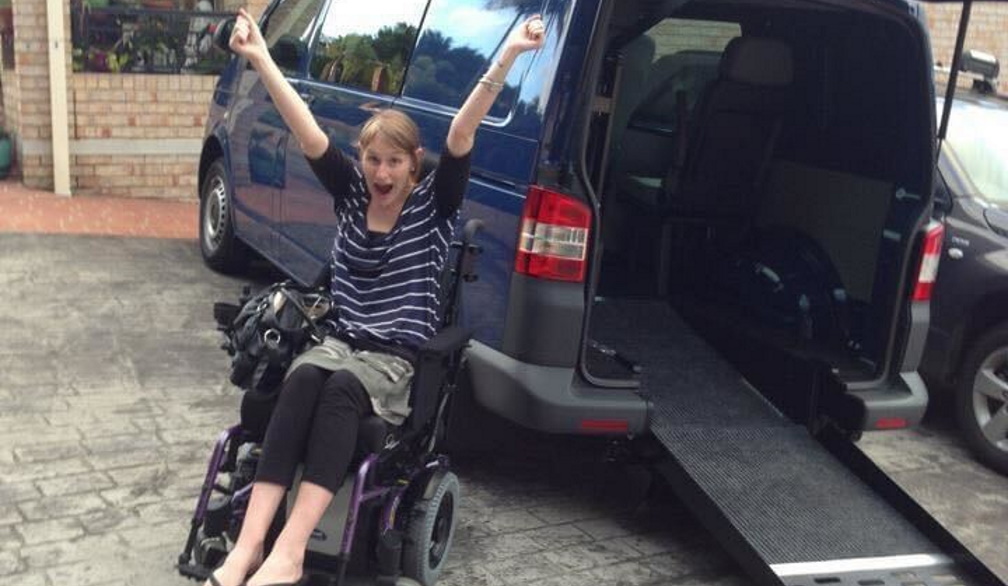 When Jo Berry needed to modify her van to suit her power wheelchair, she had to turn to grassroots fundraising to scrape together the money required.
"It felt wrong asking for money from those close to me. But at the same time, I couldn't think of another way to still be able to do things, like I had to get to work. It would've been great to have a grant."
It's not an uncommon story for people with disability in Australia. While the NDIS provides funds for a range of everyday activities and support, its narrow criteria can't meet all the life-enhancing needs of those who access it.
"In order to get funding for anything on the NDIS, it has to be deemed 'reasonable and necessary', but sometimes there are things in life that are valuable and enriching that might not fit the narrow NDIS criteria," explains Jo. "For example, a beach wheelchair for someone who LOVES the beach. Is it enriching and valuable? Yes, but does it class as necessary? Maybe not. However, it might well be the difference between being stuck at home on a bad day or still accessing the community."
This lack of life-enriching experiences and community connection can have a negative impact on people with disability. According to the latest NDIS Participant Outcomes Report, only 55 per cent of adults with disability on the NDIS are satisfied with their life. For the average Australian adult, this figure lands at 77 per cent, pointing to a significant shortfall for those living with a disability.
It's why Hireup, Australia's largest NDIS-registered disability support-worker platform, has launched a grants program focused on addressing this shortfall by directly engaging people with disability and supporting their right to self-direction.
The grants program was launched by Hireup in June with the aim of funding innovative ideas that aren't covered by a NDIS plan, yet help to bring people with disability closer to their 'good life'. Open to individuals, project groups, community groups and organisations, the program is inclusive of the whole disability community, Australia-wide.
Hireup's co-CEO Laura O'Reilly says the concept for this grants program first came to light in the early days of Hireup, when it was apparent that a small grant of even a few thousand dollars could change everything for the start-up.
"The impact of that money has not been forgotten. This is the driving force behind the Hireup Impact Grants program, which has already had a ripple effect, resulting in The Achieve Foundation generously coming on board to match our grant pool in an effort to expand its impact."
The Achieve Foundation is a new organisation that aims to increase the social inclusion of people with disability. It joined the inaugural Hireup Impact Grants program to expand the resources that are available for people with disability to pursue their good life and connect with others.
The Achieve Foundation's Executive Director, Dr Kirsty Nowlan says two key reasons were behind the organisation's decision to partner with Hireup.
"We like the fact that Hireup is thinking differently about disability and disability services, in ways that meet the needs of people with disability. So that's the first reason," says Dr Nowlan. "The second reason is that we have a program of work at The Achieve Foundation called Community Connections. When we saw that the Impact Grants Program's theme is Community Connection, it sparked our interest. It was clear that Hireup was interested in deepening social inclusion and was aware that sometimes, it only takes a small amount of money to make a big difference to both individuals and organisations. That's why we're coming to the table, to provide extra resources to make things possible that are often out of reach. That's an amazing opportunity."
Jo Berry, who works in the Complex Support team at Hireup, saysHireup Impact Grants is an exciting initiative that will make a real difference to people with disability.
"We need things like these grants to supplement the NDIS because there are gaps, and because it was never designed to be the be all and end all… It was designed as part of an ecosystem," explains Jo.
"I just think that having grants like Hireup's Impact Grants are not only going to give people the feeling that I had, the feeling like someone's banking on you and wants you to succeed, but also it's going to take away that stress and frustration of having to ask their networks." 
Ranging from $500 to $20,000, the Hireup Impact Grants can be used to develop individual skills, purchase an item that will improve quality of life, or engage in an unforgettable experience. These activities generally fall outside of the NDIS funding criteria but are no less important in the pursuit of a good life.
The grants are open to the whole disability community, not just those who use the Hireup platform. In an effort to make the program as accessible as possible, Hireup has created a short online application form comprising of four clear questions as opposed to a lengthy application process. If shortlisted, the applicants are asked to provide further information in whatever method they like – for example, a Zoom chat with a Hireup team member, written project plan or video submission – ensuring the selection process is fair and accessible to all abilities.
"There's a real art to interpreting and answering questions for grants to get results. You need to be able to answer written questions in a way that takes a lot of training and education and not everyone has those resources available to them," explains Hireup's Co-CEO, Laura O'Reilly. "Our application process has been designed to be quick and easy and we are also taking an innovative approach to the outcomes the grants hope to achieve.
"Often, philanthropic organisations want to invest in something that is going to have broad social benefit – 'If I give you a dollar, you're going to make $5 worth of value in the community'. There aren't a lot of 'capacity building' grants that are focused on supporting an individual to invest into themselves, into their skills or to have a good experience."
Hireup has chosen Community Connection as the theme for this grant round because feeling connected to people and being involved in communities has a direct and positive impact on quality of life.
Dr Nowlan believes the Hireup Impact Grants are vital because there simply aren't enough resources available for people with disability to live the lives they want.
"Yes, we have the NDIS, but we know that it doesn't support everyone with disability and that there's also a range of things it doesn't do. We need investors and philanthropists to provide those resources that can make small but life-changing impacts," she explains. "We're really open on what that impact should look like. It could look like a technical resource that a person with disability needs to participate in society, or somebody fulfilling a dream they've always had. Or it could be a resource for an organisation to get to the next stage. All of those would be great. Ultimately, like Hireup, we want to create the kind of impact that makes people feel like something that once felt out of reach is possible."
Hireup Impact Grants are currently being accessed. Shortlisted applicants will be notified on Wednesday, 27 July.
To learn more about the Hireup Impact Grants and the work it does within Australia's disability sector, visit https://hireup.com.au/hireup-impact-grants/.