Linktree transforms its brand to evolve beyond the 'link in bio' category it created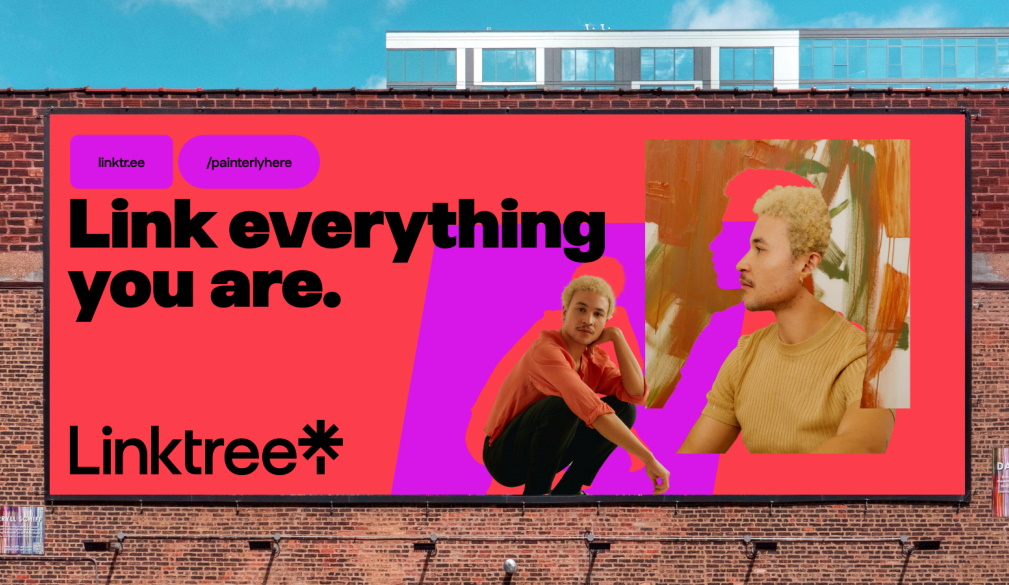 Linktree, the 'link in bio' category leader, is today announcing its new brand vision to cement the ownership of the link-in-bio category it originated and its position as the leading innovator in its progression. This announcement marks Linktree's evolution from being seen as just a 'link in bio' tool to being a brand that encourages self-expression, discovery, connection and community. The new brand identity speaks to Linktree's ambition of empowering 25m unique users across the globe to tell their stories better by celebrating the many facets of any one person's digital universe – a platform where anyone can truly link, and transport visitors, to everything they are.
Designed in partnership with COLLINS – the independent strategy and design company responsible for the branding of Twitch, Spotify and Robinhood – the work includes a new visual identity system and brand language that puts creators at the forefront. There are four major components to the new brand including:
* The animated silhouette treatment implies a window into the user's digital universe – bringing creators to life by inviting an opportunity to explore the depths of the links further.

* Linktree's new custom typeface – Link Sans, a global-first typeface was designed to allow for optimal accessibility across languages, existing alongside other scripts with minimal interference, again prioritising connectivity.

* Linktree's new colour palette is vibrant, expressive and is grounded by Linktree's quintessential Canopy green.

* Linktree's new logo leverages the metaphor of a sheltering tree – providing stability and nourishment to its users so that they can set new goals, harness their power and grow what matters most.
With a maximalist visual language and colour palette, the new brand expression prioritises global accessibility and deepening connection – something which is critical with 1.2bn monthly views of Linktrees worldwide.
The transformation follows the culmination of years of work in providing an unparalleled product offering for creators, as Linktree looks to create a space within its brand which is re-imagining the link-in-bio category. Following Linktree's recent $110m USD raise, the business has focused on introducing new revenue streams and creating additional value for creators and brands, including the launch of the new Web3 platform features.
Linkree's new brand champions the business transition from a 'link-in-bio' tool to a platform which fuels engagement and community across the digital universe. With a whole suite of new tools and features set to be released to the market over the coming months, Linktree's brand transformation embodies new capabilities for anyone to 'link everything they are'. This includes innovative new ways to share content, build deeper connections with audiences and monetise passions.
CEO and Co-Founder, Alex Zaccaria says, "Following findings in our recent 2022 Creator Economy Report on the size of the creator economy - at a huge 200m individuals - Linktree believes the potential of the space has been underestimated to date. We strongly believe that anyone has the ability to grow highly engaged, connected audiences and monetise what they do through a single link. Our new identity is befitting of the vision of the company, as some of that starts to be realised, with so much more on the way."
Co-Founder and Chief Creative Officer of COLLINS, Brian Collins says, "My favourite American poet Walt Whitman said it best 'I contain multitudes''. In today's world, we're so used to compartmentalising all the things we are in different channels, that being able to put everything in one place is a revelation. Linktree has completely changed how we experience our digital identities, through one link. One link: capable of infinite expressions of ourselves (and the discovery of others). We aimed to bring this transformation to life through design and a new voice and felt honoured to partner with the remarkable, creative leaders at Linktree to do just that. Through this new brand identity, we can draw a door, or a window, into the world inside the many worlds of Linktree's creators. We're beyond excited to see what's next."