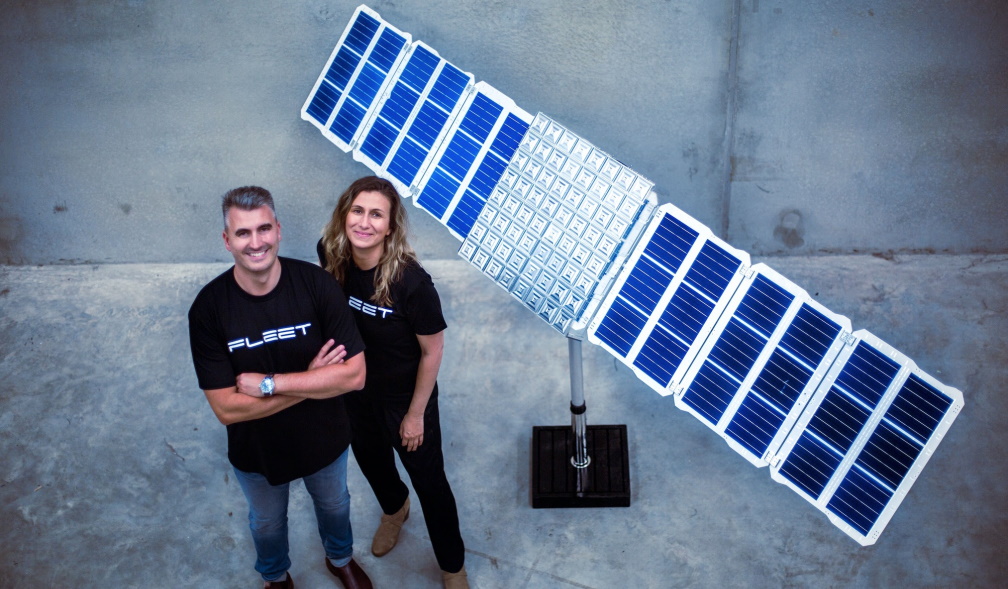 FLEET SPACE TECHNOLOGIES PLOTS FIRST PHASE OF GLOBAL EXPANSION BY ESTABLISHING PRESENCE IN THE UNITED STATES
"The technology we have developed has the potential to provide worldwide connectivity to multiple industries. This is reflected in our global ambition and commitment to the United States as the first phase of our international expansion. We have built strong links in the US through our work with NASAs Artemis Mission and we look forward on building on these foundations in the world's fastest growing space market."

Flavia Tata Nardini, CEO and Co-Founder, Fleet Space Technologies 


 Fleet Space Technologies, Australia's leading space company has established its first international HQ in Houston, Texas. This first phase of the company's ambitious global expansion plans follows institutional affirmation of its vision and proven commercial model in the rapidly growing space industry.

The company closed an oversubscribed Series B funding round ($26.4million) in November 2021. This expansion to the US and with-it proximity to large-scale market opportunities across industries including: natural resources, energy, and sovereign strategic functions is a significant pillar of highly ambitious growth plans.

Fleet is committed to creating the world's most advanced low-power satellite network to secure planet-wide connectivity coverage for millions of devices through the implementation of its proprietary Smallsat technology.  

This technology has the potential for applications across multiple industries of significant strategic importance to the United States. The choice of Houston as an anchor location that feeds satellite offices in California and eventually the East Coast places Fleet at the heart of the world's leading government space agency, NASA.

This follows collaboration between Fleet and NASA on the Artemis manned missions to the moon planned for 2024. Fleet is playing a major role in this endeavour through its technical competency in mineral exploration which will underpin the ultimate mission to discover what is required to support human life on the lunar surface.

Fleet is already working in lock-step with US space industry regulators and has applied to the Federal Communications Commission (FCC) for market access for its beamforming smallsats in the US and Fleet's smart edge device, called a portal, has completed FCC certification for use in the US.


Fleet Space Technologies solutions in the United States are proven in their ability to protect sovereign assets. For example, full global connectivity enabled by Fleet's existing low-orbit constellation can implement the strategic monitoring of remote assets in oil fields. This dramatically reduces risk and downtime through applications like high-definition recognition cameras that can identify the difference between sanctioned and unknown vehicles approaching sovereign or critical assets like oil pipelines.

This extends to marine settings through active monitoring of fleets and naval and merchant assets. This affirms the strategic selection of Houston as a base due to its proximity to the United States' largest resource companies. Fleet Space will also shortly announce the creation of a highly innovative new technical solution of lower impact mineral exploration, this has been identified as of key strategic importance by US Federal authorities.

Fleet's existing investor base also has strong foundations in the US with In-Q-Tel, Alumni Ventutes and Momenta Ventures all backing the company in its recently oversubscribed funding round. The establishment of a North American HQ also provides easy market access to South America, one of the world's leading producers of natural resources and Canada.

Further commercial expansion will also be underpinned by the recently announced Alpha constellation which uses latest 3D Printing and additive manufacturing techniques to quickly deploy lighter and more economical constellations of smallsats to respond to increased global demand as the company expands its operations in key international markets.
NEW HYPERFACTORY TO SUPPORT GLOBAL EXPANSION

Fleet Space Technologies will build a satellite Hyper Factory in the newly announced Australian Space Park in Adelaide, and develop a constellation of new 3D printed small satellites. The South Australian Government will invest $20million (AUS) in Australia's first dedicated space manufacturing hub.

From the Hyper Factory, the Fleet Space's Alpha smallsat constellation will be designed, engineered and manufactured. Alpha, which also integrates beamforming antennas and electronics, will run alongside Fleet Space's existing collaboration with Centuri constellation partner, Tyvak, creating a complimentary constellation that further increases its connectivity speed and reach.
FLEET SPACE TECHNOLOGIES
Fleet Space Technologies is Australia's leading space company. It operates from a state-of-the-art HQ in Adelaide, South Australia, a region rapidly emerging as a global centre of excellence in space and advanced aerospace technologies. The company has designed, built and launched the country's only commercial Satellites and has six satellites already in orbit as it works towards a mission towards building a constellation of 140 small satellites in Low Earth Orbit.
ABOUT THE FOUNDERS | FLAVIA TATA NARDINI
Flavia Tata Nardini was born and educated in Italy where she completed a Masters Degree in Space Engineering at the University La Sapienza in Rome. Her career in space started as a Propulsion Test Engineer (more commonly known as rocket science) at the European Space Agency (ESA). A stint at TNO, the Netherlands Organisation for Applied Scientific Research followed before CubeSat Development at the University of Adelaide. Flavia then founded LaunchBox with Matt Pearon with a clear mission to further Australia's space industry and engage young people in STEM careers. This led to the creation of their second venture together, Fleet Space Technologies, a leader in Australia's rapidly growing space industry.

ABOUT THE FOUNDERS | MATT PEARSON
Matt Pearson is a proven entrepreneur with business interests that span internet ventures, new mobility technologies and his work as co-Founder of Fleet Space Technologies. At Fleet Space, his role as COO is driving the company towards its mission to realise the potential of Small Satellite technology to secure planet-wide coverage for millions of Internet of Things industrial devices. Matt was born in South Africa but settled in Sydney, Australia where he founded his first successful internet venture. Since then, he has become a major driver of Australia's emergence as a global centre of excellence in space and advanced aerospace technologies through his roles at Fleet and as a pioneer in the emerging eVTOL sector through the creation of Airspeeder, the world's first racing series for electric flying racing cars.