CouriersPlease tops Canstar Blue ranking for 'most satisfied customers'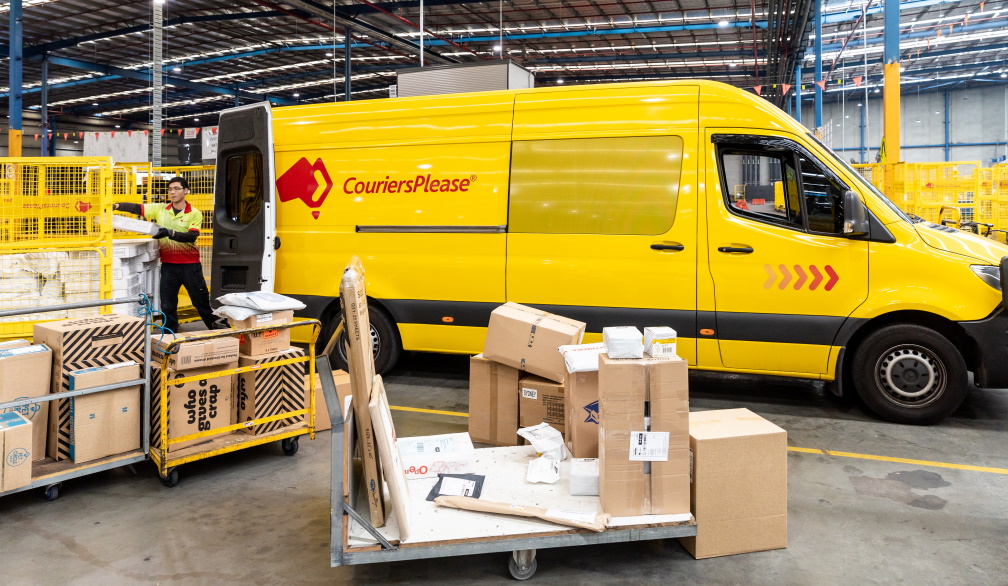 A uniquely challenging period for the logistics industry, the last 18 months has seen unprecedented parcel volumes shipped to millions of households across the country – with one carrier recognised as going above and beyond the rest. CouriersPlease (CP) is thrilled to announce its number one ranking in the prestigious Canstar Blue 2021 Most Satisfied Customers ranking for small business courier services.

Since 2010, Canstar Blue, Australia's best-known and trusted comparison website, has produced annual customer satisfaction research and ratings on more than 900 Australian brands. The research has helped business customers and consumers make informed decisions on the suppliers they choose to partner or shop with. In its annual review of courier services, Canstar Blue surveyed business owners and decision makers on courier businesses across seven categories, identified as key drivers to measure customer satisfaction. The categories were overall satisfaction, reliability of service, delivery timeliness options, problem resolution, value for money, booking process, and pick-up and drop off options.

CP outranked five of Australia's largest courier services, validating its ability to deliver a quality service to its business customers over the last 12 months. It was the only courier service to score five-star ratings for problem resolution and booking process. It also scored five-star ratings for overall satisfaction and pick-up drop-off options, and four-star ratingsfor value for money, delivery timeliness and reliability of service.
John Venetsanos, Acting CEO at CP, says: "We're thrilled to win the Canstar Blue Most Satisfied Customers ranking this year. We are incredibly proud of the dedication and resilience of our franchisees, employees, and key delivery partners during the parcel delivery boom of the last 18 months. During this time, we have invested significantly in new warehouses, technology and associated infrastructure and this commitment has been instrumental in scaling up operations to meet the ever-increasing needs of our customers who range from small business owners to major retailers."
Dean Heckscher, SMB Expert from Canstar Blue, says: "CouriersPlease was the only courier service to receive a five-star rating from small- and medium-sized business (SMB) owners and managers for overall satisfaction. CouriersPlease also scored five stars for its booking process, pick up and drop off options and its ability to resolve any problems that might arise with delivery. In fact, CouriersPlease was the only service to achieve a five-star rating for problem resolution. The ability to overcome whatever hurdles might arise in order to get the job done was something that appeared to matter to many of our survey respondents. A third of the almost-800 SMB owners and managers we surveyed across Australia told us they always used the same courier service, and half of those that were loyal to one service said that that was because 'it has always been reliable.'
 
"With about a third of SMB owners and managers telling us that they were using courier services more often now than prior to COVID-19, companies such as CouriersPlease are playing an important role in the SMB ecosystem - and that's likely to continue to be the case going forward."
Below, John Venetsanos shares how CP was able to rank highly or claim top spot in each category of Canstar Blue's survey.
Problem resolution (5 stars). Our goal is to always provide a service that gives our customers peace of mind and delivers items to consumer within our delivery timeframes. However, occasionally things can go wrong, and our teams is equipped to find solutions to current and future customer issues.  

Booking process (5 stars). An easy and reliable booking process is crucial for customers to use and continue returning to a courier service. Over the years, we've consistently improved our technology to streamline the booking process for customers. We ensure it is quick and easy to organise parcel collection and delivery and enables customers to deliver transparent messaging across the entire parcel journey to consumers.

Pick-up and drop off options (5 stars). We offer flexible and convenient pick up and drop off choices for consumers to have better control over how they receive parcels. We deliver to a network of more than 2000, often 24/7 parcel collection locations, including secure parcel lockers. Our customers can also offer consumers alternative delivery options, including delivery to a neighbour's house. Our award-winning returns service allows customers to organise pick-ups directly from their doorstep.

Delivery timeliness (4 stars). The combination of our dedicated driver fleet with technology has allowed us to provide a consistently timely service to customers. Last year, we developed and installed our revolutionary CPGo app onto our drivers' handheld devices. The technology calculates the most efficient route, based on factors such as business operating hours and traffic conditions, helping our fleet to deliver millions of parcels quickly and safely.

Reliability of service (4 stars). Our delivery service is swift and reliable, and constantly improved upon. Our delivery notifications keep parcel recipients updated along multiple points of the parcel journey, including communicating potential delays. In the last 12 months, we opened six new depots, doubled our franchisee network and staff, and hired hundreds of additional drivers, allowing us to consistently deliver top-notch service.

Value for money (4 stars). We pride ourselves on our ability to provide a well-rounded, reliable service that is worth the fee. We've built strong relationships with customers by offering flexible options that suit their budgets and allow them to flourish in a competitive market. We also keep our operations costs in check to continue offering reliable delivery solutions at a competitive price.