The Sustainability Heroes - From Australia to the World
Written by

Justine Eltakchi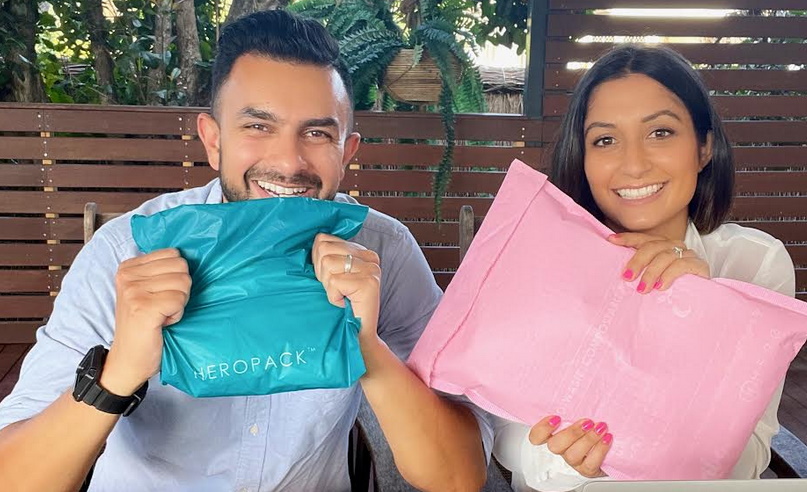 The Hero Packaging purpose
Imagine this: If a small business ships, on average, 10 orders a day, it can prevent the size of two championship-sized tennis courts worth of plastic from entering landfill or our oceans. One small business making 10 orders a day produces about 367.5 square metres of packaging waste every year.
The sheer impact of eradicating plastic from online retailers in there shipping process, is set to grow as the founders Anaita and Vik Sarkar, set their sights on global expansion.
Anaita quotes, "Online retail is growing exponentially fast, partly fuelled by Covid, and we think e-commerce packaging is a really key issue that is flying under the radar simply because the volume of online retail packaging is not as visible as the use of plastic in physical retail stores, restaurants and supermarkets. So, that's where we've decided to focus our energy: on the packaging and shipping process for small to large e-commerce businesses."
Vik adds, "We have learnt along the way that recycling is not enough. 90% of plastics and food scraps end up in landfill, and in that environment, they produce methane which is a deadly enemy of our Planet. So, we decided to specialise in mailers that were certified home compostable, but also made from such materials that if they ended up in landfill, they would still break down with no micro plastics and no waste."
HEROPACKs are now Australia's favourite home compostable shipping mailers.
The journey
Hero Packaging was Australia's first Australian owned and certified retail compostable company and have just celebrated their three year anniversary. Their year on year growth is currently sitting at 212 per cent, and another 122 per cent growth is forecasted for 2022. With over 23,000 customers, their bigger clients include Cue, Veronica Maine, Beginning Boutique, Apero Label, Ripcurl, ZaneRobe, Lush Cosmetics, Piping Hot, Moana Bikini and Wests Tigers.
Hero Packaging was created after their first e-commerce retail business, where they were shipping over 80-100 products a day - in plastic. When they would see their customers opening up their packages, they started to feel incredibly horrified at the amount of waste they were creating. The real cherry on top of the plastic pie was when their two girls were in their office during school holidays and were sitting amongst a pile of plastic, playing with the bubble wrap. They knew there had to be something better. They Googled alternatives to plastic mailers and the only solution they could find was paper-based packaging. It was a great idea, but not waterproof so it wouldn't work for their products.
Anaita says, "During our research, we had come across companies across the world doing amazing things for sustainability (like turning pineapple leaves into leather!), but there wasn't a single eco-friendly solution to replace plastic shipping mailers. From that moment, we were on a mission to create that solution. And after testing a bazillion different materials, we found a material that was compostable, but also waterproof, super durable and acted like plastic in the shipping process, but would break down in a compostable environment."
When they put their plans into action, the brand took off on social media. Social media and digital marketing is still their biggest marketing tactic now.
Crunching the numbers
Sales 2018-2019 FY: $167,000 (first year of business)
Sales 2019-2020 FY: $1,012,000 (YoY growth 506%)
Sales 2020-2021 FY: $3,158,000 (YoY growth 212%)
Forecast sales 2022 FY: $7,000,000 (continued growth in Aus, global expansion, new products) (YoY growth 122%)
Number of customers: 23,492
The brains behind the brand
Not only are the Founders of Hero Packaging, Anaita Sarkar and Vike Davé, composting ambassadors, they're also simply good at business. With over 20 years of experience in the ecommerce industry, Anaita and Vik are experts in this space and know what works and what doesn't. 
Vik has worked in sales, marketing and ecommerce his whole working life.  From starting in door-to-door sales through to the Head of ecommerce of one of the largest online retailers in Australia, where he increased sales by two and a half times in his five year period there. Vik has been involved in every aspect of sales and marketing from both a face-to-face perspective and online. If there's something you want to know about marketing or ecommerce - ask Vik.
Anaita's path to ecommerce guru was a bit different. Growing up in a family that owned a small business, Anaita began her working career behind the reception desk and she therefore fully understands the challenges small businesses face on a daily basis. After studying a Bachelor of Commerce, specialising in Accounting, Anaita soon realised the accounting industry wasn't for her and moved into media. Within her first year she was promoted twice and began presenting at meetings whilst a junior, which at the time was not standard practice.  In 2013 Anaita began guest lecturing marketing subjects at Macquarie University and whilst pregnant with her second child, Anaita started her first ecommerce business Olivia & Co (now exited). Anaita is also author of the digital marketing book Sell Anything Online.
The values
With personal values of authenticity - what you see is what you get, continuous learning, family first and surrounding themselves with people who are trying to create change and make our world a better place, it's no wonder their personal values emanate through their business. Hero Packaging genuinely trying to create change and a better environment for our younger generations.