Employment services aren't working for older jobseekers, jobactive staff or employers
Written by

Dina Bowman, Principal Research Fellow, Research & Policy Centre, Brotherhood of St Laurence, and Honorary Senior Fellow, University of Melbourne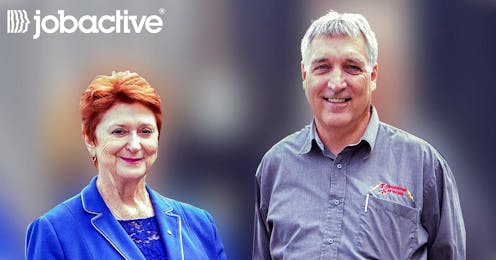 While the mature-age unemployment rate is low[1] compared to youth unemployment, older people are more likely to remain unemployed[2]. The low rate of Newstart Allowance[3] means they are doing it tough. Our two-year study, Enhancing employment services for mature-age jobseekers[4], suggests government-funded employment services are not working well for these older jobseekers, the services' staff or employers.
We also identify steps that need to be taken to ensure that future contracts for employment service provider contracts do find work for these jobseekers.
With the pension age rising to 67 by July 2023, people are being encouraged to keep working for longer. But they must also contend with the changes wrought by a 40-year shift[5] towards fewer low-skilled manual jobs, increased requirements for post-compulsory educational qualifications, and more casual, contract, labour-hire and part-time jobs. Technological change, with automation of routine jobs, increased global market competition and the offshoring of jobs, and social change, with more women in the labour force, have combined to dramatically reshape the labour market.
What's wrong with employment services?
For-profit and not-for-profit providers deliver the current iteration of government-funded employment services, jobactive[6], under contract to the federal Department of Employment. The contract ends in 2020.
Our research into how older jobseekers are faring with jobactive providers focused on four regions with high rates of mature-age unemployment: western Melbourne, north-eastern Melbourne, south-eastern Melbourne and the inner city. We interviewed 30 mature-age jobseekers (defined as 45 or older[7]), 32 jobactive staff and 21 employers and key stakeholders.
Older jobseekers need help from jobactive providers to identify transferable skills. They also need training linked to job opportunities. As Daisy, in her later 50s, explained:
We want to stay off unemployment and we want to feel like a human being, a contributing human being.
And that means "helping us find jobs that fit our skills and our strengths".
Instead, jobseekers' appointments are dominated by paperwork.
Jobactive employment services staff[8] want to help older jobseekers. But they told us they do not have enough time or resources to do this because of the burdens of contractual compliance and high caseloads. An employment consultant explained the pressures:
We're meant to make sure their job plan's suitable, we're meant to refer them to positions … We've got on the database, we're meant to scan their job search, calculate their job search for Centrelink — there's a lot you've got to do in 30 minutes.
Compliance with the contract and enforcing Centrelink's "mutual obligation" requirements[9] sometimes get in the way of better supporting jobseekers.
The employers we interviewed had little awareness or understanding of jobactive as a public employment service. This limited awareness is reflected in the low use of employment services by employers[10].
Few of the employers we interviewed[11] use jobactive. Some said they were reluctant to use jobactive (if they knew about it at all).
This was because of concern "about the type of candidate they're going to get". Employers were cautious about recruiting any age group through publicly funded employment services, because they were peppered with unsuitable job applicants. One employer said:
Don't give me 12 people that actually don't want to work. KPIs in that area don't work for employers. If they're not right, they're not right, so don't waste your time … We stopped working with a provider because they were doing … the KPI, tick-a-box thing.
As another employer who used jobactive told his employment service provider: "Don't give me a lemon when I'm after apples."
How can these services be improved?
Employment services face many challenges in promoting older jobseekers to employers who may be reluctant to take on staff they perceive as "rusty" or "threatening"[12]. Programs such as the now-defunct Corporate Champions[13] can help to promote the benefits of age-diverse workforces among employers. However, these run the risk of reinforcing age stereotypes[14].
Our research[15] finds that flexible, tailored support is required to help older jobseekers into sustainable employment. This need not involve special programs. Instead, it will be important to build on the insights from the Career Transition Assistance Program[16], the expansion of the National Work Experience Program[17] and the establishment of Pathway to Work Pilots[18].
These features should be integrated into the next employment services contract[19]. The next contract should allow more flexible and tailored responses to cohorts such as mature-age jobseekers. This can be achieved through smaller caseloads, more time to work with jobseekers and less time on compliance.
Tackling the challenges of mature-age unemployment requires better matching of candidates with vacancies. A skills assessment should be undertaken with all older jobseekers. This will identify transferable skills and enable better matching with vacancies and with training.
Staff also need training, especially in identification of transferable skills and career guidance.
Small changes can have big impacts. For example, jobseekers should be able to fulfil their mutual obligation requirements through volunteering that is relevant to their experience.
But broader policy change is needed too. In particular, we need a focus on fostering local economic development that creates jobs.
Authors: Dina Bowman, Principal Research Fellow, Research & Policy Centre, Brotherhood of St Laurence, and Honorary Senior Fellow, University of Melbourne
Read more http://theconversation.com/employment-services-arent-working-for-older-jobseekers-jobactive-staff-or-employers-98852