Economists back wage freeze 21-19 in new Economic Society-Conversation survey
Written by

Peter Martin, Visiting Fellow, Crawford School of Public Policy, Australian National University
Australian economists narrowly back a wage freeze in the minimum wage case now before the Fair Work Commission[1], a freeze that could flow through to millions of Australians on awards and affect the wages of millions more through the enterprise bargaining process.
The annual case is in its final stages after having begun before the coronavirus crisis and been extended to take account of its implications.
In its submission, the Australian government called for a "cautious approach[2]", prioritising the need to keep Australians in jobs and maintain the viability of businesses.
The minimum wage was last frozen in 2009[3] amid concern about unemployment during the global financial crisis.
Read more: Economists back social distancing 34-9 in new Economic Society-Conversation survey[4]
The Economic Society of Australia and The Conversation polled 42 of Australia's leading economists in the fields of microeconomics, macroeconomics, economic modelling and public policy.
Among them were former and current government advisers, a former and current member of the Reserve Bank board, and a former head of the Australian Fair Pay Commission.
Each was asked whether they agreed, disagreed, or strongly agreed or strongly disagreed with this proposition:
A freeze in the minimum wage will support Australia's economic recovery
Each was asked to rate the confidence they had in their opinion, and to provide reasons, which are published in full in The Conversation.
Half of those surveyed – 21 out of 42 – backed the proposition, seven of them "strongly".
Nineteen disagreed, seven strongly. Two were undecided.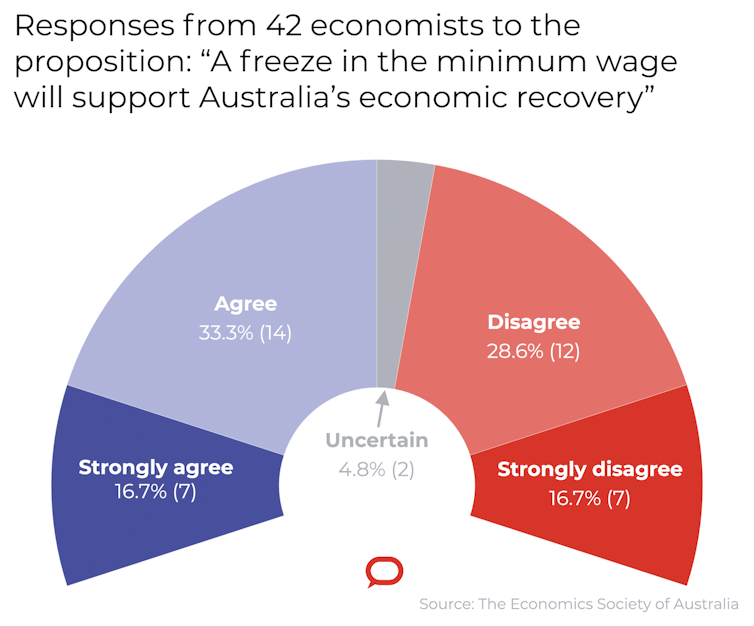 Authors: Peter Martin, Visiting Fellow, Crawford School of Public Policy, Australian National University
Read more https://theconversation.com/economists-back-wage-freeze-21-19-in-new-economic-society-conversation-survey-140163