Were it not for JobKeeper, unemployment would be 11.7%, up from 5.2% in one month. Here's how the numbers pan out
Written by

Jeff Borland, Professor of Economics, University of Melbourne
After all the forecasts and speculation, now we know the worst.
Today's numbers from the Australian Bureau of Statistics[1] lay out the catastrophic impact of COVID-19 on the Australian labour market.
Total hours worked fell 9.2% – in just one month, between March and April.
Percentage fall in hours worked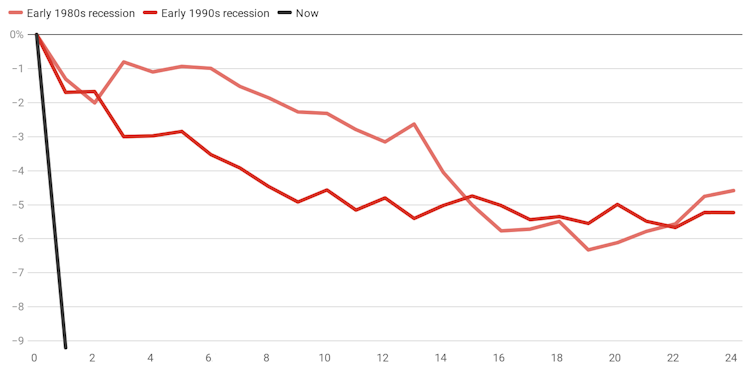 Author's calculations from ABS 6202.0
[2]
The scale and speed are difficult to comprehend.
By comparison, in the major recessions of the 1980s and 1990s, hours worked fell by 6% – but after 18 months.
Women have been hurt more than men, losing 11.5% of the hours worked in March, compared to men who lost 7.5%.
Queensland and NSW have so far fared better than other states.
Percentage fall in hours worked by state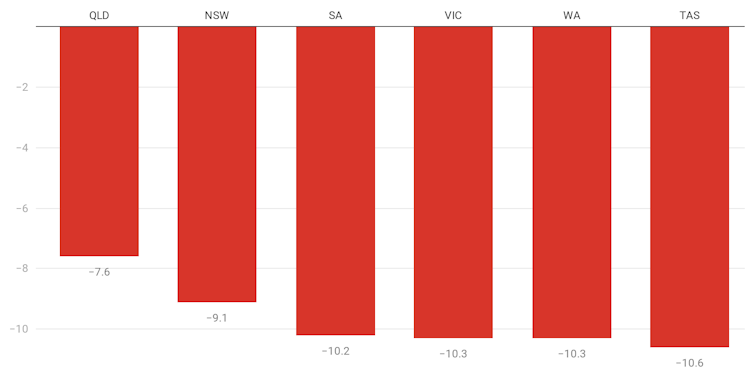 Authors: Jeff Borland, Professor of Economics, University of Melbourne
Read more https://theconversation.com/were-it-not-for-jobkeeper-unemployment-would-be-11-7-up-from-5-2-in-one-month-heres-how-the-numbers-pan-out-138268