The charts that show coronavirus pushing up to a quarter of the workforce out of work
Written by

Brendan Coates, Program Director, Household Finances, Grattan Institute
We knew it would be bad. But we'd hoped it wouldn't be quite this bad.
Over the past few weeks, we at Grattan Institute have been working on ways to estimate the impact of the COVID-19 shutdown on jobs in Australia.
It's a complex[1] task, with few obvious precedents.
The results, detailed in our new working paper, Shutdown: estimating the COVID-19 employment shock[2], are worrying.
Our estimate is that between a sixth and a quarter of Australia's workforce is likely to be out of work because of the COVID-19 shutdown and social distancing.
It derives from two sources of information.
The first is data[3] from the United States on the extent to which each occupation requires workers to be near other people.
Read more: Which jobs are most at risk from the coronavirus shutdown? [4]
The "physical proximity" requirements of a job are generally likely to be a good guide to how likely it is the job can continue during the shutdown.
The second source of information is a set of estimates by Grattan researchers of the extent to which jobs are under threat in each of 88 industries in Australia.
Our preferred method for estimating the hit to jobs combines both these sources.
We also use two alternative methods, each of which relying on a single source of data, which are outlined in our working paper.
Our preferred method finds that about 26% of workers – 3.4 million Australians – could be thrown out of work as a direct result of the shutdown and social distancing.
The alternative methods produce figures that are lower, but still distressingly high.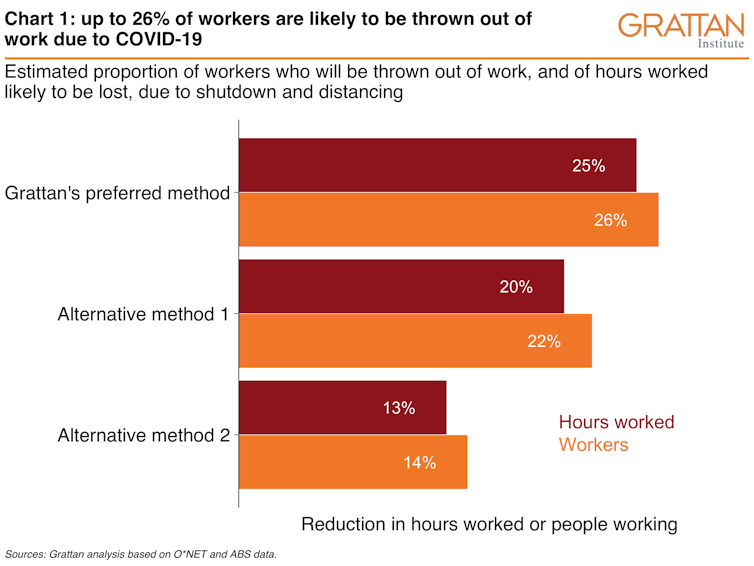 Authors: Brendan Coates, Program Director, Household Finances, Grattan Institute
Read more https://theconversation.com/the-charts-that-show-coronavirus-pushing-up-to-a-quarter-of-the-workforce-out-of-work-136603